---

BY MUSTAPHA "EL LOCO" KAMARUDDIN

---
HOLA!
BARCELONA are not in that good a position to retain their Premier Liga title. And their supporters know this.
With shaky defence and inconsistent displays, sadly the Catalans seem to be no more the team who graced Spain and Europe in recent seasons.
Barca are now third in the Liga standings with 64 points from 27 matches -- four off leaders Real Madrid and and one less than second-placed Atletico Madrid.
There are 11 games left to be played.
Gerardo 'Tata' Martino's men, as it is, produced a poor show in the 1-0 away defeat to lowly Real Valladolid at Nuevo Jose Zonila Stadium on March 8.
The three points lost here surely dented Barca's chances to be Spanish giants, yet again.
Led by the now much-talked BBC who are in deadly form,, Real are now favourites to win the title race. BBC, in this case, is the attacking combination of Gareth Bale, Karim Benzema and Cristiano Ronaldo.
Real supporters are just waiting to celebrate -- not only for the Liga title and Copa del Rey but even their 10th European championship success.
Things do not look good, on the contrary, for Barca. But tell this to Barca superstars, they will jump in disagreement.
Argentine wizard Lionel Messi, for instance, rubbished suggestions their league title hopes have been sunk by their recent poor form.
He pointed out there are still 11 games to go -- including a clash with Real.
"I don't know if the criticism was exaggerated or not. We're the first to be self-critical and we know we haven't done things well, we know when we've done badly," said Messi, whose side will also clash with Real in the Copa del Rey final.
"We lost the opportunity to continue being close to Real, but the league isn't lost whatsoever. There's a long way to go."
Not surprising, as the 26-year-old Messi is one man who just hate losing and will fight until the end.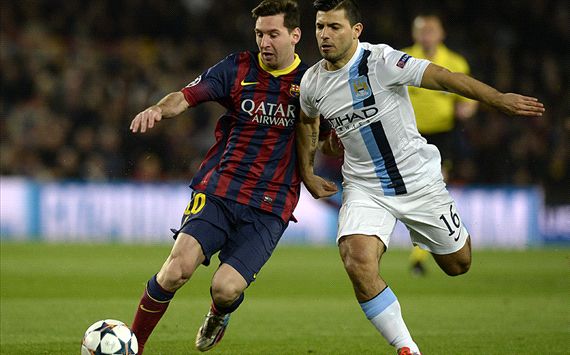 Messi was pivotal in the win against Manchester City.
And Messi proved that with a convincing display in Barca's 2-1 win over Manchester City at Nou Camp last Tuesday in the Champions League last 16 return leg clash where he scored one of the goals.
Barca qualified for the last eight of this elite European competition 4-1 on aggregate.
And the Catalans warned, they are very much in the battle to snatch the Champions Trophy trophy under the noses of teams like Real, Bayern Munich, Paris Saint-Germain and even Chelsea.
In another development, former Tottenham star attacker Bale spoke of the different approach to football between the English and Spanish leagues.
"The big difference is the tactical play and the way all teams play a lot of good football. There are no long balls like there are in England."
Bale, who joined Real for a world record £85m (RM462m) last summer, has been part of the club's 29-match unbeaten run.
"It took me a bit of time to get up to speed, but I think my performances have come on well. I still feel like there is a lot more to come from me," he said.
But then, what does the flying Welshman expect?
This is touching... Ronaldo came to the rescue of a 10-month-old baby named Erik.
The Portuguese superstar has offered to foot the bill so that this baby, who has a neurological disorder known as cortical dysplasia, can undergo vital brain surgery.
Erik's mother, Cristina Cruz, expressed her gratitude on radio show El Larguero.
"We found out about Erik's illness a month ago because he had a number of epileptic seizures and we discovered that he had a brain malformation," she said.
"Our friends and family rallied around us and started raising funds through donations because the operation is extremely expensive."
"Cristiano found out about my son's situation. First he gave us a shirt and a pair of boots to auction off and now he wants to help us with the cost of the operation. He's an angel."
Angel indeed. Life is not all about football.... respect.
Adios!
Mustapha 'El Loco' Kamaruddin is an experienced sports journalist who is crazy about football. He has been following football, both at local and international scenes for over two decades. He is also a columnist with The Malay Mail.