IT'S great that Andres Iniesta is back in business. This is good news for Barcelona and Spain, for that matter.
The midfield maestro, who starred in many Barca and Spain's finest hours so far, is fit and eager to continue his adventure.
The 29-year-old has been performing well of late after making a comeback from some nagging injury problems.
He played an influential role in Barca's success of making the Copa del Rey final by brushing aside Real Sociedad's challenge as he renewed his lethal combination with Lionel Messi.
Iniesta, also known as El Illusionista, is set to do what he does best...to mess up opponents defence as Barca aim to prevail in La Liga and Champions League as well this season.
Iniesta will be Iniesta.
Now that he is back. Barca boss Gerardo 'Tata' Martinez is facing this 'headache' of including both Iniesta and utility man Cesc Fabregas in the starting line-up.
This 'problem' did not arise that often in recent months with injuries suffered by Messi and Iniesta.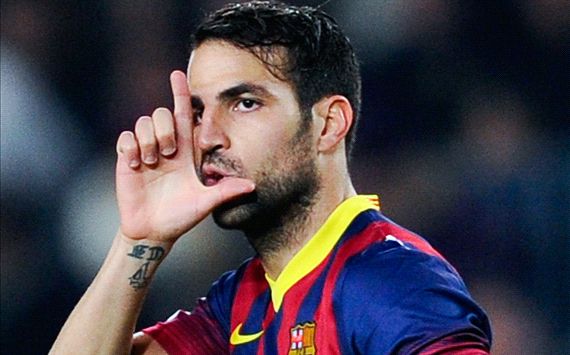 Cesc is causing the right kind of headache to Tata.
Fabregas was always there to play his role effectively - whether in midfield or even as false No.9. He has been scoring goals as well.
The former Arsenal captain is pretty handy in the squad, no doubt about this.
Well...one of answers for this Fabregas 'problem' is to bravely leave out veteran Xavi. Of course, with due respect to the 34-year-old who has done a lot for the Catalans and Spain all these years.
Xavi is already a legend and has millions of fans all over the globe.
However, this gifted master passer has not been able to produce the kind of displays he used to enjoy before of late.
Perhaps, it would be better if he is confined to the role of a 'super sub'. Remember, there are a lot of matches to be played in a season.
Anyway, talking about Iniesta... this is interesting.
Tottenham reportedly have seen off competition from Barca to land Nigerian wonderkid Musa Yahaya -- dubbed as the new Iniesta.
The 16-year-old was part of the Nigerian team who recently won the Under-17 World Cup, and clubs from all over Europe have been interested in signing him.
Barca were in talks with Yahaya's agent last week, but Spurs have since moved in and agreed a deal to bring him to White Hart Lane.
According to reports, the midfielder will have a medical in London soon ahead of signing a five-year contract.
Too bad, Barca.
At the same time, Atletico Madrid are believed to be keen on Spurs goalkeeper Hugo Lloris.
Reports suggested Atletico could make a summer move for the France captain if current loanee Thibaut Courtois returns to parent club Chelsea.
Atletico are concerned that Belgian ace Courtois could commit to Chelsea following three years on loan at the Calderon therefore they will need a replacement.
It's too bad if Courtois return to Stamford Bridge as he is one of the key figures in Atletico's superb run in La Liga and Champions League this season.
The other question is whether Lloris would want to come to Madrid even if Spurs fail to make the Champions League next season. And big spenders Paris Saint-Germain, as it is, are also eyeing him.
Adios!
Mustapha 'El Loco' Kamaruddin is an experienced sports journalist who is crazy about football. He has been following football, both at local and international scenes for over two decades. He is also a columnist with The Malay Mail.