COMMENT
By Peter Staunton
To retire from international football is the logical decision of a player described as the most intelligent of them all by Pep Guardiola. Philipp Lahm departs with his head held high; Germany's fourth World Cup-winning captain. His international career which took in 113 caps, three semi-finals, two finals and the ultimate glory in Brazil this summer.
Only Lothar Matthaus, Miroslav Klose and Lukas Podolski have played more times for Germany and after a long spell in which it seemed Lahm would depart a nearly man, he goes instead a hero. "Without titles, we are not a 'golden generation'," he said before the World Cup with his legacy on the line.
There were legitimate doubts about Lahm, Bastian Schweinsteiger and more of the Bayern contingent in 2012 when they were beaten to the domestic trophies by Borussia Dortmund, to the Champions League by Chelsea and to a shot at the European Championship final by Italy. Their mentality and hunger were called into question. But after last Sunday's victory in the Maracana, combined with a treble followed by a double at club level, they are all now inscrutable.
Lahm has admitted frankly that those experiences have made him into the player; the leader he is today. "There were two possible outcomes after the final in 2012; either we fell apart as a team, or we grew even closer together," he told Bayern's official website earlier this season. "The second of these is what happened. This footballing tragedy and our bitter tears of grief released incredible inner strength." His success was forged in the bitter heartache of defeats. He learned lessons and put things right for club and country.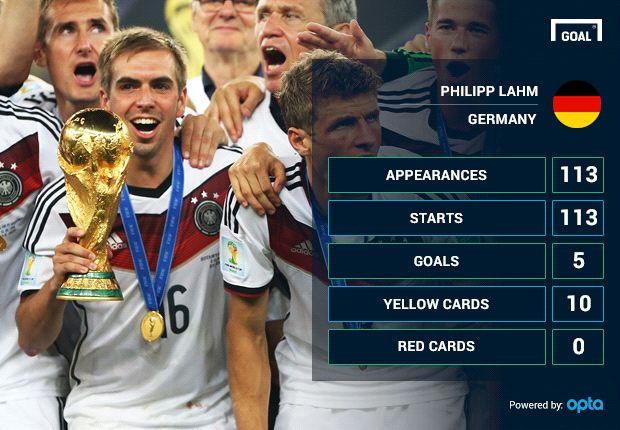 "Philipp Lahm has been the model of consistency for almost 10 years," Joachim Low said before the World Cup. He has a natural authority and assumes responsibility. He is very communicative and an absolute leader." He also knows it's the right time for him to quit the scene. He leaves the path clear for Joachim Low to freshen up the full-back slots, and midfield, ahead of an assault on Euro 2016.
The 30-year-old became a logical choice for Low in midfield - the position at which Germany had to plan for the World Cup without Ilkay Gundogan and the Bender twins, while Schweinsteiger and Sami Khedira were nursing injuries. At full-back too, Lahm's consistency meant that Low never had to search too far for alternatives. Lahm was a safe bet every time and his departure now means that Low must source replacement options in three positions now that the temptation to plug gaps with his captain has vanished.
| | |
| --- | --- |
| Consider the Spain team, where it took World Cup embarrassment to demonstrate the successful generation had gone on too long. Lahm will never now face such ire. | |
He goes on his own terms; on top. No regrets and no perceptible decline. No question that Low would be too loyal to continue to pick him or too heartless to put him into retirement like he did Michael Ballack. Lahm has acted early and taken those difficult scenarios away from his coach.
Consider the Spain team where it took World Cup embarrassment to demonstrate the successful generation had gone on one tournament too long. Lahm will never now face such ire. But it should be remembered that, injury aside, his run-up and participation to this World Cup was not criticism free. Along with Mesut Ozil he was targeted by certain sections of the media as Germany's poorest player of the early stages of the tournament and it was not until he moved into a full-back role that it all simmered down.
He has recently signed a new contract with Bayern - which he stated would be his last - and so he will retire in 2018 when that expires. He know his own body and that he is now winding down. That leaves him four more years to impart his knowledge and wisdom on the next generation at club level. There is a lot to learn from Philipp Lahm, and a lot to admire. Germany's first product of the new way of doing things, instilled following the embarrassment of Euro 2000, goes with success and dignity.