By
George Ankers
After the first of his goals against world champions
Spain
quickly became the most iconic image so far of this nascent
World Cup
, there was plenty of expectation on
Robin van Persie
's shoulders to be similarly effective against a much weaker - on paper -
Australia
side.
Goal
examines how the Netherlands star fared in Porto Alegre and considers what's next for him at Manchester United...
PERFORMANCE AGAINST AUSTRALIA
Allowed freedom by a collapsing Spain side on Friday, Van Persie should not have been too surprised – strange as it would have sounded before the tournament - to have found it tougher against Australia. Though the Socceroos lost their first game to Chile, they displayed much more fight and character than the World Cup holders and, in need of points, matched
Oranje
for much of the contest.
A disciplined performance across the whole pitch saw the Dutch having to work much harder for space and time, which, increasingly visibly, frustrated Van Persie during the period between his team's first two goals. The United man was able to make only 31 touches in his 87 minutes on the pitch compared to 34 in 79 against Spain, while winning only 37.5 per cent of his duels compared to 50% in the first match.
When he could find room to shoot, however, Louis van Gaal's captain was on his game. He tested goalkeeper Mathew Ryan with each of his three shots and found the net with an almighty thwack – Van Persie always prefers power over precision – to equalise in the 58th minute. His combination with Arjen Robben, allying pace and intelligent movement to brilliant technique, could yet define this World Cup.
The only real blot on his copybook was a second-half yellow card which, after another booking against Spain, will see him suspended for the final group match against Chile. Though Matthew Spiranovic made the most of it, there has always been a combative streak to the Dutchman's game. Thanks to results, however, there is a good chance that he would have been rested anyway.
Clearly enjoying working under a coach who 'gets' him, what Van Persie could do with would be to play for Van Gaal next season ... ideal, then, that Manchester United have hired the Netherlands boss, with the striker likely to have been a big part of their reasoning.
Already clearly one of the best players in the Red Devils' squad – arguably one of its only world-class stars these days – the 30-year-old showed in 2012-13 that he can dominate an entire title race if supplied correctly. United's tradition of relentless, direct attacking, which was allowed to become stale under David Moyes, suits him down to the ground when properly upheld.
If these first two games in Brazil are anything by which to go, Van Persie would benefit from interplay with a Robben-like presence buzzing around him. While United do not have a player of such incredible pace in that role, Juan Mata is potentially the sort of decisive, instinctive figure with whom he might hope to develop a rapport in 2014-15.
WHAT DOES THE FUTURE HOLD?
During Moyes's disastrous tenure, Van Persie grew unhappy and would likely have looked to leave Old Trafford if the Scot had not been fired. Now, though, even without the promise of Champions League football next season that a player of his calibre deserves, there is surely no chance of a departure.
The arrival of Van Gaal at United looks set to firmly re-establish Van Persie as the Red Devils' key man. Made captain of the national side thanks to the "shared values" seen in him by the coach, it would be a real shock if the striker did not now inherit the armband from Inter-bound Nemanja Vidic.
At 30 years old and with his famed injury record, it would be a big surprise anyway if a suitably elite club were to make a big enough offer to tempt United into a sale and the scenes of celebration between player and boss after his wonder-strike against Spain will simply have club fans salivating at the prospect of more to come.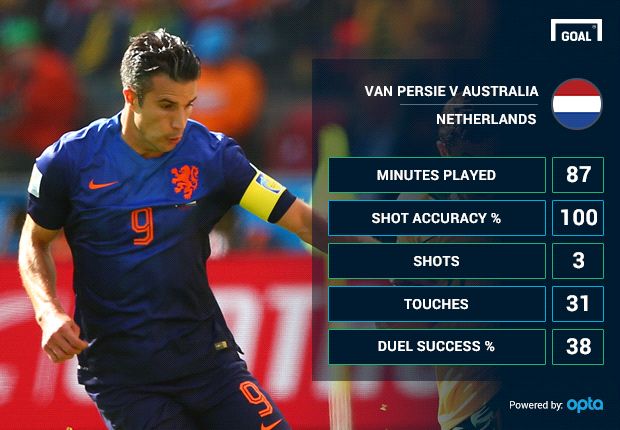 Follow George Ankers on