COMMENT
By Robin Bairner
Unlikely though it may seem, a week ago Karim Benzema was not in line to start France's opening World Cup encounter against Honduras.

Even accounting for the loss of Franck Ribery, the Real Madrid striker was set to be snubbed by Didier Deschamps, enticed by the performances of youngster Antoine Griezmann on the left, before the notorious international flop produced a stunning performance against Jamaica to earn himself what might be one last shot to become a France legend.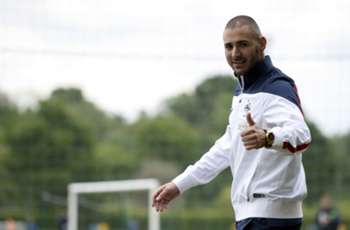 'Benzema is a forward who is considered to have two faces.'

Benzema, who had been a victim of his club's success as he missed the first two warm-up matches owing to a slight knock, had to watch on as Arsenal's Olivier Giroud tied down the centre forward role with the kind of accomplished hold-up play that the former Lyon star simply does not possess.

When the 26-year-old was finally fit, Deschamps did not argue with logic and persisted with Giroud in the centre, though conventional wisdom was rather ignored when Benzema was started on the left. The coach, however, may have made a masterstroke.

Benzema's role was only nominally as a wide attacker. In reality he was offered the opportunity to drift around the forward three, and while the defending was admittedly benevolent, there was no doubting the quality of forward play that had the Caribbean rearguard in such a flurry. Much of this owed to the Madrid striker.

Ribery's role with France is typically rigid and very orthodox; Benzema, on the other hand, regularly drifted inside and combined with Giroud in a manner that must have Deschamps excited. He did not only score two fine goals, he also offered a creative outlet, with three of his passes leading to strikes for others.

His link-up play from wide was especially encouraging as he has rarely shown such nous in a more central role, particularly in an altogether more humble France side, whose low-key base at Ribeirao Preta contrasts immensely to the plush surroundings of Knysa in South Africa, where Les Bleus infamously went on strike in 2010.

With Benzema happy to float, he not only becomes harder to mark, but as a byproduct he fashions space for the impish talents of Mathieu Valbuena, France's best player in 2014, to be exploited. To have the Marseille playmaker granted such freedom is an additional bonus.

Due to the striker's somewhat nondescript style, it has been difficult for him to carve a niche in the national side, but under Deschamps he has produced his most promising run to date. With six goals in his last six outings, it is hard not to be encouraged by the forward's form at such a juncture.

Such form provides Deschamps with genuine offensive options, which is encouraging given the recent wound inflicted by Ribery's persistent back troubles. Indeed, there have even been suggestions that Benzema and Griezmann could both start against Honduras, meaning a somewhat unjust place on the bench for Giroud, whose ability to draw those around him into the game, not to mention his superior aerial aptitude, makes him a strong option in France's 4-3-3 system.

Benzema, after all, is a forward considered to have two faces. While in the right conditions he can be devastating, in others he can be little more than a liability. With France, he has typically been the latter, mustering a record of just 21 goals in 66 internationals - well below the potential of such a talented player.

Indeed, Benzema's struggles have rather mirrored that of his national side since he made his debut as a prodigious teenager by scoring the winning goal against Austria in Euro 2008 qualifying. Undoubtedly there has been the potential to be top class, as brief flurries have shown, but ultimately this has been unrealised to date.

For a generation of France players, there is no way back, but for Benzema there remains the chance of redemption. It may have come in an unexpected form as a nominal winger, but it is one he must take if he is to enter a Parthenon of French legends so sadly lacking in new inductees over the last decade.
Follow Robin Bairner on