---

BY MUSTAPHA "EL LOCO" KAMARUDDIN

---
HOLA!
Jese Rodriguez is creating waves with Real Madrid after producing some superb displays this season.
The attacker, turning 21 on February 26 and wants to be known as simply Jese, has a bright future with Los Blancos and the reigning world and European champions Spain as well.
Real manager Carlo Ancelotti has been showering praises for this Canary Islands-born striker and he deserves them.
Jese has also been impressive of late in Primera Liga as he sees more playing time with the absence of the suspended superstar attacker Cristiano Ronaldo.
Nurture his talent and give him the right opportunities, then Jese could become one of the world's best attackers.
Jese has now scored five goals in his last five starts in all competitions and when Ronaldo returns from suspension, Ancelotti should have a decision to make regarding his wingers.
That explains how good and effective he is.
Jese should be given more playing time by Ancelotti as this will make him an even better player in no time.
After all, Real still have to play many matches this season as they are very much in the running for the Liga title, Champions League and that Copa del Rey final against bitter rivals Barcelona.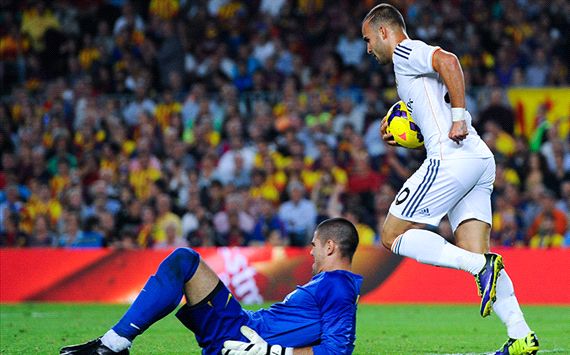 Jese endeared himself to the Madrid fans by scoring in the El Clasico.
Jese, who joined Real Madrid B in 2011 from Huracan, made some heads turned by scoring in his first ever El Clasico on Oct 26 last year.
This was when he struck in stoppage time after an assist by Ronaldo in a match at Nou Camp.

Unfortunately, Barca won the clash 2-1.
Thus, Jese began his adventure with one of the best clubs in the world -- who have millions of fans all over the globe.
Now his fans are excited of also seeing Jese in action for Spain at the World Cup in Brazil in the summer.
Spain coach Vicente Del Bosque, of course, is keeping a close watch on this exciting talent.
However, the vastly experienced tactician has urged caution over talk of a senior call-up for Jese as it is too early to decide.
"Jese has been watched since youth level," Del Bosque told AS.
"He's playing great for Real and deserves to be there. But I have to do the 23 man squad for the World Cup in the future. Let's see what happens in the next four months."
Whatever, the bottomline is Jese has that chance to grace the World Cup and naturally he is gunning for a spot in the team.
Good luck to him.
Now this is rather interesting... Sevilla president Jose Castro announced they have a new deal with creative midfielder Ivan Rakitic.
A host of clubs had been keeping close tabs on the talented 25-year-old Croatia international, who has been enjoying a great campaign this season.
"It is an important negotiation. We've already had two meetings and I believe we've come to a friendly agreement," Castro told Estadio Deportivo.
"Both Rakitic and Sevilla have made a big effort to reach this agreement."
Great... as the Primera Liga needs more players of Rakitic's calibre to make it even more exciting.
Adios!
Mustapha 'El Loco' Kamaruddin is an experienced sports journalist who is crazy about football. He has been following football, both at local and international scenes for over two decades. He is also a columnist with The Malay Mail.