Year 2014 sees Madrid aiming to win their 10th Champions League crown and El Loco feels they are capable of achieving it.
HOLA!
Real Madrid seem to be focussed more on winning the Champions League than anything else this season.
Everyone at Real hopes 2014 is the year the club win their 10th European crown. They have waited long enough for this occasion and kind of desperate.
Club President Florentino Perez, manager Carlo Ancelotti and seasoned campaigners like Iker Casillas and Sergio Ramos issued statements on the club's website expressing desire to claim the Champions League.
And Cristiano Ronaldo, of course. He told Portuguese newspaper People winning this year's Champions League would be the "icing on the cake".
Ronaldo, who came through the youth ranks at Sporting Lisbon, has an extra of motivation.
Yes... the final will be held at Stadium of Light which is home of his boyhood club's bitter rivals, Benfica.
"Winning the Champions League at Estadio da Luz would be the icing on the cake", said Ronaldo.
"Everyone at Real wants to win the 'Decima' and it is providing us all with a lot of motivation. We're going to do all we can to try and win it in 2014," he said.
Real, who take on Schalke in the last 16, should progress in this elite European competition with the kind of quality and experienced players at Santiago Bernabeu,
Welsh wizard Gareth Bale and Croatian Luka Modric have been performing exceptionally well under Italian tactician Ancelotti.
These two former Tottenham stars are now key figures in the attacking aspect for Los Blancos.
Then they have strikers in the 'can't stop scoring' Ronaldo and Frenchman Karim Benzema.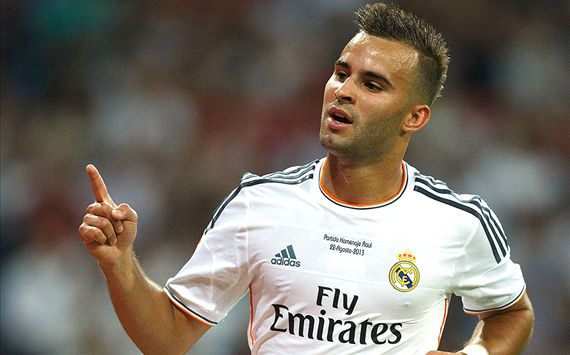 Real's exciting youth prospect, Jese.
Real also have an exciting 20-year-old striker who has the potential to go far. He is Jese Rodriguez Ruiz, or simply known as Jese.
And he proved his mettle yet again by scoring in Real's 1-0 win over Paris Saint-Germain in a mid-season friendly in Doha on Thursday.
Ancelotti obviously likes what he sees in this lad.
Real's chances of winning their 10th European crown this year are looking good. And they are highly-motivated to achieve this goal.
This does not mean Real have already given up hope of wresting La Liga title, though. They are still very much in it.
Real are now five points behind table-toppers Barcelona and Atletico Madrid who are tied on 46 from 17 games before the Liga resumes this weekend after the winter break.
And Ancelotti's brigade may just go stronger as the Liga moves into that crucial final stages.
Oh yes...Barca's Champions League last 16 pairing with Manchester City seems to have forced goalkeeper Victor Valdes to postpone a decision over his next move.
Valdes reportedly is in talks with Monaco, but is also speaking with City and does not want to complicate his preparation by committing to anything before the big game.
"I will not make public anything at a time of competition that may have a negative influence," he said.
Spanish sources say City are now ahead of Monaco in the running for Valdes' Bosman signing.
Well, let's see where Valdes will end.
This is heart-warming.
Lionel Messi's girlfriend Antonella Roccuzzo has uploaded a photo to Instagram in which the Argentine wizard is playing guitar while she plays on a toy guitar in their garden in Rosario.
"Seeing out the year with a bit of music," Antonella posted.
The couple looked very cheerful in the photo.
Messi has been recovering from a thigh injury in Buenos Aires and his hometown of Rosario.
Messi, who travelled to Argentina towards the end of November with Antonella and their son Thiago, has taken advantage of his country's summer to fully re-charge his batteries.
And opponents beware. He is back any time soon to continue what he does best, instilling this fear into opponents.
Adios!