In her series of interviews with J-League fans, Goal Japan's Asami Mine learns about the unique atmosphere at Ventforet Kofu
Asami: Today's guest is Ventforet Kofu supporter Kazuki-chan! Welcome to the column!
Kazuki: Thank you for inviting me!
A: When I think of you I always remember the 'JFK' cap you wear. Does it stand for John F. Kennedy?
K: No, it stands for [Ventforet manager] Hiroshi Jofuku's name! I really like him, so I thought it was a great cap! It's become my symbol in a way… a friend told me about it and I found it at a second-hand store in Harajuku!
A: It's a great hat for a Kofu supporter! But let's start at the beginning: how did you first discover football?
K: It probably began when my younger brother started playing. My father coaches a youth club so it was the perfect environment to watch.
A: So you were exposed to it from a young age! Why do you support Ventforet Kofu?
K: I went to my first game with a free ticket from a sponsor. That's one way Ventforet are really working hard to fill the stadium and attract new fans! I don't live in Kofu proper, but my home is near Chuo Bank Stadium. When Ventforet score you can hear the fans cheer!
A: That's incredible! I imagine hearing that makes people want to go to the stadium...
K: Some of my friends say it's annoying (laughs)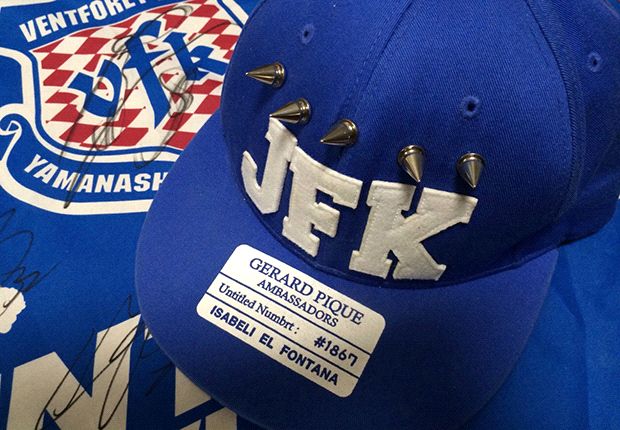 A: But I'm jealous of you; I have to travel a long way to go to Vegalta Sendai's home games.
K: That's great for you, though! I'm very lucky to support a club like Ventforet. When you're a local club and you aren't very big you really have to start from square one and work hard to succeed.
A: I'm sure Kofu's front office is glad to have such great supporters like you! Ventforet are a really small club, even for the J-League. Their budget is small, the players aren't famous, and they've never really contended for a title. The fan base seems very "local." What's their appeal?
K: It feels like Ventforet supporters are closer to the players than other J-League fans. Everyone is really friendly, and because we're out in the country there's a special atmosphere you can't experience elsewhere! But any good players we produce move to bigger clubs, so it's a difficult situation to deal with.
A: For example, Mike Havenaar nearly won the scoring title before moving to Vitesse. It might be unavoidable, but is it still disappointing?
K: It is! You want players who perform well to stay but it's difficult to keep them. [Kashima Antlers striker] Davi is one example: he wanted to stay but his agent pushed for a transfer.
A: It's just part of the game, isn't it. But on the other hand, this year Ventforet signed Irfan Bachdim! How was he received?
K: Irfan has been a huge deal! Even though he hasn't played much yet, we've seen Indonesians coming to games and gotten a lot of coverage from foreign media. Recently we had a Thai TV program come to film us! He's really had a huge impact.
A: Southeast Asian trailblazers like Irfan and Le Cong Vinh at Consadole Sapporo last year really have drawn a lot of attention to their clubs, even from other teams' supporters.
K: The attention we get as a club really makes you appreciate the front office's hard work. Irfan's uniform has been a big seller. There have been tour groups coming as well!
A: It feels like you have a lot of responsibility as Ventforet supporters; you're a bridge between Indonesian fans and the J-League! But that goes both ways; it'd be good to see cultural events that let Japanese fans learn more about Indonesia.
K: It's up to us to create an atmosphere that makes those fans want to come back again! I'd like to know more about Indonesian food; it'd be great if someone set up shop at the stadium.
A: Indonesian beer is refreshing and easy to drink, so when you turn 20 let's go out drinking together.
K: I can't wait! The club's been working hard on social media; they even opened a Facebook page for Irfan fans. It has a lot of English so I can't understand it, but it's amazing that they'd set it up for one player!
A: Wow! There are still some clubs that don't have any social media, so it's great to see Ventforet trying out new ideas.
K: They also finally joined Twitter, and they update it frequently so it's great to follow.
A: Even Vegalta doesn't have any social media accounts yet! It's becoming an important took for both teams and fans. You mentioned that supporters are closer to the players than at other clubs; on Facebook you often post about visiting the training ground; what's Ventforet's fan service like?
K: There's a lot of freedom at the training ground! Bigger clubs have a lot of restrictions on fan service, but at Kofu sometimes there aren't even any staff to supervise. It's very relaxed! I've talked to supporters of other clubs who are shocked at how relaxed things are at the training ground. We all have to work together to keep that atmosphere alive.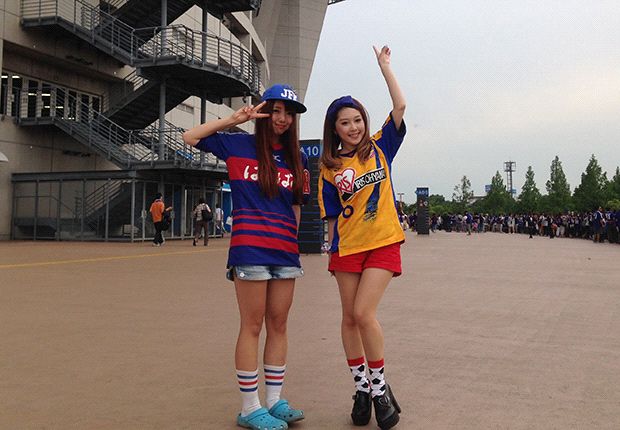 A: As you know this column will continue to feature other female J-League supporters; I think they have a lot of power and potential! There's a lot of young women like you supporting Ventforet, but what do you think needs to be done in order to increase their numbers across the J-League?
K: There's a lot of women who can't go to the stadium on gamedays because of work but go to the training ground instead! It's often said that female fans are just following what's trendy, but I don't think there's anything wrong with that. They'll become more enthusiastic as they learn more about the team, so we have to make more of an effort to welcome them!
A: A lot of people think women have a narrow view of soccer, but there's a lot of fans who become huge fans like us!
K: We like what's cool or stylish, so you have to make merchandise that appeals to them. That's really the big test for the front office. For example I think a lot of Yokohama F. Marinos goods are really cute!
A: In the end everyone's at the stadium because we love football! The players are cool, the stadium food is delicious, and you can travel to all sorts of places.Thank you for sharing your love of the J-League with us, Kazuki!
K: You're welcome! See you in Kofu!