The Singapore national football team returned to a heroes' welcome on Sunday afternoon, following their record-breaking fourth AFF Suzuki Cup triumph a day earlier in Bangkok.
Despite falling to a 1-0 defeat against Thailand, a 3-1 first-leg victory meant that the Lions prevailed 3-2 on aggregate to become the kingpins of Southeast Asia again, after their last victory in 2007.
Captain Shahril Ishak and vice-captain Hariss Harun emerged first to a rapturous reception from the 800-strong crowd at Changi Airport's Terminal 3, as they held aloft the Suzuki Cup trophy.
They were quickly followed by their teammates, and all the players took their time to exchange high-fives and pose for pictures with the supporters who had thronged the arrival hall as they made their way to the exit.
Thereafter, the entire team was whisked off to East Coast Park where they boarded an open-top bus to begin their parade, which would see them pass through Orchard Road.
The players were in an exuberant mood as they waved mini-Singapore flags and sang in high spirits despite a slight drizzle, with hundreds of fans cheering them on as they passed through town.
The bus then ended its journey at the Jalan Besar Stadium where the Lions emerged through the tunnel to be greeted by 3000 screaming supporters, as they made their way onto a podium.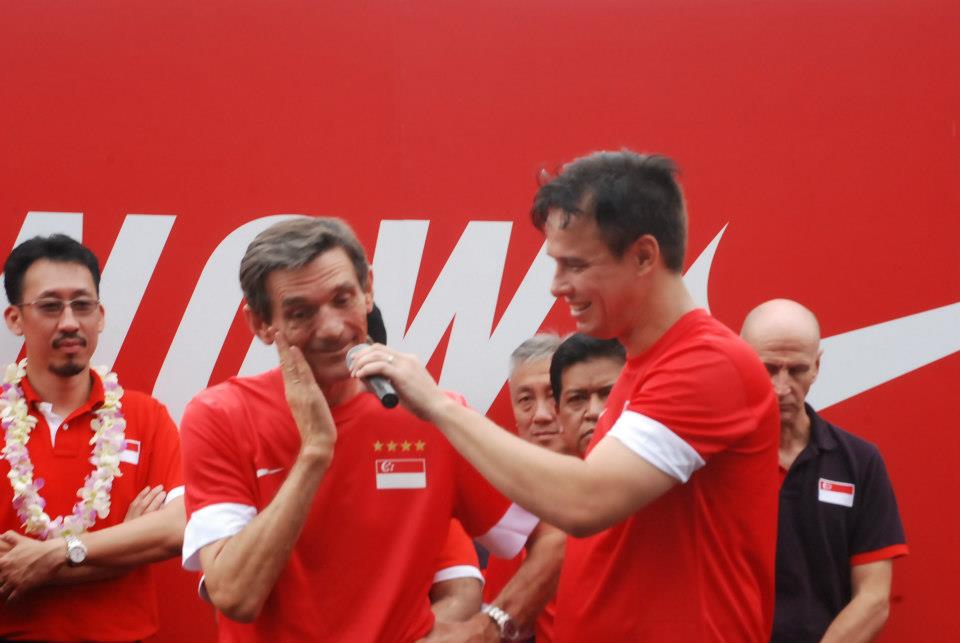 After the team was feted by Football Association of Singapore vice-president Lim Kia Tong for their historic achievements, defender Baihakki Khaizan, tournament Most Valuable Player Shahril and outgoing coach Raddy Avramovic took to the stage to express their feelings.
A shower of confetti then followed as the gleaming trophy was hoisted aloft, before the players kicked autographed balls into the stands as a reward for the unwavering support of the cheering fans to end the victory celebrations on a high.