The Azkals coach felt his sending off was a misunderstanding but kept the blame of defeat away from the officials, instead focusing on his own team
FROM Rajamangala National Stadium, Bangkok, Thailand
Cesare Polenghi
cesare.polenghi@goal.com
@CesarePolenghi
Thailand clinched a precious 2-1 victory against Philippines in their opening match of the 2012 AFF Suzuki Cup on Saturday evening,
Two late strikes in the first half was enough to ensure victory despite a late fight back by the Azkals. But the match was peppered with ill-tempered fouls and while bookings were few, Philippines coach Hans Michael Weiss was shown the red card late in the second half for throwing the ball at a Thai player.
"In the 65th minute there should have been a card for Thailand; my player was bleeding, he might have lost a tooth, I have no idea how that was not a red card," boomed Weiss at the post-match conference.
"An elbow can only be a red card. In several situations we were not correctly judged, but I don't want to complain."
Weiss did get more elaborate on his own sending-off however, adding: "My sending off was unfair. It was not intentional to hit the player with the ball, I just wanted to give it back."
"I spoke some Japanese, so I spoke with the ref and I criticised him, so maybe he took it personally. I was totally surprised I was sent off! The ref must be a bit more sensitive, we were so much under pressure."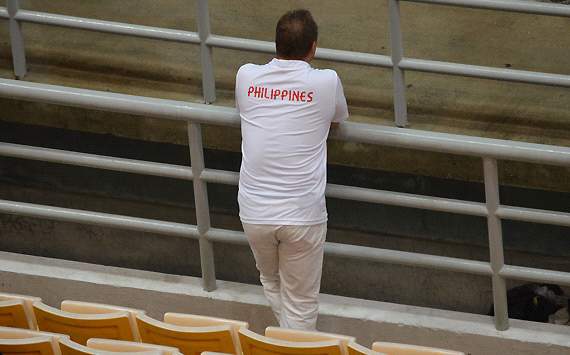 Weiss however was quick to clarify their defeat had nothing to do with the officials.
"But we did not lose because of the ref," he said.
"We did not play at our best, the fact we have Europe-based players doesn't mean we can easily beat a team as good as Thailand."
"If I am suspended, my assistant can take care of the team if I am not on the touchline. Although it is not ideal. We must analyze the game, and we might use the players that did so well in the second half. We were more balanced, so I will consider it."
Philippines take on Vietnam next who were held to a 1-1 draw against a Kyi-Lin inspired Myanmar.