---

BY ZULHILMI ZAINAL

Follow on Twitter

---
The recent tragedy involving Malaysia Airlines flight MH17 which was shot out of the sky over the disputed Ukrainian region of Crimea and killing all onboard, is the second air travel disaster to have struck Malaysia, only mere months after the disappearance of MH370.
All signs are currently pointing towards the tragedy having been perpetrated by Russian-backed separatists, whose surface-to-air missile system is said by many experts to have been provided by Moscow, alongside the training necessary to operate it. And so far, even the excuses that Russian president Vladimir Putin has conjured have not denied their involvement outright, only that Ukraine is to blame for escalating the violence in the region.
As much as this is a geopolitical incident, football too has been drawn into it.
The first, and admittedly weakest, link is that the tragedy took place just a few days shy of the 2014 World Cup's conclusion, in Brazil.
But guess where the next edition, in 2018, will be played? Yes, Russia.
What is being suggested in this article is that for Malaysia to lead or start a boycott campaign of the tournament, from now on. On one level, Malaysia should pull out of the qualifications, which is due to begin next year, as a statement. And this is not something we have not done before. Although our national team qualified for the 1980 Olympic Games' football tournament, we eventually pulled out of it. Coincidentally, that edition of the Olympics was also hosted by Russia, in Moscow. Furthermore, we did so as a protest against Russia's (then USSR) invasion of Afghanistan, an international transgression that shed not a single Malaysian blood.
Of course Malaysia, on our own, is barely a blip on the mighty Russia's radar. But some of the passengers aboard MH17 were Indonesian, Filipino, and Australian, whose countries of origin are members of the Asean Football Federation (AFF). Our former FAM president, Sultan Ahmad Shah, who is the current AFF president, should use his influence to convince the other countries to refrain from participating in the qualifications. Don't forget that in recent years, Australia are a consistent feature of the World Cup, and should they pull out from 2018, it will definitely send a strong enough message to FIFA and Russia.
The second level of boycott should involve the fans, us. It is almost a given that even if our national team do not boycott the qualification, they will not make it all the way to the finals. But that has never stopped us from enjoying it every four years, glued to our TV sets every night, and even travelling to the host country to catch the tournament at ground zero, for the privileged few. The fans should also do their part, by ignoring the tournament altogether when it is shown on tv. This is because most of the tournament's revenue is derived from television broadcasting rights, sold to various tv channels in all corners of the world.
The South American Football Confederation (CONMEBOL) website states that FIFA expects to make US$4 billion from the recent World Cup, 60% of which is from tv rights. Even if FIFA put a sanction on all the countries who boycott the qualifications, hurting them in their wallet is something that they understand and fear. And hosting the World Cup also contributes to the host country's Gross Domestic Product, and being deprived of the financial returns will also hurt Russia. The investment made in order to secure the hosting rights is simply massive, and the lack of sufficient revenue can bankrupt a country. Maybe just for 2018, we should direct our attention to some other sports for once. Malaysian hockey needs love too, and better still, our national hockey team actually have been in the hockey world cup.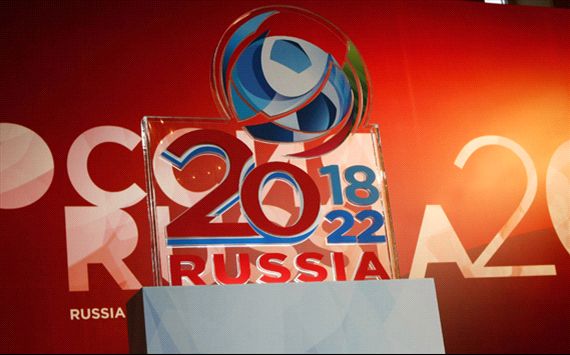 Pressure should be placed by the footballing world on the 2018 World Cup hosts, Russia

This boycott should also be participated by other countries who constantly qualify for the World Cup, whose citizens were on MH17 such as Germany, UK and Belgium. Violent loss of lives is always something that is devastating regardless of the number, but surely the Netherlands' are still trying to make sense of their countrymen who perished on the flight. Out of the 300 or so passengers, around 190 of them were from the Netherlands, whose national team finished third in Brazil just last week. Just think about this; last Saturday almost all of them were celebrating their 3-0 win over hosts Brazil. Their absence from (and their fans' boycott of) the 2018 edition will make the outcome even more telling to Russia. Furthermore, these are European countries that are more directly involved in the incident and through their international relations, by the virtue of being on the same continent as Russia. If they fail to take Russia to task, they themselves will feel the effects.
Of course, some will voice out their doubts, as FIFA has always insisted on not bringing in politics into the sport. This is admittedly a good policy, it must be said. Football, as a sport that is played with the same set of rules anywhere in the world, can be a tool to unite people from different countries, in celebration of the spirit of healthy rivalry, athleticism and sportmanship, instead of as something that is divisive. However, we are not talking about some typical border dispute here. This is to be done because some 300 people senselessly lost their lives to an act of pure evil and recklessness, 300 lives who had nothing to do whatsoever with Crimea. So far, no indication has shown that any of passengers were Russian or Ukranian.
To partake in the pageantry of the 2018 World Cup is almost similar to accepting a dinner invitation from someone whom you know has broken into your house and robbed you blind. He is a gracious host, constantly refilling your glass and making sure you get a second helping, but you are simply unable to ignore the idea that he has robbed you. It is merriment steeped in hypocrisy and cowardice.
If this sounds like over-reaction, take note; the Russia-supported rebels have remorselessly trespassed the crash site and barred the emergency services and the recovery effort from reaching the area. Rumours have also surfaced that the plane's black box may have already been spirited away to Moscow, and the evidence that indicate the rebels' culpability, has been removed by them. Russia has also expressed that they should be the ones to investigate the crash site. To use the robber analogy again, this is akin to having your robber investigate the break in at your house. There may not be justice for the passengers.