They may not have been the headline protagonists on this remarkable night of football, but there were Premier League players who more than played their part as Germany racked up a record-breaking, scarcely believable 7-1 win over World Cup hosts Brazil in the semi-final.
It wasn't just the
Selecao
players who had poor games, though, with one Arsenal man turning in a disappointing performance against the odds.
So as the hopes of a nation are dashed in incredible fashion,
Goal
examines how all the representatives of England's top-flight performed on World Cup day 23...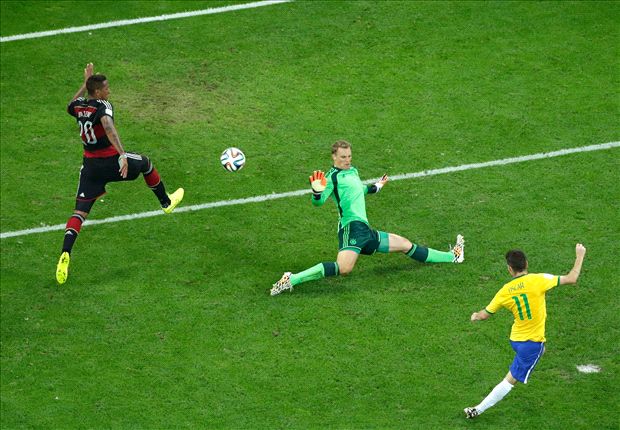 Oscar barely got a look-in during the first half. Things looked quite promising for Brazil in the first two or three minutes, with their players surging forwards, but the match was barely 10 minutes old when it started to get a bit shaky, with the defence going walkabout. Shortly afterwards it was 1-0, but even then Oscar tried to pull the strings as the hosts continued to flow forward, and they may have found an equaliser had Hulk made the most of his opportunities, but alas...
Fernandinho was more involved, but not in a good way. He missed an interception in the build-up to the second goal, leaving Toni Kroos free, and was then robbed of possession by Kroos leading up to the fourth. In general he went missing as Germany ruthlessly picked their opponents apart, storming through the middle of the pitch, down the flanks and through a dreadful defence. He was withdrawn at half-time.
Oscar, meanwhile, stayed out on the pitch for the second half and kept plugging away. In fact he missed a good chance after 53 minutes, trying to curl the ball home with outside of his foot only for Manuel Neuer to make the stop. It would have made little difference to the result given Brazil's first-half performance, but Germany quickly reasserted their dominance shortly afterwards and ended up running away with it.
The Chelsea man went close again late on, but lash his shot across the face of goal and almost out for a throw-in. He did get his goal in the end, though, capitalising on some Brazil-like defending from
die Mannschaft
. He took it well, clipping the ball over the almost-indomitable Neuer for the scantiest of consolation goals.
PAULINHO

, RAMIRES & WILLIAN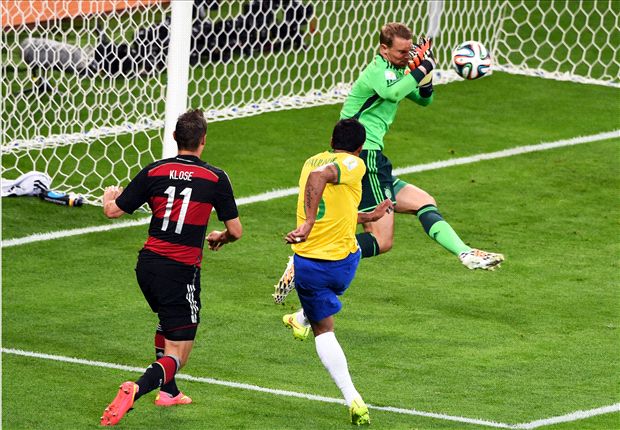 The trio were introduced into a disaster zone. Ramires and Paulinho were sent on at half-time and 5-0 down to salvage something, anything, from the match. They actually started well, and Paulinho had two chances in quick succession to get a goal back, only to be thwarted, inevitably, by Neuer. The second save was world-class; even if he had kept it out with his face or chest it would've been impressive, but to get two hands on the ball was extraordinary.
Ramires was not such a direct threat but he did bring some urgency into the Brazil midfield and he was certainly an improvement on Fernandinho. Whether that had anything to do with Germany slowing down is difficult to say. There was one shot late on which was comfortably fielded by Neuer, around the time that Paulinho also sent a routine shot down the Germany keeper's throat. The Spurs man was also off target with a speculative overhead kick.
Willian, to his obvious chagrin, came on as soon as Germany scored their sixth. In such difficult circumstances it was hard to make an impact, and he didn't. There was one curling shot which did not trouble Neuer, and he fleetingly linked up well enough with team-mates on the edge of the box, but that was the extent of it.
MESUT OZIL & PER MERTESACKER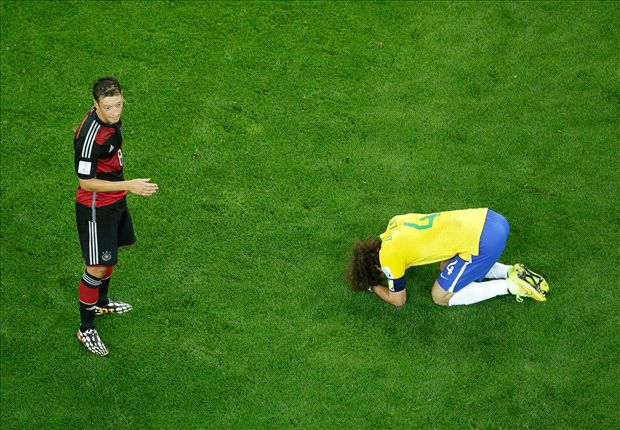 Somehow, in all of this beautiful, ruthless attacking German play, Mesut Ozil managed to have a poor game. Bastian Schweinsteiger broke up play on the edge of his own box, Sami Khedira provided a defensive shield, built attacks and got on the scoresheet, and Toni Kroos showed why Real Madrid want to sign him with two goals. But Ozil was quiet all night, and in the final moments he slotted the ball past the post when clean through. Seconds later Oscar had scored for 7-1 when it could so easily have been 8-0.
He did set up Khedira's goal with a selfless, if straightforward, pass but in truth Ozil has been off colour all tournament. Unlike Mario Gotze, though, he continues in the line-up. It would be unlikely for Jogi Low to change it now, for the final, but Ozil needs a jolt of some sort.
Per Mertesacker came on for Mats Hummels at the break and seemed to be struggling even as he jogged out onto the pitch. In truth he was barely test for the next 45 minutes, sparing for a brief spell of defiance from Brazil in the first 10 minutes of the second half and Oscar's goal at the death. 'The BFG' was nowhere near the incident as the Chelsea playmaker broke through a staggered Germany back-line - with Jerome Boateng miles behind his colleagues - and barely made any effort to get back. It was 7-0 and seconds after club-mate Ozil messed up, after all.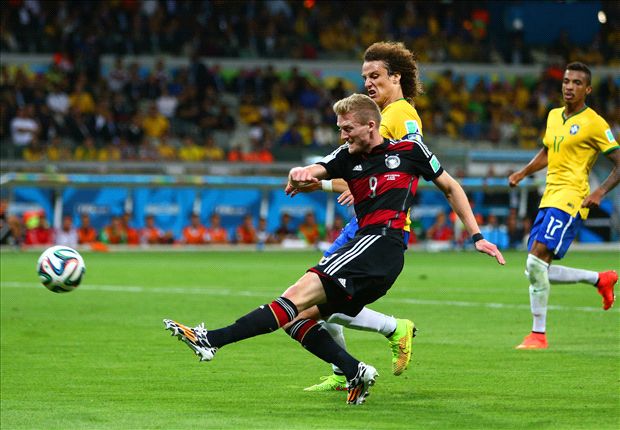 The Chelsea man was given 45 minutes to perhaps earn himself a starting role in the final, and with his side already 5-0 up he made hay. With just over 20 minutes left he earned himself some space in the box - though he was heavily aided by the Brazil defence - to slot home his side's sixth. Ten minutes later he caught the hosts on the hop once again, charging into the box and crashing in number seven off the underside of the crossbar.
Two goals are eye-catching in their own right but Schurrle also contributed a very useful outlet for his side, looking to break away behind the defence when possible, but was also capable of slowing play down and recycling possession. On this evidence he will be a very handy weapon on Saturday, and into next season for Chelsea.