By
George Ankers
Usain Bolt is becoming almost embarrassing in his desperation to play for
Manchester United
– although, of course, if us regular folk thought that our profile was high enough to hassle our way into a contract with our favourite team, we'd probably be doing exactly the same thing.
Indeed,
it looks as if the Jamaican sprinting phenomenon may well get his wish and represent the Red Devils in a charity match against Real Madrid
.
But maybe, just maybe, Bolt will impress Sir Alex Ferguson in that game. Should he get the role at United of which he so vocally dreams?
Goal.com
has picked out 10 reasons why the Olympic hero might be a better fit to partner Robin van Persie than England icon Wayne Rooney...
Goal.com isn't calling Rooney fat - but the forward admitted as much himself in his new book that he had "put on a few pounds" over the summer and looked seriously out of sorts as a result in the early stages of the new season before getting injured.
Bolt is categorically the finer physical specimen; lean and streamlined but packed full of power. You definitely couldn't call him fat, not even at a tribalistic stretch. In the rigours of the Premier League, you need to be at peak fitness, so it's definitely Bolt 1-0 Rooney on that front.
2. If anyone can make that kit look good...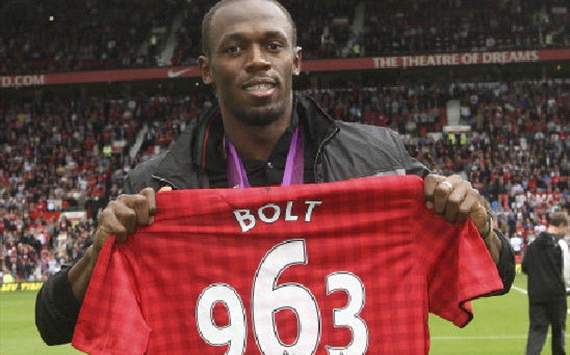 Let's not beat around the bush on this: Manchester United's new home kit is awful. This is a sartorial fact, a fundamental fashion truth. If you disagree, you are wrong. Gingham is not "back". Gingham will never be back. If anyone was wondering why the club's share price wasn't as high as expected, the answer is probably that nobody wanted to be associated with that travesty.
No United player looks good in it; there are only those who look terrible and those who look slightly less terrible. The giant-red-tablecloth look just doesn't fit a man like Rooney (again:
definitely not fat
).
Bolt, on the other hand ... Bolt is a cool man. A really cool man. Not calm-and-collected, slotting-home-a-pressure-penalty cool. He's Captain Kirk cool. Men want to be him. Women want to be with him. Men would quite like to be with him, too. He often acts like an arrogant so-and-so but his surprisingly warm aura just overrides it and makes you fall in love with him regardless.
Everything that Bolt touches turns to gold. If anyone can save that kit (and it is a big ask) and make it somehow look attractive or desirable, it's him.
The media are composed of human beings and therefore adore Usain Bolt. Whereas Rooney is often a hard man to like (throwing a hissy fit and threatening to join Manchester City to force through a new contract, swearing at TV cameras, generally being involved in any way with the constant downer that is the England national side), Bolt sells himself perfectly.
The inherent silliness of his signature would soon be eclipsed by a fawning media campaign singing the Jamaican's praises and would help United, a traditionally polarising club for football fans, to reach out and conquer any last nook and/or cranny of the marketing world still left uncracked.
4. There's no Coleen Bolt

Wherever Wayne goes, Coleen follows, like an out-of-proportion albatross around his neck squawking a stark warning about the vapidity of modern society. Coleen Rooney is one of the poster-girls for the WAG movement. It's not even her fault; she just happened to profit massively from being married to someone she loves and fair play to her for taking advantage. That doesn't mean that her being in the public eye is a good thing.
Bolt does not have a WAG. Bolt has anyone he likes (the Swedish handball team, for example. More than one of them. Simultaneously), briefly, then moves on. He really is Captain Kirk. There'd be no time for any Mrs Bolt to make a series of TV programmes entitled 'Coleen's Real Women'.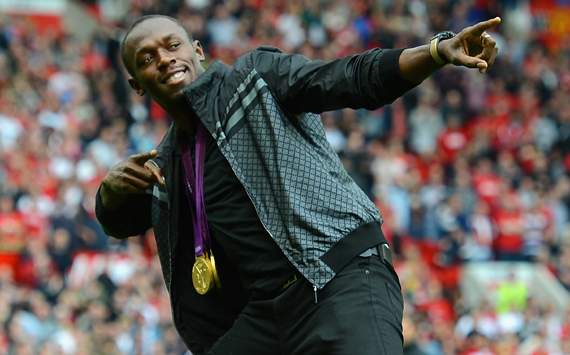 This pose should get old - yet somehow it never does. You'd like to see it more often, admit it. It's certainly more entertaining than abusing TV viewers in some weird personal revenge mission against the paying public or whipping a cheeseburger out of his sock* or whatever else it is that Rooney is doing to celebrate his strikes these days.
*
He's not fat.
The more goals that Rooney scores, the more baby boys are doomed to be born with the name 'Wayne'. This is a cruelty to children and must stop immediately. An entire generation of English youngsters growing up with a backside-kicking 'Usain', however, or the bolder-still 'Bolt' ... now that would be something.
Footballers know that they are an inspiration to the depressingly impressionable. Wayne, if you're reading, just think about how much better you would have been treated over your entire life if you were called Bolt Rooney, then do the decent thing and retire immediately to make room for the roadrunner.
7. He's really, really fast

Usain Bolt has built up an impressive reputation for being very, very fast and, while he has not yet tested his speed against Sven-Goran Eriksson near a beautiful woman, he would definitely beat every single Premier League player for pace.
Bolt is unquestionably faster than Rooney. He's faster than Theo Walcott. He's faster than the entire Wigan defence put together. It would probably come in handy.
There are not enough Jamaicans plying their footballing trade in the English top flight right now. Jobi McAnuff and Adrian Mariappa are a start but, in many ways, the Premier League has never properly replaced Deon Burton and Marcus Gayle, the unthinking thinking man's strike partnership that never were.
Wayne Rooney is English. There are LOADS of other English players in the Premier League. It's dull. Lee Cattermole, Wes Brown and Danny Guthrie are all English. James Milner is English. Steven Caulker. Declan Rudd. James Perch. Even Liam Ridgewell is English. BO-RING! More variety, please.
9. He understands rivalry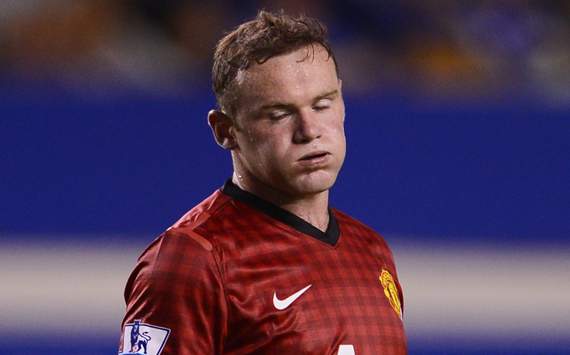 In his ongoing competition with his friend and training partner, Yohan Blake, to outrun each other to the extent that physics itself is eventually disproved by their mere existence, Bolt has learned all he needs to know about rivalry. Specifically, he knows how to win when it matters by overcoming his opponent, however brilliant.
Rooney, meanwhile, was part of the United team who lost out to Manchester City when it mattered last season and allegedly used the idea of joining up with the enemy as a negotiating tactic when he fancied a bit more money. This clearly invalidates all of his vast ability, leaving the way clear for Bolt to put on his dream shirt (good Lord, that shirt is hideous, though, isn't it?).
Wayne Rooney, as a result of his afore-mentioned negotiating tactics, earns more in wages than Lionel Messi or Cristiano Ronaldo. Let that sink in for a moment. He'll probably be after another raise before his Old Trafford career is out, too - that's just the nature of football.
Bolt, of course, is a world icon and you might think that he could demand a similar salary. Sir Alex, of course, could stare across the table at the Jamaican and bark in response: "Would you like to take a moment to reconsider the ridiculousness of such a demand before trying again? You do realise how completely silly it is that we are even having this conversation? That you, Usain Bolt, Olympic icon, want me, Sir Alex Ferguson, manager of Manchester United Football Club, to give you a contract? To play football? In a Manchester United shirt*? It's 50 quid a week, son, and a tenner bonus for a goal, or you can go back to running around your local park for all I care."
Glazernomics at their best.
*
I mean, SERIOUSLY, who designed that thing? Have they been fired? They must have been fired.
Follow George Ankers on