---

BY SIVAN JOHN

Follow on Twitter
---
On a night when there was an important clash in Kota Bharu and a spectacular win for the Cops in Shah Alam which propelled them to the top of the Super League standing; Malaysian football was thunder struck by a different headline altogether.
Johor Darul Takzim (JDT) have decided to relieve Bojan Hodak from his duties as head coach of the club, a day after losing to Perak 2-1 in Ipoh. While there has been many speculation on the reasons behind his exit, I guess the most logical explanation is down to the fact that club hasn't been impressive this season despite spending a huge amount of money on transfers.
With Hodak out, the next question is "Who will be the new coach for JDT?"
Throughout his reign as the President of Johor Football Association, Tunku Ismail Sultan Ibrahim (TMJ) has maintained a strong Argentine legacy within the Southern Tigers organization. If my calculation is correct, a total of nine Argentine imports have played for either JDT I and JDT II since 2012.
So deep down I had a feeling that one day someone from the same country that has given us the greatest footballer of all time, sizzling tango, tasty wine and delicious asado (Argentine steak) will be coaching JDT.
Well that wait is over!
So now, the next question on everyone's mind is "Who is this Roberto Carlos Mario Gomez?"
With a full name that combines a legendary Brazilian left back and a current German striker; it's easy to say why Mario Gomez's arrival has raised a lot of eyebrows among local football enthusiasts (to the point a local news portal put up the wrong picture when announcing this news!).
I must admit that I had virtually no knowledge about him prior before Pahang took on South China in the AFC Cup; therefore I needed to gather some information from a good friend back in Buenos Aires to dwell into the deeper world of Mario Gomez.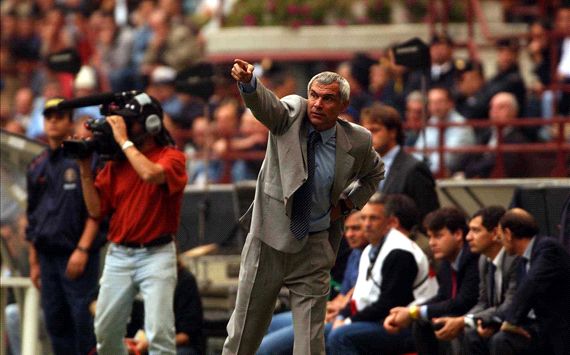 Mario Gomez was an assistant coach to Hector Cuper.

My starting point was the fact that he used to be an assistant coach to Hector Cuper during his time with Lanus, Valencia and Inter Milan. That should give us an indication that we are looking at someone who has a defensive minded approach.
Interesting enough, there is a fake Twitter account about him (@mariogomeceando or in English means "Mario Gomezing") which has attracted more than 10,000 followers. This account was created mainly to make jokes out of his defensive approach to the game.
As you can see, there is also a tweet which confirms about his arrival in Malaysia.
Asi es amigos, nos vamos a Malasia en la busqueda eterna del #PuntitoInteligente.

— Mario Gómez (@mariogomeceando) April 26, 2015

Basically it says "Yes, my friends. We are going to Malaysia in our eternal search for the #IntelligentPoint"
In case you're wondering what does that mean? In his Gomez's opinion, a 0-0 result is an intelligent point rather than depressing result. Enough said then.
While Hector Cuper may have had a big part in Gomez's managerial style, it is important to know that another defensive minded manager that perhaps played a huge influence on him.
During their playing days, both Cuper and Gomez were part of the Golden Age of Ferro Carril Oeste in the 1980s. Back then the club was managed by Carlos Timoteo Griguol, a somewhat notorious figure from what I've gathered. It was during this period that Gomez enjoyed his best years as a player winning 2 national championships (1982 and 1984).
Despite of this success, Griguol wasn't even a popular choice for the National Team job due to his conservative approach. He did had a short stint with River Plate but that didn't last partly due to fans were not pleased with the team's style of play.
In 1994, Griguol took over the managerial post at Gimnasia y Esgrima La Plata. It was here where he gave Gomez his first taste in management appointing him as his assistant. Together they nearly won a Championship in 1995 but lost out to San Lorenzo on the last day of the season.
As a manager, Gomez only success came when he was in charge of Gimnasia Jujuy; helping them to win the Primera B Nacional (Argentina's equivalent to 2nd Division) in 2005.
Having spent a significant part of his football years with Cuper and Griguol (not to forget the "Intelligent Point" philosophy); you will get the picture on what to expect from Mario Gomez's appointment at JDT.
Perhaps this is an indication that JDT have taken a different approach in terms of tactics and game plan whereby results matters more than performance? Only time will tell. It will be interesting to see just how things will work out for both him and the club in the next few months.