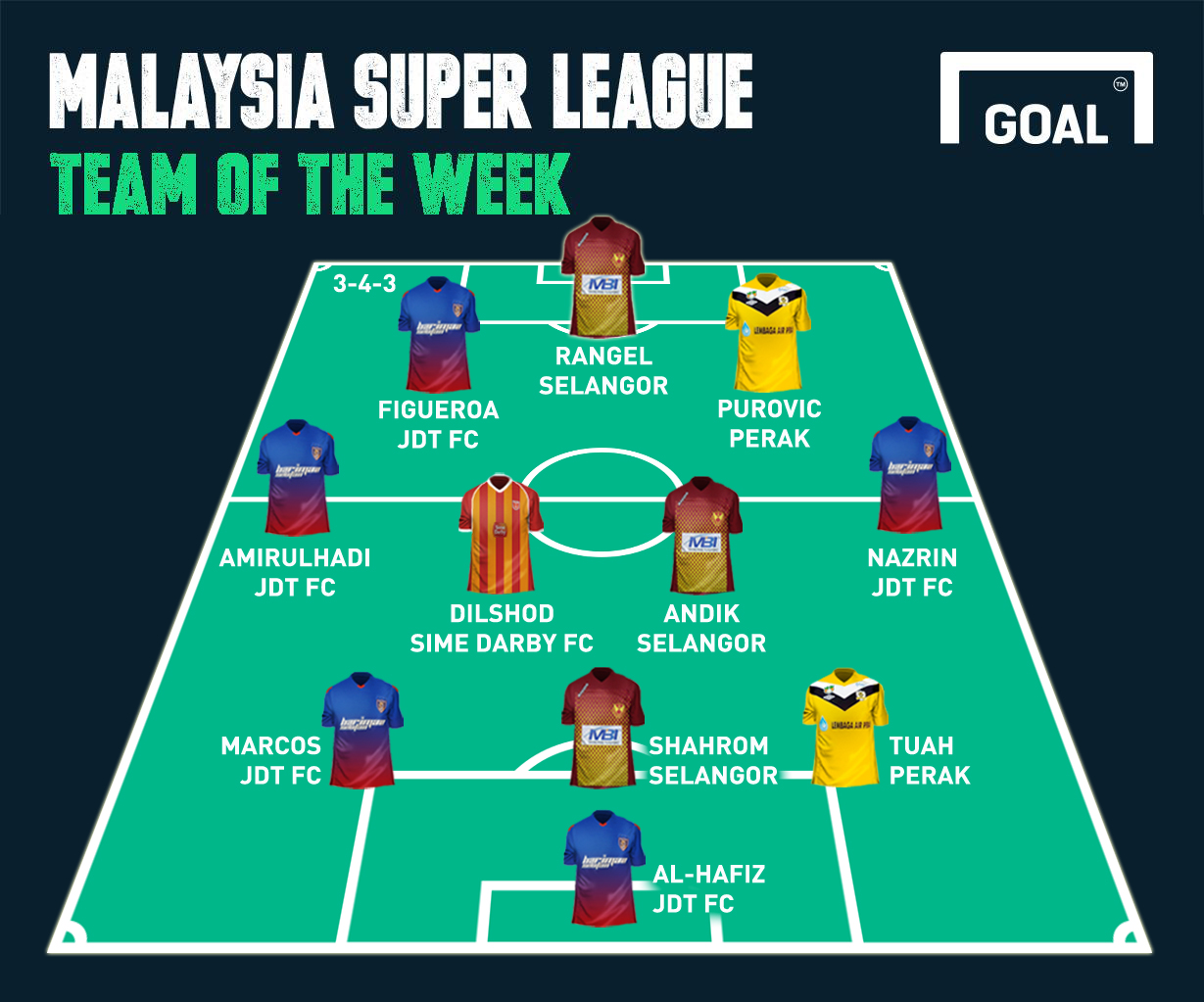 JDT's
Al-Hafiz Hamzah
made his first appearance of the season and impressed everyone with a clean sheet performance against Kelantan.
There was another JDT defensive player that impressed against Kelantan and it was Marcos Antonio. The Brazilian read the game well and positioned himself brilliantly to protect his keeper, and nullify the threat posed by Kelantan. Selangor's defensive lynchpin Shahrom Kalam was able to lead his defence by example in the match against Sarawak. Commanding defender Tuah Iskandar is highly rated for his hardwork on the pitch, but inconsistencies have affected him to a certain extent. But against LionsXII, Tuah demonstrated his brilliance and justified the hype around him.
Leading our midfield this week is JDT's rarely used duo of Amirulhadi Zainal and Nazrin Nawi. Amirulhadi made the most of the rare chance to start against Kelantan, hitting a goal for himself and making the other two possible through his overlapping runs down the right. Nazrin on the other hand helped JDT to beat his home state with an assist and one goal. Indonesian attacking midfielder Andik Vermansyah was back to his usual form to ensure the Red Giants kept up the pace with the league leaders, providing an attacking option down the right through his slaloming runs. He also provided the assist for Selangor's second goal of the match. Maestro Dilshod Sharofetdinov again proved himself as the Giant Killers' most important player of the season in his performance against T-Team.
Once again, Lucho Figueroa led the line well for Johor. He picked his runs well, knowing when to come short and allow the other attackers to push ahead of him, or play right up against Sime Darby's last line. The return of Selangor hitman Paulo Rangel meant that goals were duly delivered. The first of which a stunning strike on the half volley direct from Hadi's corner kick. Rangel's output ensured that the MSL title race goes down to the wire. Completing our attacking trio is Milan Purovic, who caused LionsXII plenty of problems with his physical presence throughout the match but it was his brilliant bending run in the second half that carved open the home defence.
Do you agree with our picks? Have your say in the comments below, or reach us at Facebook and Twitter!