---

BY ZULHILMI ZAINAL

Follow on Twitter

---
Despite their earlier plan to replace head coach Abu Bakar Fadzim due to their brush with relegation the Perak FA (PAFA) seemed to have changed their minds, deciding to keep him in charge of the Bos Gaurus.
At one point, after multiple defeats, Abu Bakar who us fondly known as 'Coach Burn' by the fans was rested by the FA, and was even close to being replaced by Bulgarian head coach Velizar Popov, their fans were clamouring for Abu Bakar's head, and
there was rioting after their league match against JDT
, which recently resulting in PAFA being fined for the disturbance.
And to their credit, Perak's fortune has improved since then. The addition of Marco Tulio and Milan Purovic got them scoring goals again after going five matches without finding any, they started winning again after nine straight matches without a win, and extricated themselves out of the relegation zone. It seems that Perak will hold on to their distinction as the only team to not have been relegated from the modern Malaysian top division for a little longer.
Regardless whether Burn's continued service is a decision made by the Perak FA out of necessity or desperation, it must be said that it is not an unwise one.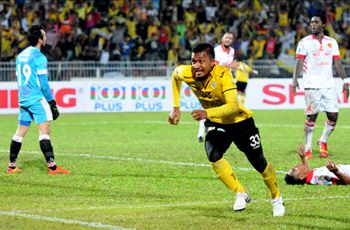 Young striker Khairul Asyraf has fluorished under Coach Burn
Sure his team slipped up for a bit in the first half of the season, but Burn cannot be blamed for this. If you remember, at the end of the 2013 season, following their 6-1 defeat to Sarawak in the Malaysian Cup, the FA brought in the Malaysian Anti-Corruption Comission (SPRM) to investigate the whole squad for match-fixing. Nothing untoward was found by the investigative body, but the saga saw several of their key players leaving for other teams, including their head coach at the time Azraai Khor Abdullah.
The blunder meant that for the 2014 season, Perak had to resort to promoting their youth players from their President's Cup team and signing several more young players from Premier League university-side UiTM FC who left as they had finished their studies at the university.
That also meant having to promote the same coach who had led their youth players, Coach Burn. His appointment was not without merit. He had earlier taken Perak to back to back final matches in 2012 and 2013, winning them in 2012, after he finished his playing days with Perak in 2003 and joined their coaching staff. In short, the FA looked to one of their own to fix the mess that they had made.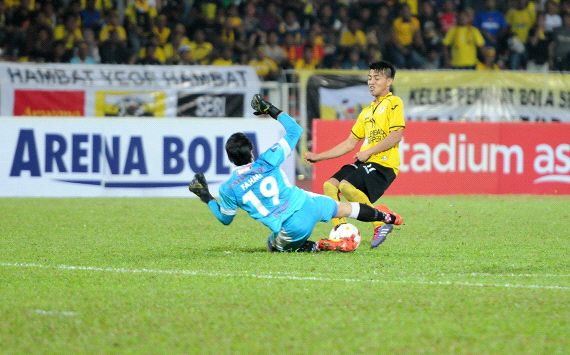 Youngster Ridzuan Adzly was at full flight against Kelantan.
Although their results in the first half of the season were dismal, it was not for the lack of trying. Against the much-fancied and more-experienced Kelantan in Ipoh, their young players showed huge potential to finish the match with a famous 2-1 win. Khairul Asyraf and Ridzuan Adzly played as if their inexperience meant that they had never been told what they could or could not do, and ended up exceeding their abilities. In the matches they lost, they still played attractive football. These are the players that should be playing together for the next few years, so they can bring the best out of each other. And for this to happen, they need to have the same head coach that has nurtured them as teenagers.
The purists can't be faulted for demanding a bit more commitment to growth from their teams. Jürgen Klopp was given a long-term contract to develop the current crop of Dortmund squad, and Sir Alex Ferguson had needed a few seasons before he made Alan Hansen eat his own words, when he first took the reins of Manchester United. There's something very romantic about a team that gain success without buying it, by nurturing the members needed to achieve it, by charting their course carefully, and by implementing the right tools in their disposal. From a more pragmatic perspective, this course of football administration is also more even-headed and less risky than spending for success.
Another reason is that this is the route that seems to be taken by a lot of Malaysian teams currently. Of the 12 teams in the MSL currently, only three teams have the same head coach that led them last season, whereas three other MSL teams are now led by a different head coach than the one they had at the start of the season. Foreign players are dropped and signed ala "tukar baju", as the Malay saying goes, at the slightest drop in performance. For the benefit of the development of Malaysian football, this "tukar baju" culture must be stopped. Good teams require stability, and enough time to start playing well together under a clear and well-charted direction of one head coach or manager.
PAFA now has the chance to develop one of the best teams in Malaysia in five years' time, and they should stick with Burn. They must also remember that as much as the players need to grow, the inexperienced head coach too need space to grow as a head coach, and their belief. The FA must also remember that it was because of their mucking around that Perak found themselves in a dire situation awhile ago. Let the footballing decisions be made from the people they hired to do so. Don't find a new head coach at the end of this season.