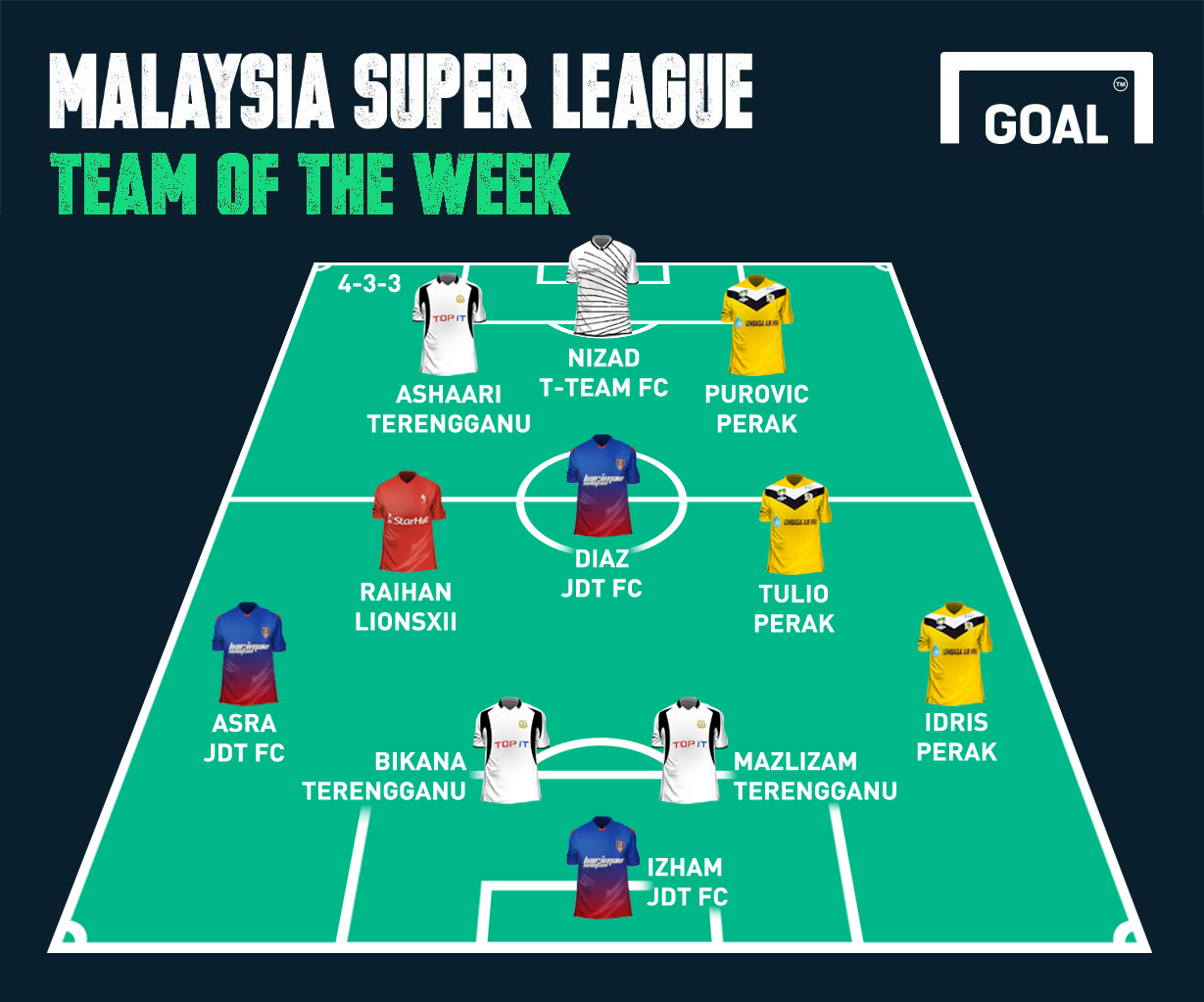 JDT's
Izham Tarmizi
was imperious in goal against leaders Selangor, as his team sealed an invaluable 1-0 win away from home.
Powerful defender Vincent Bikana was spot on with his positional strategy against Pahang, as the Terengganu stalwart prevented the Elephants from scoring more than one goal in Kuantan. Bikana's partner Mazlizam Mohamad was another solid performer in his side's 4-1 win over Pahang. He was smart in predicting opposition moves and made countless interceptions throughout the game. On a night where JDT claimed an all important win over Selangor to bridge the gap at the top of the table, Asraruddin Putra performed admirably to inspire Johor to a clean sheet. While Perak fullback Idris Ahmad kept the potent Sarawak attackers at bay, with his hardworking display at the Perak stadium last weekend.
Raihan Rahman helped LionsXII bounce back from a mid-week defeat, to win against ATM with a commendable midfield performance. The Bos Gaurus need to repay the efforts of midfielder Marco Tulio when the season is over, last Friday he deservedly bagged a brace against Sarawak He is turning Perak's season around, and pulling them clear from the relegation zone through his fine performances. Rounding off our midfield is 23-year-old Jorge Diaz who capped off a fine week for him and the Southern Tigers. After scoring a brace in their 3-2 win over LionsXII on Tuesday, he then provided the assist for the only goal scored in their Saturday match against league leaders Selangor. This achievement is all the sweeter as their victory reduces the gap at the top of the table to just two points, and the Selangor defence have been the hardest to penetrate in the league.
Terengganu kept pace with the table toppers and had Ashaari Shamsuddin to thank for their massive win in Kuantan. His skills and vision on the ball on the night was too much for the likes of Damion Stewart to deal with. Milan Purovic finally opened his account for Perak as he helped the Bos Gaurus to move away from the bottom slot in the league standings. The Montenegrin also laid on the assist for the opening goal which paved the way for Perak's win. And last but not least, Nizad Ayub snapped Kelantan's two match winning run with a well taken goal. Having played for the Red Warriors prior to joining T-Team, it was probably a bittersweet moment for the one-time national striker.
Do you agree with our picks? Have your say in the comments below, or reach us at Facebook and Twitter!