Beginning in May, EnJoy! will feature Japan's female fans sharing their thoughts and experiences as supporters in the J-League. Goal Japan editor Asami Mine recently spoke with us about her own history as a supporter and provide insight into Japan's football fan community.
What was your first encounter with the J-League?
I was in elementary school when the J-League was launched. I'm from Ibaraki-ken, and Kashima Antlers were a big deal. I'd wear all sorts of clothing with the Antlers logo. Verdy Kawasaki were also very popular. They had Kazu Miura, Tsuyoshi Kitazawa, Ruy Ramos, Bismarck, and Tetsuji Hashiratani. I'd collect all sorts of club merchandise because we had a subscription to the Yomiuri Shimbun [a newspaper and Verdy's parent company].
Did your classmates like football too?
They did, but the girls weren't as interested. During recess all of the boys would take a ball and go out to play, and I was the only girl who joined them. That said I think the boys liked playing more than watching.
What's your most distinct memory of watching football at that time?
When I was in 6th grade, Masakiyo Maezono was really popular, and it was shocking when he went to South Korea. I didn't watch many overseas games but I knew that the best teams were in South America and Europe… so why did he go to Korea? That's what I thought at the time, at least.
What was the first game you attended?
I remember that my father took me to an Antlers match. The first match I went to myself - buying a ticket and everything - was JEF United Ichihara, because Yuki Abe played there. I would have been a second or third-year student in junior high school. It felt like taking a trip, having to ride the trains all the way to the stadium.
How did you become a Vegalta supporter?
I should say I'm not from Sendai; I don't have any connections there. After Abe joined Urawa Reds [in 2007] I started going to Reds games to watch him play. But Reds were a strong team with a lot of support and there didn't seem to be any particular need to support them.
In 2010 Vegalta returned to the J1. They weren't a strong team but they had such fantastic, local support. One of their players, Kunimitsu Sekiguchi, was my age; it felt like supporting someone in your school's football club, and I started following him. Then I decided to go to a Vegalta game by myself and I became a fan.
What was it like to
support the club after the March 11 earthquake?
Japan's not a large country, but even so the average person living in a region far from Tohoku might have felt disconnected after 3/11. But football fans have traveled to Kashima Antlers games, to Vegalta Sendai games, to Fukushima United games. They've had an excuse to visit the region, and as a result they have this deeper connection. And even three years later those supporters still volunteer, and they have banners and signs supporting the region. It's really moving to see.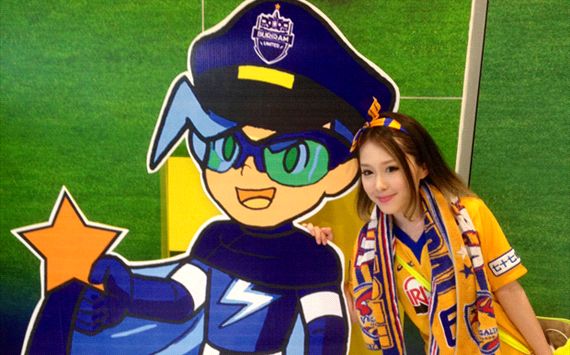 In 2013 you attended all 46 Vegalta games, home and away, across four competitions. What inspired that level of dedication?
I started following the club because of Sekiguchi, but I eventually understood Vegalta's appeal: they didn't have any star players but they played well as a team and that struck a chord. I realized that this was a team that I wanted to support, not just a team with a player that I liked.
Are there a lot of female fans in Japan who follow players instead of teams?
In Japan football isn't a part of one's lifestyle; it's considered a hobby or something you do on the weekend. Female supporters who go to support a team inevitably have a player they like, and they'll support the team because of that player.
Do you think that's a good thing?
I think so; it introduces them to the sport. For example right now Cerezo Osaka's female supporters are known as 'Cerejo' [combining 'Cerezo' and 'Female' in Japanese]. Now they're following the team because of cool-looking players like Yoichiro Kakitani, Takumi Minamino, but in 15 years some of them will continue to support the club. I think anything that brings fans to the J-League is great. The important thing is that they have the passion to come to the stadium and support the team in person.
What do you want readers in Southeast Asia to take away from your column?
I'll be interviewing female supporters from across the league. I hope we can show that it's not just male fans in the stands; women are incredibly passionate about the game. Football is booming in Southeast Asia, and women can add to that with their support.