It is not all fine and dandy with Nazmi Faiz's transfer to Malaysia Super League giants Selangor. Goal tells you why..
---

BY ZULHILMI ZAINAL

Follow on Twitter

---
It has been confirmed that Malaysian teenage sensation Nazmi Faiz Mansor has officially transferred to Selangor from PKNS in an undisclosed deal. His contract with Selangor is reportedly for three years, and the move has come after a month of speculation, starting well before the April transfer window was open.
The Red Giants fans are rejoicing at his capture, and the local media are providing substantial coverage of the transfer, but is this transfer really a good thing?
As a Selangor fan, I am of course happy at Nazmi's signing. Hey, the Selangor FA is doing their work after all. But a few things have tugged at my mind, ever since the rumours first surfaced, and I think his capture is not necessarily a good thing, for Selangor and for the Malaysia national team. Let me break it down for you.
First of all, it was peculiar that rumours have been circulating that Selangor head coach Mehmet Durakovic had been reluctant to sign the youngster. And a few days after the signing has been finalised, other rumours surfaced that the signing was made by the FAS Deputy President, Dato Mokhtar Ahmad, who went over Durakovic's head with the decision. I know managers and head coaches of Malaysian teams are generally disposable and interchangeable as far as the FA's are concerned, but I think this decision is not a healthy one. Let's not harp on about the respect which should be granted to these personnel who were appointed due to their credentials, because this issue had been discussed extensively elsewhere. What has not really been discussed is that Nazmi's signing is a waste of resources.
Yes Mehmet now has one more talented player at his disposal, but it is not like
FIFA
or
Football Manager
. In real football, you can't just slot in a good player and it's all smooth-sailing from there. There are different dynamics to be considered. If you don't believe me, look at both Johor teams.
Durakovic can't just bench Nazmi. Fans are already excited over his arrival, if Nazmi doesn't get on the pitch then they are going to go bananas, even when Selangor win. If they lose, then it's will be mayhem, as it was earlier this season when Andik rarely started for the Red Giants. Luckily for Durakovic, Junior Aparecido's form dipped drastically before he was eventually shipped off for good, leaving room for the Indonesian in the first XI. Even if Durakovic manages to find a way to bench Nazmi without incurring the wrath of the fans, the 20 year old will not be pleased at not getting consistent playing time.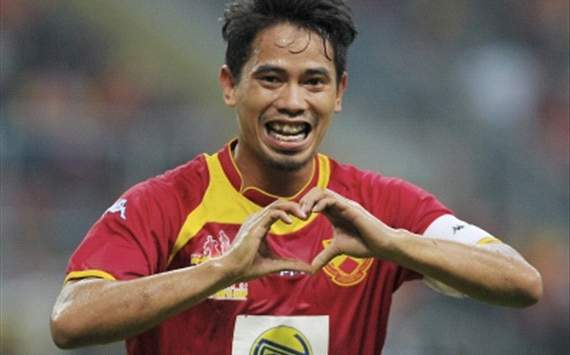 Safiq Rahim was the heartbeat of Selangor.
Which brings me to my second point, Malaysian stars in Selangor. A few months ago I wrote about
The Red Giants' inability to retain the service of their Malaysian stars
, of which they have had many. Safiq Rahim, Amirulhadi Zainal, Mahali Jasuli, Asraruddin Putra, and a few years earlier it was Khalid Jamlus, Akmal Rizal and Indra Putra. They all arrived or began with a lot of pomp, only to peter out before transferring to another team. Perhaps they got fed up, or they were bored, sick of playing to an empty stadium. Ultimately, Selangor failed to get the best out of them. From the start of the 2014 season up until Nazmi's arrival, it seemed that they were going to go in the opposite direction, fielding fewer national team stars than previously. Sure they had S. Kunalan and Bunyamin Omar, but they are more fringe players than key squad players in the national team set up. But somehow that changed in the April transfer window, and FAS had that hankering for Nazmi Faiz, that was sparked even more by the youngster's admission that he wants to don the famous red and yellow.
So now Selangor have another national star, but is there guarantee that he is gonna be in Shah Alam at the end of his three year-contract? Is there a commitment on the FA's part that they will do everything in their power to keep him at Selangor? What concerns me is the nature of Nazmi's departure from PKNS, that he demanded to be released by PKNS to Selangor despite the contract he still had with them. Following this there was a series of events that included him being ticked off in the media by head coach Wan Jamak, and getting sent off in their 2-2 draw against Selangor. It's like stealing another guy's girlfriend, you're only happy for the first few weeks, then you'll start losing sleep wondering if she is going to leave you for another man. Admittedly, Selangor do not have a great track record in this area.
NAZMI'S STAT ATTACK


Nazmi Faiz

Malaysia U23 (Goals)

10 (2)

Malaysia (Goals)

2 (0)

A lot of the Malaysia and former Selangor players I previously mentioned left Shah Alam following a drop in their performance. For the sake of not assuming the worst in others, I say this happened unintentionally, however such a loss of form is a common occurence in Malaysian football. Players drop, move to another team, then to a Premier League team, then theyfade into obscurity. But if this were to happen to Nazmi Faiz, it would be such a waste. Nazmi is not another run-of-the-mill kid who somehow finds himself into the starting line up of a team and in a kit like many others. He first played for the Malaysia U23 team when he was 17, and first played for the Malaysia senior team in an official match just two years later. He is THE Malaysian player to watch this decade, thus Selangor do not only owe it to themselves to nurture and bring the best out of him, they also owe it to the whole country. They are not to let him get restless, bored and unchallenged. Ride him, and ride him hard. Bring him fresh challenges, probably on the Asian front. He will not improve from beating Malaysian teams week in and week out. Make him not just a Malaysian star, but also an Asian Star. If Selangor fail to do this, they will also fail the whole country.
But I somehow doubt the ability of Selangor to keep challenging their players, much less a much-touted teenage national prospect like Nazmi. This is exemplified so succinctly by a photo of the contract signing taken in Mokhtar's office, that has been shared around social media these past few days. A friend of mine wrote about it on his Facebook, let me reproduce it for you in English: "So excited at Nazmi's signing. But am more excited of the photo; 21-inch tv, ancient air-cond, two ashtrays, and a Selangor flag displayed 'proudly' in the background". And this is what I mean. Selangor are a team still stuck in their glory days, unwilling and unyielding to the practices of modern football. They are not run in a way befitting their status as 32-time Malaysia Cup champions, as an urban team with a very large potential fanbase, as a team that have always been the backbone of Malaysian football, and as a team that by now should have been competing in the later stages of the continental championship. Will they be capable of taking Nazmi, and themselves, to the next level as a national prospect? I don't think so, not when they are still squatting at the state SUK building complex for their training sessions, and when their players have to rinse their socks at the pitchside tap like some 'team bola kilang'.
Another reason this transfer bothers me is unrelated to Selangor and Malaysia. The concern is on Nazmi's former employer PKNS FC. I heard that the PKNS administration was reluctant to release him, especially when his contract with them still had a few years to run. This was until the involvement of the Selangor Menteri Besar, Tan Sri Khalid Ibrahim, who is coincidentally also the Selangor FA president. Sure, the club owner PKNS is the state of Selangor's corporate arm, but for football purposes it is alarming to hear that one team is relegated to the role of a feeder team to another, especially when underhanded tactics are involved. It goes against the spirit of fair play, not to mention that this kills the development of Malaysian club sides, who are the future of the Malaysian football. More professional football clubs are needed in the country, so they can produce more players at the professional level, something that cannot be done anymore through the traditional 13 state and one full-time team system.
However, it must be added that I did soften my opinion of his arrival in the end, if only through another player's misery. Defensive midfielder K. Gurusamy is out for the rest of the season, so a replacement for him is necessary, especially when fellow midfielder Raimi Noor was also loaned out to Felda United until the end of the season. Welcome, Nazmi Faiz, fulfill your potential, keep finding new challenges, and don't let Selangor drag you down.