ANALYSIS
By
Ewan Roberts
Measure this season's Player of the Year candidates on goals and silverware alone and there is only likely to be one winner, with Luis Suarez on course to fire Liverpool to the Premier League title and break the record for goals in a 38-game season in the process.
Yet, for the first half of a season that the Uruguayan spent rebuilding a tarnished reputation, Aaron Ramsey was relentlessly driving Arsenal's own title challenge. When the Welshman picked up a thigh problem in December, he had been the furiously beating heart of a Gunners squad that sat at the summit of the table.
Three months and 14 league games later, Arsenal had slumped to fourth place, scrapping for Champions League qualification in the absence of a player that had shone brighter than anyone at the start of the campaign.
RAMBO'S RESURGENCE
The complete midfielder


RAMSEY PL STATS 2013-14

GAMES PLAYED
GOALS
ASSISTS
SHOOTING ACCURACY
CHANCES CREATED
CLEAR-CUT CHANCES SCORED
CLEAR-CUT CHANCE CONVERSION
PASSES PER GAME
PASS SUCCESS
TACKLES PER GAME
SUCCESSFUL DRIBBLES

21
9
8
72.2%
31
5
71.4%
66
84.4%
3.3
31

Ramsey may only have made 21 Premier League appearances so far this season, but he deserves to be part of the Player of the Year discussion – rather than handed a token Young Player nod by the PFA – due to the overwhelming impact he has made in his 1627 minutes of action this term, and the journey he has made as a footballer.
Barely a year ago the 23-year-old was more accustomed to guttural groans and frustrated sighs from the Arsenal crowd, rather than the heartening, passionate cheers that now accompany his every increasingly cocksure touch of the ball.
"He has developed and matured, not only as a player but as a person as well," said Arsene Wenger of his protege. "I was a midfielder, and I would have loved to have had what he has. He can defend, he can attack, he can score goals. What more do you want? And he's young - another quality that I have lost."
In the gloom of Arsenal's trophy drought, though, Ramsey was unfairly seen as the type of player the side should not be persevering with – the longer Wenger persisted with such lost causes, the longer the club's wait for silverware would continue. Ramsey represented his manager's stubborn loyalty to youth, his resistance to big-money acquisitions.
The fear, too, was that Ramsey would never fully recover from the double leg break he suffered against Stoke City in 2010, and that his potential – and all-action style of play – would go unfulfilled. Even if the physical scars had healed, the mental ones remained prominent, his confidence and belief wavering.
And then he exploded: dominating midfields, controlling matches and scoring brilliant, decisive goals at an unbelievable rate. The year previous he made steady improvements, growing and maturing after being handed greater responsibility and a more established role in the heart of the midfield.
But no one would have envisaged such astonishingly rapid growth. No one except for Wenger.
BACK WITH A BANG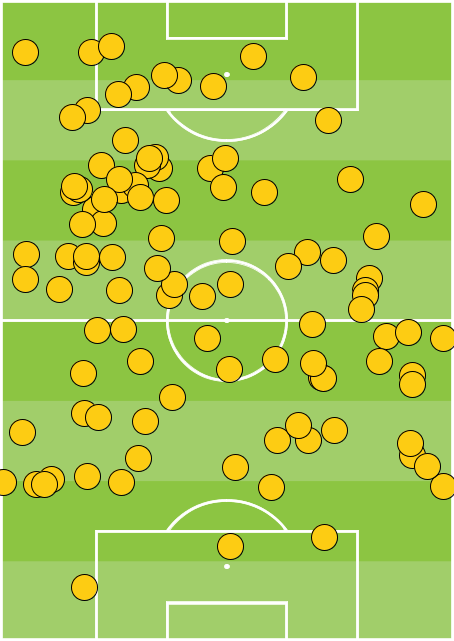 Ramsey's touch map in the 3-0 win over Hull City on April 20, where he had the most touches (106) of any player, scored & recorded an assist.

In an era of football where short-termism and cold-hearted disloyalty are prominent, Ramsey's ascent represents a victory for faith and patience, and vindication for Wenger's often criticised belief in nurturing youth players – how ironic, too, that when the Arsenal boss did finally open the cheque book to sign Mesut Ozil, the club-record signing should be overshadowed so monumentally by the boy from Caerphilly.
Far from Ramsey's Player of the Year credentials solely resting on an uplifting underdog narrative, though, he has also had a phenomenal season – one which, pound-for-pound, more than matches those of his peers.
Nine goals and eight assists in 21 league appearances, plus five strikes in the Champions League to boot, means Ramsey has scored or created a goal every 0.8 matches – a figure only bettered by Liverpool's SAS and Manchester City's Sergio Aguero.
Yet the Welshman is a midfielder fulfilling multiple other roles and playing in a side that has scored over a third fewer goals than both Manuel Pellegrini's charges and the table-topping Merseysiders. All Ramsey's goals have come from open play too, while Steven Gerrard and Yaya Toure have netted 11 and six times respectively from the penalty spot.
In fact, Arsenal are more reliant on Ramsey's goals than Liverpool are on Suarez's. The Welshman has scored or assisted 58% of the goals the Gunners have scored while he's been on the pitch, while that figure is just 46% for the Uruguayan.
It could be argued that no side in the Premier League is as dependent on any one player as Arsenal are on Ramsey. They score more goals per game with him than without him (1.95 compared to 1.5), concede fewer (1.04 compared to 1.35) and their win percentage drops to just 50% when he is absent.
Without Ramsey, Arsenal average just 0.8 shots more than their opponent per match. With Ramsey, that figure is doubled to 1.94.
He manages to marry goal threat and drive as well as solidity and toughness, as his tackle rate will attest. Before he was waylaid, he had completed more successful tackles than any other player, while his current 3.3 tackles per game average is the sixth best of Premier League midfielders and top for the Gunners.
In pure numbers, Ramsey's output has totally eclipsed any other team-mate. But there are certain intangibles which can't be measured by statistics. The former Cardiff man has developed a winning mentality that is almost unique within the Arsenal squad, a willingness to shoulder responsibility and affect matches, and a composure in front of goal that supporters must wish was shared by the all-too-often wayward Olivier Giroud.
In many ways his directness and dynamism is almost opposed to 'the Arsenal way', but his energetic risk-tasking and penetrative run-making transform the side from a pedestrian passing outfit to a red swarm of movement and purposeful possession.
Without Ramsey, the Gunners' sterile possession has resulted in 39.5 final-third passes per shot on target. With Ramsey in the side, that figure drops to 31.0.
Wenger admitted after last weekend's 3-0 victory over Hull City – a match which Ramsey scored and assisted in – that his side had appeared "toothless" previously, but Ramsey "gave us the cutting edge in the final third that makes us look much more dangerous." He is the linchpin, both a defensive blockade and an attacking trigger; the switch that goes all the way to 11.
When Ramsey was fit and on the field, you would be hard pressed to find a more influential or colossal player. One wonders what he could have accomplished had he remained fit all season and, more importantly, what Arsenal might have achieved had they been able to call on him throughout a campaign that promised so much during the Welshman's early rampaging dominance.
***All stats via Opta
***
Follow Ewan Roberts on