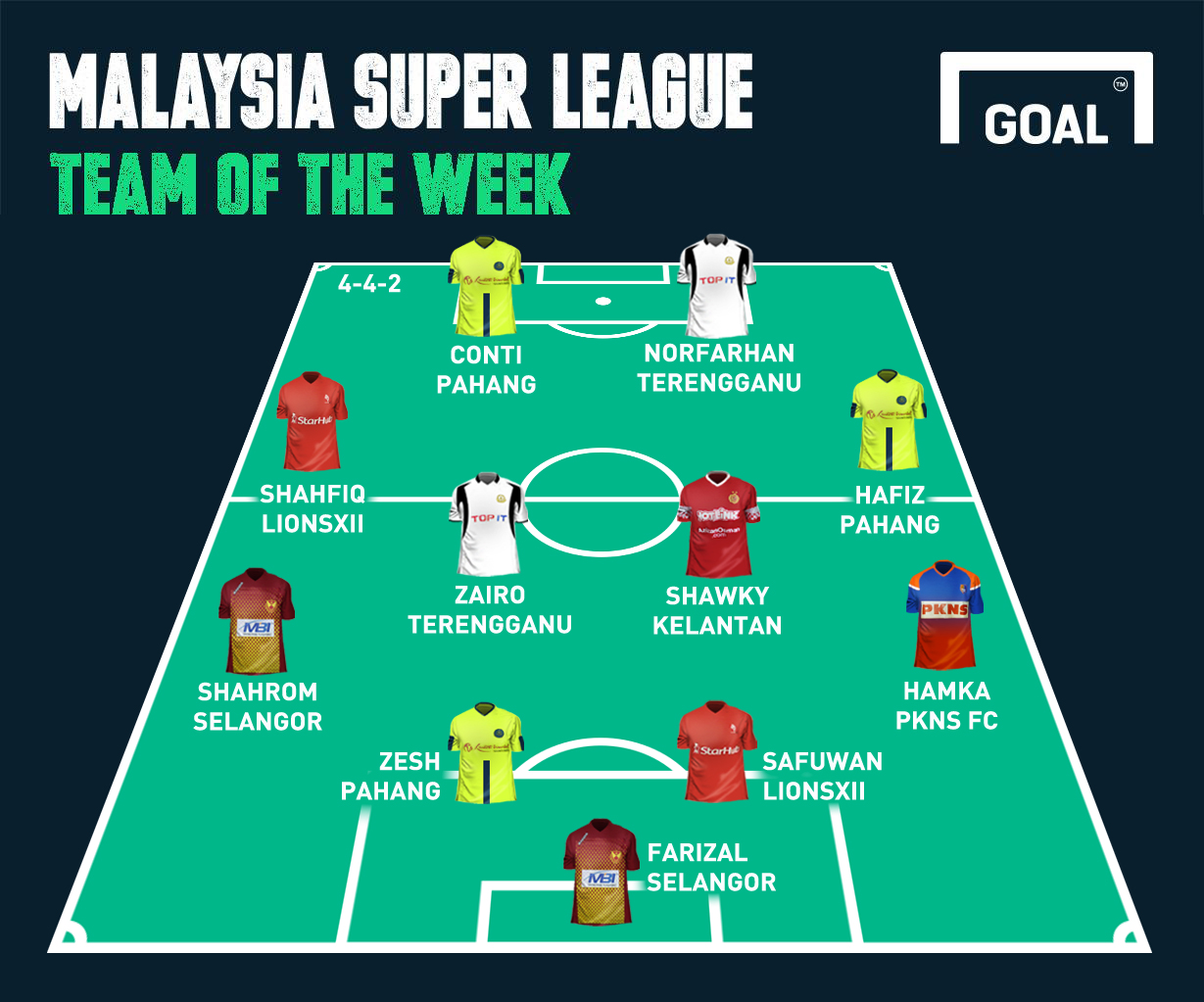 In goal,
Farizal Marlias
was in inspired form to deny his struggling former team, Perak.
Zesh Rehman continued to prove his mettle as he helped Pahang keep a clean sheet, get on the scoresheet himself and most importantly secure a victory against T-Team. LionsXII's solid centre-back Safuwan Baharudin put in an efficient shift against Sime Darby, while also scoring a goal to help his team to win the game. Former Yeob, Shahrom Kalam was on top form against his former side, protecting the defence an helping them keep a clean sheet while Hamka Hamzah helped his team to secure a valuable point against star-studded JDT with some top notch defending.
Pahang leaped to the top of the league and will have to thank Hafiz Kamal's trusty left foot for it. Two pinpoint deliveries enabled Conti and Rehman to head home the goals. Shahfiq Ghani only played 60 odd minutes but it was enough to help his team win. Two superb deliveries from the talented left footer helped to create the goals for LionsXII. Mohamed Shawky put in another commanding performance in midfield for Kelantan. Reading the game well, Shawky managed to anticipate many of ATM's moves. His desire to break forward was rewarded by that winning goal. Classy playmaker Zairo Anuar continues to impress on free kick duties. After scoring against Kelantan, he did it again, this time in the cauldron of State Stadium against Sarawak. An all-round combative performance from the multi talented midfielder.
In attack, Matias Conti helped pave the way for his team to win the match, maintain their top spot in the league, and inflict the first home league defeat for T-Team. While his team were being under siege by Sarawak who were looking for the equaliser at the raucous Kuching Stadium, Nor Farhan Muhammad calmed their nerves and solidified Terengganu's lead through a wonder goal that made it 3-1 to the visitors.
Do you agree with our picks? Have your say in the comments below, or reach us at Facebook and Twitter!