---

BY MUSTAPHA "EL LOCO" KAMARUDDIN

---
HOLA!
Yes...the centreback who is considered to be still a 'rookie' by some now seems to have this heavier burden to carry as Barcelona continue their bid for honours this season.
This is in view of the knee injury suffered by Gerard Pique.
The 23-year-old Bartra just have to rise to the occasion -- every time manager Gerardo 'Tata' Gerardo calls upon him to operate at the heart of the Barca defence.
Bartra, who just signed a new three-year contract with the Catalans last month, suddenly finds himself in the bigger picture.
Pique suffered a nasty fall during their clash with Atletico Madrid in the Champions League first leg quarter-final at Nou Camp last Tuesday which ended in a 1-1 draw.
The vastly experienced centreback fell awkwardly after just 10 minutes of this game and was replaced by Bartra, who did a reasonably good job partnering Javier Mascherano.
Earlier there were concerns of a serious injury to Pique, but it's emerged he should be only out for a month.
Still, Pique is going to miss several matches -- which are all crucial at this stage of the season with Barca very much in the fight for La Liga title, Copa del Rey and Champions League.
Here is where Bartra has to come into the bigger picture.
The six-footer has good defensive qualities, no doubt. He is dangerous to the opponents as well whenever he goes up when Barca have a freekick or corner.
Bartra, for the record, was also part of the Spain side who won the European Under-21 championship in 2011 and 2013.
And incidentally, he also have to be prepared for next season.
This is because Barca have been banned 14 months by Fifa from signing players during the next two transfer windows after failing to abide by rules governing transfers of players.
Perhaps, this is the break Bartra needs to establish himself as star at Nou Camp. And he knows this.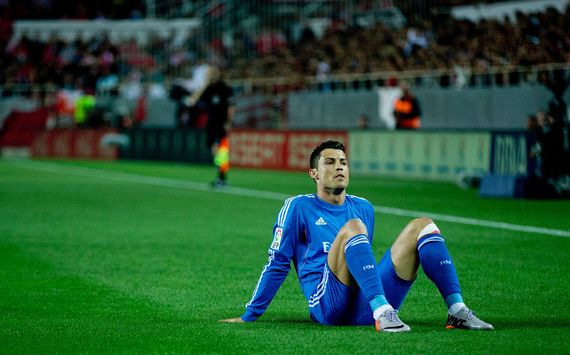 CR7 complained of a discomfort to his knee against Dortmund.
Speaking about injury. Real Madrid centre-back Sergio Ramos said people should not expect Portuguese superstar Cristiano Ronaldo to never be injured as footballers are not robots.
Absolutely.
Ronaldo was substituted with 10 minutes to play of Real's 3-0 Champions League win over Borussia Dortmund on Wednesday.
And manager Carlo Ancelotti confirmed the decision was made because the attacker's knee was bothering him.
But the Italian tactician insisted the substitution was only a precaution and Ronaldo is not injured, just suffering a little discomfort.
An irate Ramos said it's inevitable Ronaldo will get hurt, as it is for any player, due to the schedule teams are on.
"There comes a time when people don't realise and value there is a match every three days. Nobody notices," said the Spain international.
"In that sense we are not robots. Cristiano is patient and we have to try and reserve him, but while it's nothing serious it's better he can play."
Pretty true.
Footballers are not robots -- just like in other professions where humans are bound to get sick or something and have to take a break once a while.
Adios!
Mustapha 'El Loco' Kamaruddin is an experienced sports journalist who is crazy about football. He has been following football, both at local and international scenes for over two decades. He is also a columnist with The Malay Mail.