---

BY MUSTAPHA "EL LOCO" KAMARUDDIN

---
HOLA!
Has Brazilian-sensation Neymar finally regained his form and at the right time?
This seems to be the case as he struck twice in Barcelona's La Liga 3-0 win Celta Vigo at Nou Camp on Wednesday with other scored by record-breaking attacking partner Lionel Messi..
This is good news for Barca and their supporters, all over the globe.
Barca need the 22-year-old Neymar at his best as the season reaches its crucial stages with the Catalans bidding to retain the Liga title and winning Copa del Rey and Champions League.
And Neymar knows this. He needs to raise his game to assist Barxa and in the process silence his persistent critics, who are not giving him any breathing space, so to speak.
The performance he enjoyed on Wednesday surely brought back the smile to Neymar, who was struggling to find his footing in recent outings.
It's great to see manager Gerardo 'Tata' Martino has faith in the Brazil international who can operate along both the flanks.
Though Pedro and Alexis Sanchez have been out-scoring the former Santos superstar, Martino continued to have this belief with Neymar.
Neymar is linking up superbly with Chilean Alexis -- the pair have combined for a total of five goals.
And the two goals on Wednesday have brought Neymar's tally to nine in the Liga and 14 in all competitions.
"I'm over the moon, but I'm not getting carried away. I'd like to dedicate these two goals to my family and friends, who have always stuck by me," he said.
"I'm happy because of the two goals, but I'm also sad about goalkeeper Victor Valdes' injury."
Neymar said the team come first, though.
"What's important is for these points to count for something come the end of the season."
Neymar, always shies away from controversy, also refused to respond to Dutch legend Johan Cruyff's comments on Tuesday suggesting Barça were paying the price for having a 22-year-old in the squad who earned more than the rest of the players.
Forget this.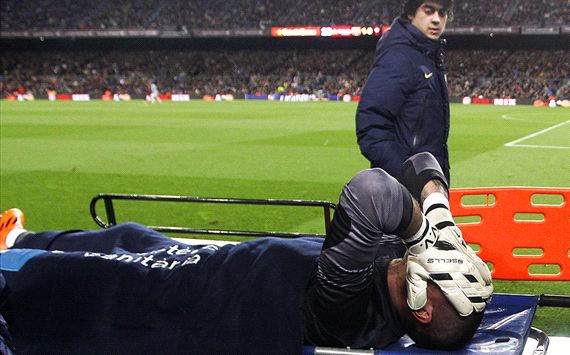 Victor Valdes fall victim to the ACL injury.
What is more important is Barca must score more goals with the bad news that experienced and in-form goalkeeper Valdes has been ruled out for the rest of the season because of a knee injury against Celta.
This match was the 32-year-old Valdes' last for the Catalans as he is set to leave Nou Camp when his contract ends in June.
Martino has ruled out signing an 'emergency goalkeeper' after this misfortune which may well decide Barca's season -- surely a risk the the Argentine is taking.
Now Valdes' deputy in the 38-year-old and eccentric Pinto, who always plays in Copa del Rey, will have to carry the burden of keeping goal.
Barca supporters are praying Pinto will shine.
The Valdes blow aside, it is good to note Barca have signed up Croatian Alen Halilovic, dubbed as the 'Balkan Messi'.
The 17-year Dinamo Zagreb midfielder, already an international, will join the Catalans at the end of the season.
Former Real Madrid striker Davor Suker gave his thumbs up to the move made by Barca for Halilovic.
Suker, now Croatian FA President, said: "I can't talk about it, now I am president, anything you say is 'read into' in my country because it is very close to the World Cup.
"So there is controversy about whether or not Halilovic should go to Brazil. Although it would be a wise move if Barca signed Halilovic. He is an interesting prospect."
Suker should know what he's talking about.
All said, just can't wait to see Halilovic in action for Barca, although the move to get him to Nou Camp may be 'more for the future'.
Adios!
Mustapha 'El Loco' Kamaruddin is an experienced sports journalist who is crazy about football. He has been following football, both at local and international scenes for over two decades. He is also a columnist with The Malay Mail.