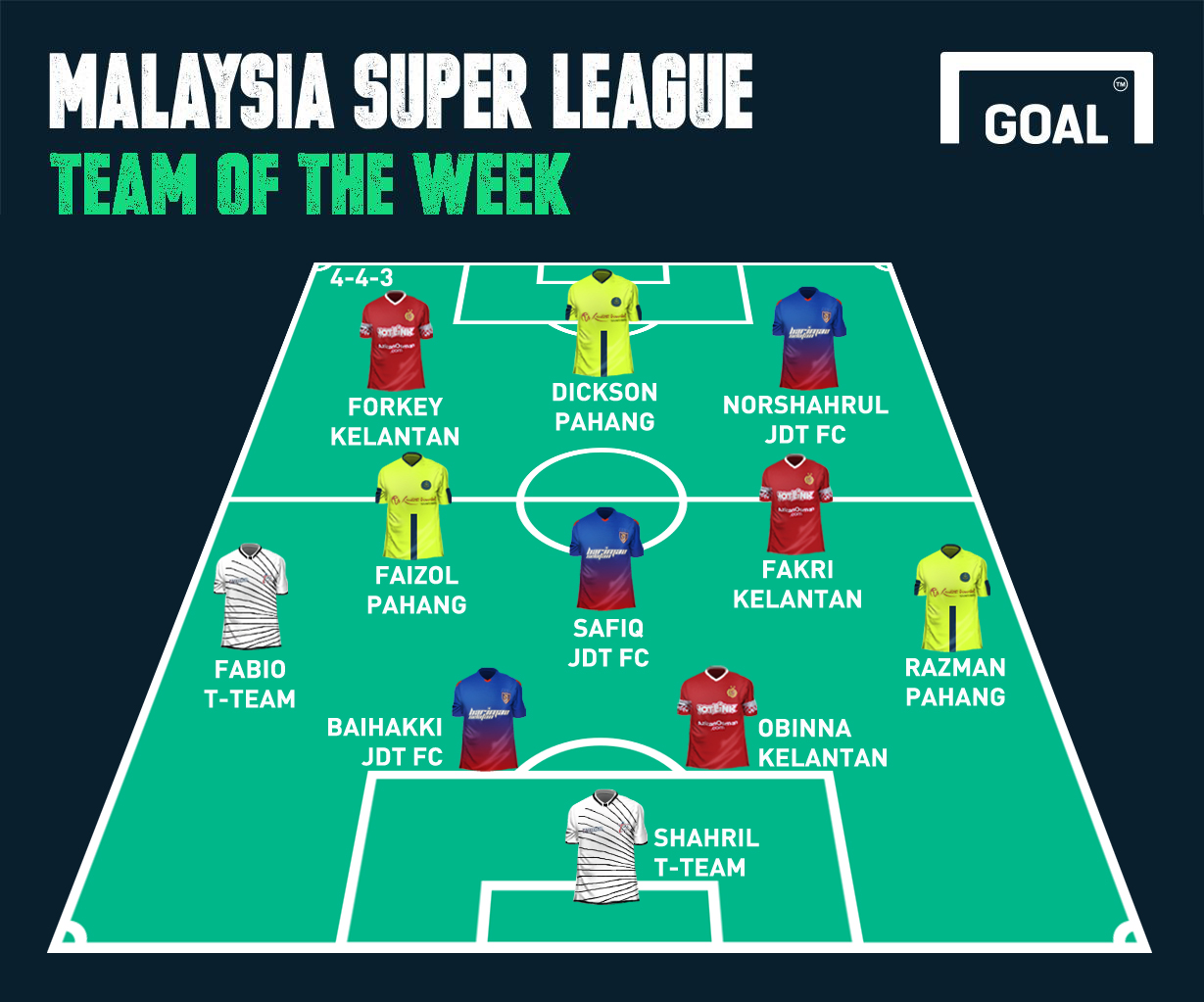 Former Harimau Muda A custodian
Shahril Saa'ri
shone in T-Team's solid home win against Sarawak, making a couple of saves to seal an impressive three points.
Experienced centre-back Baihakki Khaizan produced another resolute performance at the heart of JDT's defence, protecting it against the hadrworking attacking force of Sime Darby. Kelantan's sturdy defender Obinna Nwaneri was also at his best as the Red Warriors clinched a key 2-1 win over LionsXII. Pivotal to T-Team's 2-0 win over Sarawak was the performance of Fabio Flor, he performed admirably to help the Titans keep a clean sheet while Razman Roslan was rock solid in Pahang's impeccable 4-1 victory over ATM.
Safiq Rahim continued his renaissance under the guidance of Cesar Ferrando Jimenez by putting in another strong performance. In midweek he had to be taken off early against Yemen, but for his club side Safiq produced a resolute performance and showed plenty of creativity to push JDT forward. Starting in place of regular Hafiz Kamal, Faizol Hussein's display ensures that Zainal Abidin Hassan will feel good about his team's strength in depth. Faizol even took over the free kick duty and finished one particular set piece with aplomb. Kelantan's forgotten man Fakri Saarani played his second consecutive match in the midfield and just like against Yemen, had to dig deep to help protect his defence against LionsXII. The 24-year-old still managed to show his predatory instinct to burst forward and score his team's equalising goal.
Pahang dangerman Dickson Nwakaeme leads our frontline after a potent two-goal display in the demolition of ATM, while Malaysia's number one striker, Norshahrul Idlan lived up to the expectations as he inspired the Southern Tigers to a solid away win against giant-killing Sime Darby FC. Completing our forward trio is Kelantan's Forkey Doe who justified Steve Darby's faith in him with the winning goal at Jalan Besar Stadium.
Do you agree with our picks? Have your say in the comments below, or reach us at Facebook and Twitter!