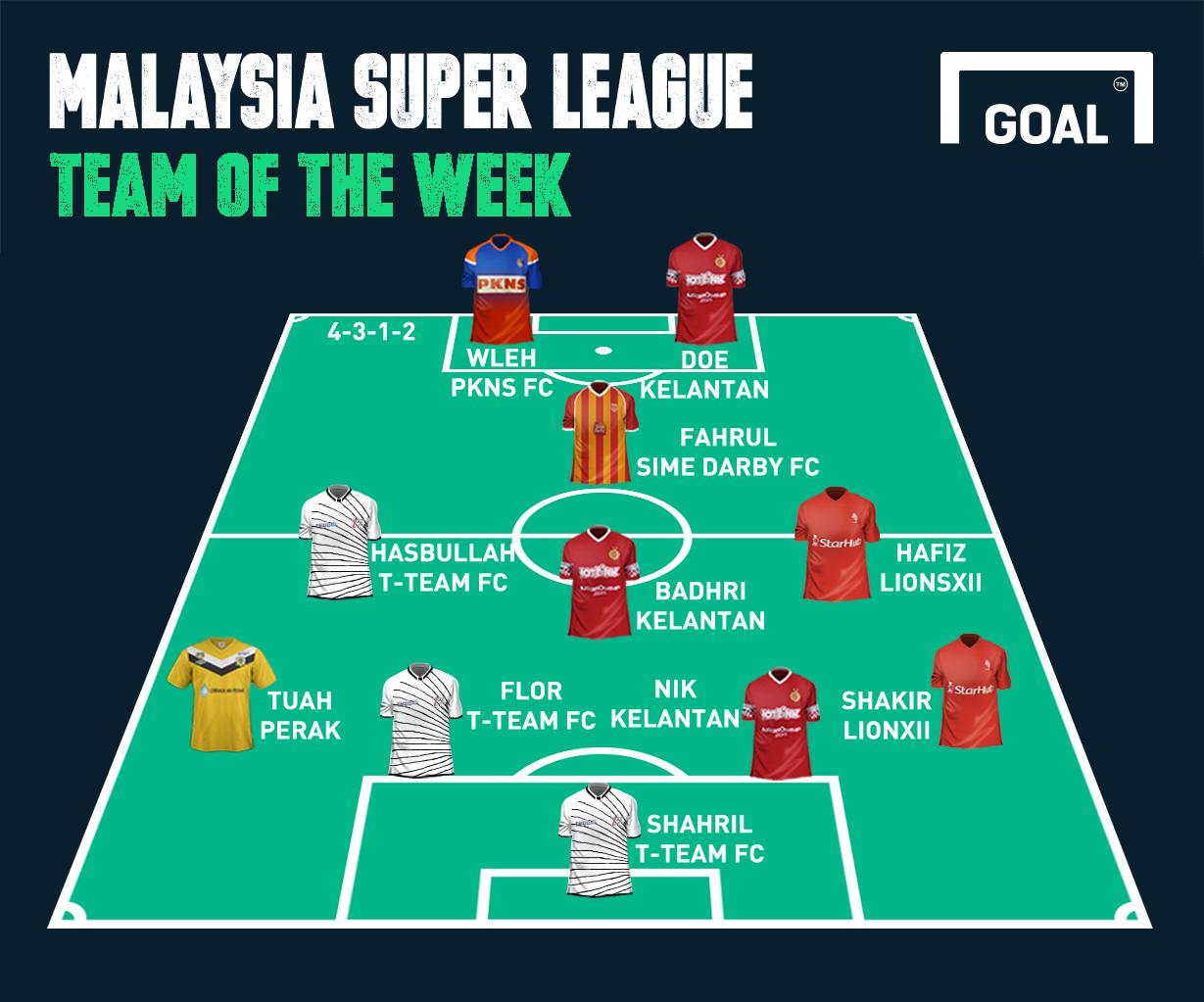 This week, we have opted yet again for a
Goal Malaysia
4-3-1-2 formation. Between the sticks is T-Team goalie
Shahril Saari
who
impressed spectators with his high level goalkeeping to keep-out JDT's star-studded lineup.
Another pillar of strength for the Titans in that Johor Darul Ta'zim defeat was Brazilian
Fabio Flor
, who did well against Johor's expensive attacking line-up and kept Luciano Figueroa at bay for most of the match, while also managing to play a part in T-Team's winning goal. Partnering Fabio would be Singaporean defender
Shakir Hamzah
, who not only kept Rangel out of the game, but also scored the opening goal for his team. While Sarawak's strikers were relatively unproductive, the threat from Ashri Chuchu was constant throughout the game, however
Nik Shahrul
was always there to protect the Kelantan goal by going one-on-one against Ashri. Credit to the Sarawak winger for pushing hard throughout, although Nik looked almost unbeatable on the night, as Kelantan clinched a late victory. Rounding off the solid back four is
Tuah Iskandar
who was on song as Perak clinched their maiden victory of the Super League campaign, with a late 1-0 win over Terengganu. Though Eliel Da Cruz ended up being the hero with that late goal, the contribution of Iskandar cannot be undermined as he did well against the strong Mamadou Barry.
Leading our formidable midfield is
Bahdri Radzi
, who dominated the middle of the park for Kelantan against the Crocs. Sarawak's defence were obstinate and it needed a special through ball from Piya to create the opening from which Forkey Doe scored. Partnering Piya would be LionsXII's hardman
Hafiz Sujad,
who was a tireless worker in the middle for his team, helping to keep the Selangor creative outlets in check. Hafiz even managed to go forward at times and was unlucky to hit the bar with one of his shots.
Tremendous work in midfield from
Hasbullah Awang
in shadowing Pablo Aimar ensured that the skilful Argentine didn't get to dictate the game and reduced his attacking threats effectively. In front of these three solid midfielders is Sime Darby FC's
Fahrul Razi
who scored the solitary goal to earn his team their first win of the league season, and furthermore was a constant threat to Pahang throughout the match.
Up front, Liberian international goalscoring machine
Ronaldinho Wleh
stole the limelight with yet more consistent goalscoring. The Liberian netted two goals against a very good JDT II side in their mid-week FA Cup tie, and persevered until the end to score against the more-fancied ATM away from home on Friday evening. Partnering Wleh is Kelantan's new signing
Forkey Doe
who stuck to his task while his team were under attack away in Sarawak, and when a last-gasp chance presented itself, he made no mistake and took the chance.
Do you agree with our picks? Have your say in the comments below, or reach us at
Facebook
and
Twitter
!