The year 2013 was unkind to Lionel Messi. But watch out for this little Argentine wizard in 2014 as he is set to mess opponents up, provided he is injury-free.
HOLA!
This is bad news for Lionel Messi haters. The Argentine wizard is menacingly back in business, scoring goals that is.
Messi, who lost his crown as the world's best player to bitter rival Cristiano Ronaldo earlier in the week in Zurich, is far from finished.
The 26-year-old, starting his first game in two months, struck two goals as Barcelona beat Getafe 2-0 at Coliseum Alfonso Perez on Thursday to reach the quarter-finals of the Copa del Rey with a 6-0 aggregate victory.
Messi, who hates to lose, made his comeback as a substitute after nearly two months from a calf injury in grand manner in the first leg at Nou Camp last week and marked the occasion by scoring twice.
And he repeated the feat on Thursday, tucking in the opener in the 44th minute following a run and cross by Cristian Tello down the left flank.
The second was an individual masterpiece as he evaded four challenges before rounding goalkeeper Jordi Codina and firing home left-footed.
Sheer entertaining, for Barca fans and the neutrals.
For the record, Messi was surprisingly omitted from Uefa's 2013 Team of the Year after vote cast by users of the European governing body's website and social media sites.
For that matter, not a single Barca player was named in the team despite the Catalans success of winning the Primera Liga.
Messi was earlier rightly named in the Fifpro World XI, though.
The year 2013 was so frustrating for him, surely.
The problem was that he was hampered with injuries, that's all. Things would have been different if he was fit.
So Barca and Argentina fans must start praying that La Pulga or The Flea will have good fortunes when it comes to injuries. Remember, this is a World Cup year.
Barca, as usual, are very much in contention for the Primera Liga title, Copa del Rey and Champions League this season.
And Messi, like it or not, is much needed by the Catalan giants to have their chances of winning titles better.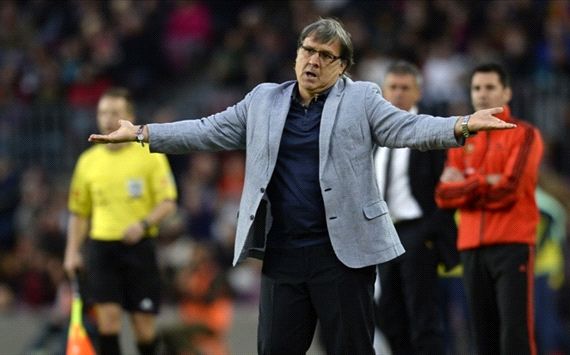 Tata Martinez has come out to support Messi.
Barca manager Gerardo 'Tata' Matinez, after all, insists his countryman is the best in the world regardless of what happened at the Ballon d'Or gala.
And on June 12 - July 13, Messi will captain Argentina at the World Cup in Brazil where he aims to shine.
Deep down, the Rosario-born is praying he will be injury-free then. He just want to show what he is made of in the mother of all tournaments.
So are the Argentina fans who last witnessed World Cup triumph in 1986 in Mecixo. This was when the legendary Diego Maradona almost single-handedly steered them to success.
Messi, who made his debut with Argentina in 2005, has already 83 caps with 37 goals to show.
He is more than capable of making it a mess for the opponents in Brazil.
Oh yes...veteran midfielder Xavi,33, played his amazing 700th game for Barca on Thursday. Have to respect this maestro.
Xavi has given it all for the Catalans.
Now there is also this bad news for Barca as their Brazilian sensation Neymar suffered a nasty looking ankle injury on Thursday.
It is going to be a blow to Barca if he is out for a long period. Brazil are also praying he will be available for the World Cup.
Imagine Neymar missing the World Cup where his country is hosting. Now that's bad luck.
Adios!