As the 2013 draws to a close, it is now almost three years since Selangor, the Red Giants, the so called King of Malaya, the 32 time Malaysia Cup winners had won their last trophy.
When I talk to other reporters, especially the senior ones, and even the non-Selangor football fans, and I tell them that I'm a Selangor supporter, our conversations would almost always share the same thread; and the same tone of defeat: how the mighty have fallen. They would tell me how in the 90's and 80's, Selangor used to light up the Malaysian football scene, how they were the team to beat, and the conversation would then take a more sombre tone as it morphed into that million dollar question: "What the hell is going on with Selangor now?"
I've previously written of the other reasons why Selangor have lost their lustre, and trust me, it is really frustrating to write about it again. But what I have rarely touched on is the waste of player potential that the squad have every season. The Red Giants have faded away, leaving in its place a black hole that sucks in the brightest stars of Malaysian football.
In a way, I would understand if the slump had been caused by the FA's inability to secure the services of good players in the country. But no, several top players have played for Selangor in the past few seasons, with salaries reportedly going into twenty thousands of Ringgits. The past few seasons had seen players like Safiq Rahim, Amirul Hadi Zainal, Asraruddin Putra, Mahali Jasuli, S. Kunalan; Malaysia international players, donning the red and yellow of Selangor. Selangor are not behind for the want of good players.
In the case of most of these players, when their services were needed the most by their team, they would wither away, crushed by the challenges they are facing. Safiq's performance dropped following the 2010 AFF Cup, he ended up playing for JDT in 2013, where he now continues to play miserably. Amirul Hadi also shared his post-AFF form, was released to Pahang, where he fortunately recaptured his performance as a defensive midfielder under Dollah Salleh. Asra's dip in form was a little more gradual, only plummeting after helping the U23 Malaysia capture the 2011 SEA Games gold. Kunalan's poor form is a lot less noticeable, but only because he was not fielded as often as he should have.
And Mahali, oh yes, Mahali Jasuli. I remember reading in the papers towards the end of 2012 that he was joining Selangor from Harimau Muda. How it has always been a dream of his to play for his home state, and then I watched him destroy Indonesia in the 2012 AFF and dear god, I was excited. I have not felt that much excitement from watching a Malaysian player for a long time (I mean come on, we're ranked 154). The audacious way he zipped around defenders before cutting inside, or sending in a teasing cross, and all that from a defender! I honestly thought that he had single-handedly advanced the way footballis played in Malaysia. After that he joined Selangor, and I watched him destroy JDT at home while we were playing with ten men, and goodness, that was one of the best football games I have ever seen in the longest time, international football included. Two early goals! Oops one of us got sent off, no worry! We'll score two more, easy-peasy!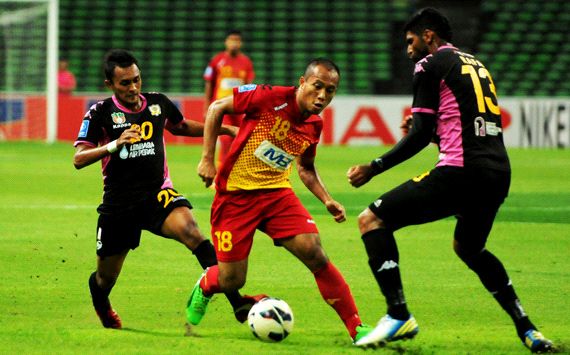 Rightback Mahali Jasuli was inconsistent for Selangor.
And then nothing. Just like that, Mahali faded away, barely contributing further when he is fielded. I kept waiting for him to recapture his form. But it was not to be. He had since signed for JDT, along with Safiq, Amirul and Asra.
All the stars, instead of exploding in a blinding, dizzying show of light that also rends your ears with a terrible boom, instead faded away, turning dimmer by the day, until one day you turn around again, only to notice that there is just a black hole where bright lights used to be.
Far be it from me to begrudge players leaving for other teams, that's just how it is nowadays. After all, players are like flatulence; if they want out, let them out, you'll do more harm to yourself keeping them in. But I'd rather they leave after playing an active role in helping Selangor win a cup or two, instead of skulking away in shame at a job not done properly.
As a fan, I believe this is the management's fault. For one, they have failed to ensure that the team have enough support on match days, and the stars eventually lose the motivation to play for an irrelevant team. But secondly, they have failed to ride the players hard. They have failed to instil hardwork in the team; hardwork in training, and most importantly hardwork in their development as a footballer (they're 'stars' in a country ranked 154, in case you have forgotten). They are still being treated as players in the 80's and 90's were treated, and that is why Selangor have failed to keep up with other teams.
In a way, it is the less prominent players that have carried the team. Players like Amri Yahyah, Fitri Syazwan, K. Gurusamy, and Norazlan Ismail picked up the slack, and dragged the team on all fours to two back-to-back AFC Cup runs, a competition I personally feel to be a loftier target than any Malaysian titles, since our league system is a 'D' grade league by the AFC.
However, I am glad that our roster for the 2014 season does not feature too many Malaysia internationals, while still retaining quite a number of Selangor-born players. Sure, we have Farizal Marlias, Thamil Arasu, and Abdul Hadi Yahya, but they are hardly Mahali and co. Even new head coach, former player Mehmet Durakovic is probably more famous than his players in the current squad.
It is my hope that Durakovic would do what our previous coaches had failed to do, ride the current Selangor players, and ride them hard. Remind them that they are footballers in just one of the many backwaters of world football;that they should aspire to be better than the best in Malaysia. Call them 'jaguh kampung', and if they get upset, correct them that they are not even 'jaguh' in the 'kampung' anymore. Maybe only then we will get to witness the red and yellow of Selangorshine brightly again.