Roshan Narayan gives out his 'awards' to the English Premier League teams as the 2012/13 season came to a close last weekend
By Roshan Narayan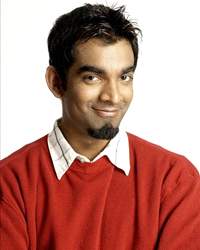 The curtains have been drawn close on another season in the English Premier League.
Football fans will have to wait with baited breath for 91 days of absence, silence and perhaps action from the Confederations Cup (live and exclusive on Astro Supersport, by the way!), pre-season friendlies and Mickey Mouse tournaments to fill the void before they start to 'live' again, before blood flows through their veins once more.
So, what better way to recap the season that was, than to award the individuals that made the season such a painstakingly mind numbing, heart-throbing, gut-wrenching, awe-inspiring and nail-biting 9 months, right?
We begin with the best team in the league. By default that would be given to the champions, Manchester United. But United were expected to win the title this season. City had no chance by February 2013. And United did not have the best cast to help them on their way, to be frank. The starting 11 for the Red Devils were only so-so for me. So my pick for the best combination of 11 men this season, and I know many people will agree with me, is Chelsea FC. You cannot go past Eden Hazard, Juan Mata, Oscar and Fernando Torres. Throw in a Frank Lampard, Demba Ba or Victor Moses occasionally and you have a fine balance. That combination alone would walk into any top European squad AND international team. Looking at how they've improved from last season as well, the Blues lost a manager mid-season, but came back to finish in third AND add the Europa League to their trophy cabinet. Among the top five finishers, they have the third best defense and the second best attack! Enough said surely.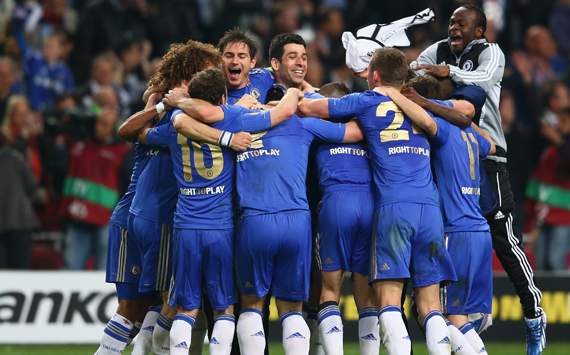 Chelsea finished third in the league and snacthed the Europa League title
Next, Best Boss. I know I can't go wrong with Sir Alex Ferguson. He made use of what he had at his disposal and won the championship. But a very close second, are a few worthy men. One of them is Michael Laudrup. He managed to keep the Swans in the Premiership, up by a few more spots than last season. And they won the League Cup. He made shrewd decisions by bringing in talented players that were able to make an impact on the English game, for a pittance compared to the other billionaire-funded clubs. Another man I'd like to give kudos to is Steve Clarke. West Bromwich finished the season two spots higher than before. They conceded less goals and won more games. Baby steps, as they say. West Brom can be like Everton, in time.
To rival the best man at the helm, I had to do some research on who deserves to be the Best Player this season. There are a lot of obvious nominees but if you carefully define what makes a player the best, then it becomes easier - someone who did above and beyond what was expected of him. There can only be one - Frank Lampard. And why not? He is one of the elder statesman of the league. At his age, players are usually sprucing up their CVs to hand out to TV stations for jobs as commentators and pundits. Or attending coaching classes to earn their license. But not Lamps. He was busy chasing a club record. And despite paying 29 league matches, 8 from the subs bench, he scored 15 goals to be the club's top scorer. What more do I need to say?
For the next category, Best Buy. Who made the biggest impact at a fraction of their cost? Miguel Perez Cuesta also fondly knows as Michu. For a transfer that costs two million pounds, for a return of 18 league goals that led to a spot in Europe the following season, and a trophy to boot. Correct me if my accounting is wrong, but what a return on investment. Now his fee would have quadrupled so if Swansea were to sell the 27-year-old, it would be a fantastic piece of business.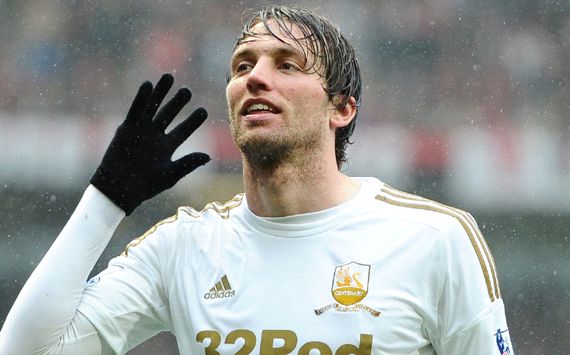 It's a matter of time before big clubs make an offer for Michu
On the flipside, what goes up, must come down, as they say. So to balance out the best buy, I was thinking of the contradiction to Michu. And I have a three-way tie for this one. Collectively, they cost 54 million Euros. Liverpool's Joe Allen saw the Reds dish out 19 million while Manchester City spent 35 million on Jack Rodwell and Javi Garcia. What did the three contribute to their respective teams? Nought. When they played in a match, they looked out of place and not in sync with their team mates. Unmotivated is another term that comes to mind when I recall catching a match that even featured any of them. If I had to have a front runner, it would be another tie - between Rodwell and Allen. Both British bred potentials who commanded such high fees because of what they did at their previous clubs. But it goes to show, perhaps without the right kind of manager to help steer and guide these youngsters, they were unable to give their best when thrown in the deep end, under the spotlight.
As for the worst player this season, it has to come from the most disappointing team, Queens Park Rangers. And if it was a toss-up between Jose Bosingwa and Christopher Samba, I would pick the former. He came over as a European champion with Chelsea but did little to justify his experience. On top of that, he did a 'Tevez' by refusing to be a sub in the match against Fulham. Can you blame the fans for booing him? I think not.
Finally, my pick for worst manager in the Premier League this season. The first name that came to mind was Roberto Mancini. But to be fair, he still came close to winning or at least threatening United for the title. He did not spend too much. He did not win anything. He was not booed constantly by fans ala Rafa Benitez. Perhaps player power got him the boot to an extent at the City dressing rooms. So I shifted my attention to the man who destroyed QPR - Mark Hughes. The only reason his name was bandied about in footballing circles has to be because he used to wear the colors of Manchester United. That's the reputation that carries him in high regard. Seriously. He has yet to achieve anything as a manager for either Blackburn, Man City or Fulham before he was given the responsibility to evolve QPR. His winning percentage reads like this - 44 per cent at Blackburn, 47 at City, 33 at Fulham and 24 per cent at QPR. What a huge mistake. The only thing he knew how to do well was spend money on players who were ineffective for the clubs he helmed. I reckon he has spent more than Jose Mourinho if you add the transfers he made in Blackburn, City and QPR. Pity 'arry had to take the fall for the club going down.
And there you have it. Feel free to let me know what your picks are. I'm curious.