By Roshan Narayan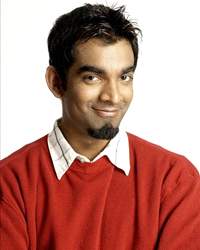 The end of this football season must have been one of mixed emotions for Manchester United fans.
First, they were told that Sir Alex Ferguson did not want to do what he has been doing for the past 25 years.
Then, as if finding out that David Moyes was Fergie's replacement wasn't perplexing enough, their favourite ginger midfield general confirmed that he wasn't interested in dodging the media anymore, and so wanted to retire as well.
Aghast!
Former United man Michael Owen decided to follow suit and announced his retirement, as Stoke fans try to rack their brains on their best memory of the man.
But there was a bit of joy for the Red Devils as Roberto Mancini was finally given the heave-ho from Manchester City. Not that he was much of a threat except for breaking that 44 year title drought at the Blue half of Manchester. Oh well.
Their joy was shortlived when they found out that the Chilean Manuel Pellegrini was coming in.
Who?
And while they were busy turning to wikipedia to find out more on the ex-Malaga and Real Madrid boss, Rio Ferdinand announced his retirement too. But only from international football. Phew.....
They had a couple of days to digest all that had happened, before prodigal son, former United icon David Beckham announced his retirement from the game. Forever.
No doubt he was playing for Paris St. Germain at the time, but many United fans like to think it was the club from the red half of Manchester that made Mr Posh Spice aka Goldenballs aka Becks aka the former England captain.
And to that degree, they kinda have a point.
The memories of David Beckham's career varies. Ask anyone how they feel about Becks leaving the game and you'd get a mixture of responses from the nonchalant 'so what?' to 'he was kinda slowing down anyways' to a surprised 'he's still playing?' To be honest, I was expecting a Beatles-mania-esque outpouring of grief, sadness, shock, disappointment etc. I mean, you're talking about the George Best of my era here, for those reading this who were born before Becks was even conceived. Mostly in hair flair, popularity and lifestyle issues of the field, if not for his bad temper, enthusiasm and skills on it.
He emerged as a great talent at United. Won a truckload of silverware, before moving to Spain. Won something there to cement his presence among the anals of Los Blancos' history as a Galactico. Made the odd decision to venture into the unknown that was the Major League Soccer. Won a few somethings there too, despite the occasional visits to Milan to keep abreast of European football pedigree. When he finally returned to Europe, Paris was his destination. But only for a few months. Even there, he was involved enough to garner a Ligue 1 title.
He is the first Englishman to have won a league title across four countries, the first England player to score in three World Cups and the first British player to play 100 Champions League games. And yet, he still can't impress several quarters in the English game who feel he does not even deserve to be in the top 1,000 all-time greats of the Premier League!
Harsh, don't you think?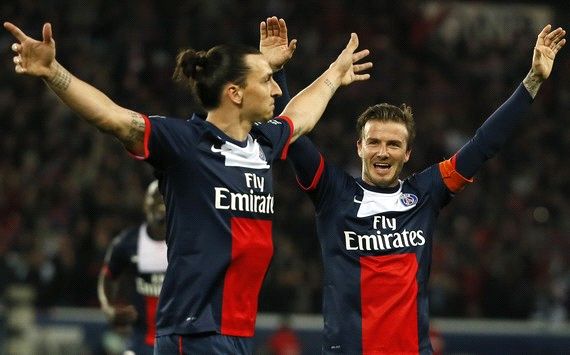 Firstly, to think of 1,000 players who are better than Becks would already be a tough ask. Let alone 1,000 from the Premier League who have achieved more than him while at Manchester United. Remember, his truckload of trophies includes six league titles and two FA Cups. Throw in his 1999 Champions League medal and Intercontinental Cup, now how many players in the current Premier League season alone, has a Champions League medal to boast about?
And what about his six league titles?
Let's look at the facts. Only five players have won more Premier League titles than the former England captain. All of them were his former team mates at United, with Ryan Giggs heading that list at 13 titles. If that is not one of the criteria in determining an all-time great, I don't know what is. The fact that he was awarded Goal of the Decade in the Premier League for THAT goal against Wimbledon does not feature as well, I suppose? He is also reportedly third in the Premier League's all-time assist providers with 152 in 265 appearances.
In saying all that, many of course know him for his off-field activities. From his sarong-wearing days to marrying a Spice Girl, it has been well documented in his 20 years as a professional. It only added to his personality as a man and as a person. Sure, some of us envy his position and even many more scoff enviously at his position as an iconic ambassador of the game.
Still, to have your name mentioned in the same breath as Roberto Carlos and Andrea Pirlo as one of the deadliest set piece takers, says a lot. Heck, it resulted in a movie being made about the damn kick. And what about his sublime crosses for the likes of Ruud Van Nistelrooy, Andy Cole, Dwight Yorke, Teddy Sheringham, Eric Cantona and even Ole Gunnar Solksjaer? You have to admit they ultimately contributed to United's success between 1993 and 2003.
In Beckham's retirement, football has not only lost a talent, but a showman, who knew how to literally play the game on and off the pitch. Because of him, many more fans around the world are more aware of Manchester United, Paris Saint Germain, AC Milan, LA Galaxy, Real Madrid and even Preston North End to a degree. Not that those clubs need any more exposure than they are already getting. Except Preston. But, because of him, you'd like to think people would have been introduced to the various leagues he played in, his opponents, the teams he played against, the managers he played under, the grounds he played at etc. And that as a whole, broadened the spectrum of football, bringing it to a whole different fan base.
And if that was the only thing to come out of knowing who David Robert Joseph Beckham was and what he did, then he would have fulfilled some of his role as an ambassador of the game. Something to ponder on while I go list my top 1,000 all-time greats of the Premier League....