Week 36 was not exactly a vintage week in the English Premier League (EPL) with a number of bore draws dominating proceedings. Rafael Benitez was in danger of enjoying some positive press for once after his Chelsea team were triumphant at Old Trafford, before he was upstaged by the momentous announcement of Sir Alex Ferguson's retirement. So that's where we start in Week 36 of the Tops and Flops.
Tops
Sir Alex Ferguson (Manchester United Manager)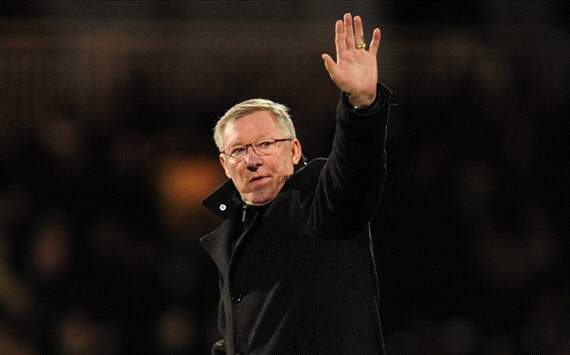 While it was not a vintage managerial performance by him on the weekend as his weakened team struggled to create anything of note against a Chelsea side who inflicted United's third home loss of the season, this week he is in the Tops list for a whole other reason. On Wednesday the footballing world was shocked to the core as the most successful manager in British football history retired after 26 and a half amazingly successful years. It's hard to say anything about Sir Alex that hasn't already been said, quite probably the greatest manager of all time, there will never again be someone who will have his success and longevity. He won 527 EPL games with United, at least 161 more than any other manager, was victorious in 304 of 404 EPL home matches (a win rate of 75%) and he bought 27 major trophies to the Old Trafford trophy room. Love him or hate him, you have to admire the way he constantly adapted through the years and the way he built a number of competent teams; David Moyes has impossibly large shoes to fill.
Gabriel Agbonlahor (Aston Villa)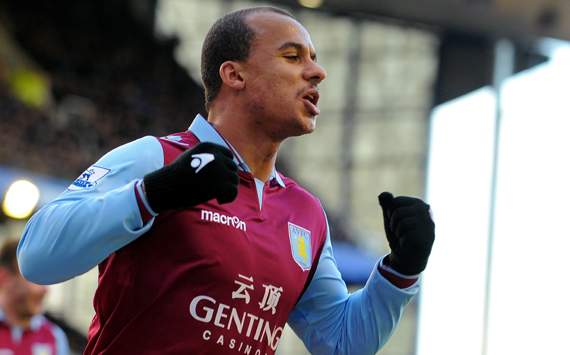 I'll admit it, I didn't see Villa's escape coming. Six wins over the past few months against teams in and around them has catapulted them to the giddy heights of 13th place, and that magical 40 points mark. It has been an improved attack, rather than defence which has surely ensured Villa's survival, with the trio of Agbonlahor, Christian Benteke and Andi Weimann making fans long forget about former goalscoring hero Darren Bent. Agbonlahor, who hit a vital brace in the 2-1 victory over Norwich has now scored six goals in his last seven EPL appearances for Aston Villa, with so many of the goals being crucial in the context of not only that particular game, but the season as a whole. It is a welcome return to form for the speedster who has not looked like himself for much of the past three seasons; a timely return to form indeed.
Rafael Benitez (Interim Chelsea Manager)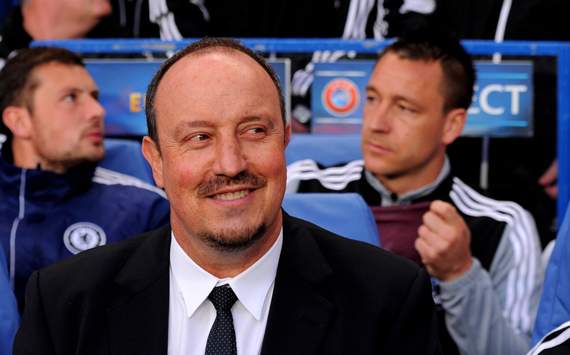 Four points in a week for Chelsea, in two difficult fixtures, means that one win will now be enough to clinch Champions League football for another season (ironically giving his rival Jose Mourinho the chance to add another Champions League to his CV). But back to Benitez, while it has been a rough season for him as the pantomime villain in front of Chelsea fans, his astute rotation has almost carried the Blues to their desired goal, and quite possibly the Europa League trophy. With the scrappy victory over United on Sunday, it means that the Spaniard has won two of his last three Premier League matches at Old Trafford and four of his last five Premier League games against Manchester United. I'm sure he'll relish the fact that he may forever go down in history as the last manager to bear Sir Alex.
Swansea City
Since they had won the Capital One Cup, the Swans had won only six points to give off the impressions that mentally many of the players were already on the beach sipping Pina Colada's. But in week 36 they picked up four points, firstly with an impressive performance against Manchester City where during the first half especially, they played the slicker football and created greater chances. Then three days later in a match that mattered little to them they got their first win in eight games as they severely damaged Wigan's survival chances. In the two matches Wayne Routledge was particularly impressive, while fringe players Itay Shechter and Dwight Tiendalli both reminded the manager of their abilities. Next season with the Europa League to manage, such players will need to step up and become more regular first team contributors.
Gareth Bale (Tottenham Hotspur)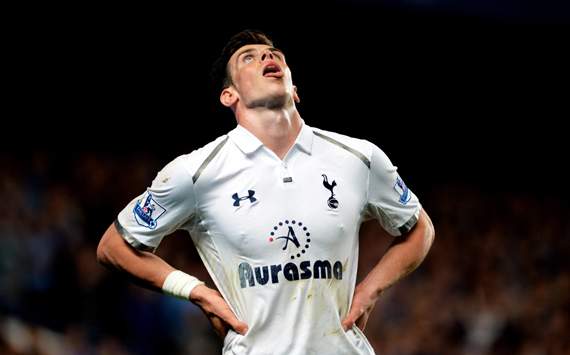 Although he was unable to work his magic on Thursday morning at Stamford Bridge and conjure up another winner late on when awarded a free-kick, he has done more than enough this week to drag along his Spurs side and be in the tops list. On Saturday against Southampton it seemed as if Tottenham were running through mud as they looked short on class and any sort of inspiration. Then with only minutes remaining Bale picked up the ball, moments later it nestled in the net and an undeserved three points were secured. With that goal it means that the Welshman has scored more goals from outside the box than any other player in the top five European leagues this season with eight, and it also means that he has scored more winning goals than any other player in the EPL this season. All this may not be enough to secure fourth place, but Bale is certainly not at fault for this, he has done more than enough this year.
Flops
Wigan Athletic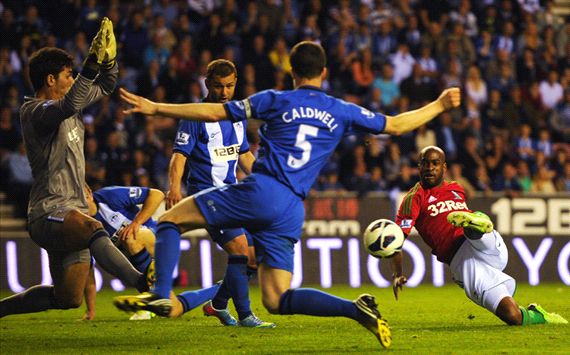 After their impressive win at the Hawthorns it seemed that the great escape was on yet again. But bad defending will catch up on you at some point, as it did on Wednesday morning against Swansea. Sure Wigan have had their fair share of defensive injuries at just the wrong time of the season losing Ronny Stam, Antolin Alcaraz, Maynor Figueroa and Ivan Ramis to various ailments, but that does not excuse the amateur defending they have served up over the past few weeks. At a stage of the season when any mistake is crucial, errors such as the one between Joel Robles and Figueroa last weekend, and the slack passes and poor clearances demonstrated by Gary Caldwell, Shaun Maloney and James McCarthy against Swansea are the difference between survival and relegation. Many platitudes have come their way regarding their attacking football, but the fact is that Wigan have conceded the first goal of the game on 23 occasions this season and made 15 errors that have led directly to opposition goals, both league high figures, this is what will end up costing them.
Liverpool and Everton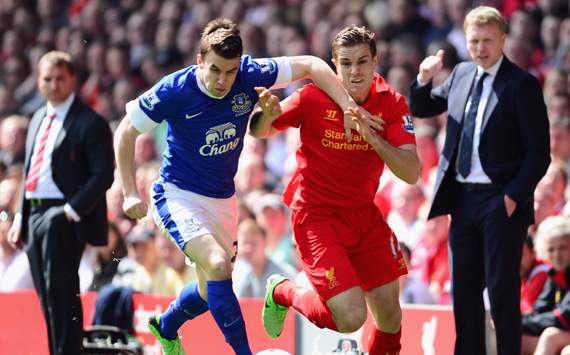 If you, like me, had the misfortune of watching this match then you will know exactly why these two teams are in the flops section. This was billed as the Merseyside derby, the game that had seen more red cards than any other fixture in EPL history, a storied rivalry in which two teams were desperate to win! What we got was something which rivalled last weeks QPR Reading game for dullness and boredom. When people in the Kopitiam are pretty much all playing with their phones rather than watching the match, then you know it's a rubbish game.
Emmanuel Mayuka, Luke Shaw and Jack Cork (Southampton)
Remember those stats I mentioned earlier about Gareth Bale; the fact that he is deadly shooting from outside the box, the fact that he likes to score winning goals late on. Well these three players obviously didn't get the memo as they stood there and watched Bale ram the ball home from 20 yards, demonstrating no urgency to close down the only real chance Spurs had at that point. It was an unbelievably slack bit of defending from the three which means that Southampton are still not yet mathematically safe from the drop.
Chris Hugton and Norwich City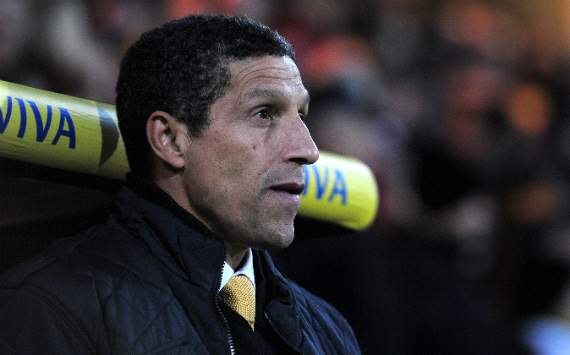 The Canaries have two wins in 19 matches and if the season were to last another five matches, there would be few people to back Norwich staying up. A defeat at the hands of former manager Paul Lambert would have rubbed salt in the wounds of Norwich fans, and the disparity in management between he and Chris Hughton was clear to see on Saturday. While Lambert and Villa lined up with three forwards, Hughton again played the starved of service Grant Holt up front by himself. When they did try to win the game and bring on another forward in the form of Kei Kamara, it was at the expense of their most creative outlet Wes Hoolahan. Even if three sides do prove to be worse than Norwich this season, look for them to struggle next year unless major reinforcements and tactical changes are made.
West Bromwich Albion
It was admirable that Steve Clarke is trying to experiment at the tail end of the season, as demonstrated with the Baggies rotating a number of players and operating in a 3-5-2 formation for the for the first time this season at Manchester City. But two defeats in a week mean that it is now one win in seven for Clarke's men; such poor form at the back of a season usually does not bode well for the following campaign.