Week 35 of the English Premier League (EPL) was a bad one for teams from the North-East as Newcastle and Sunderland shipped 12 goals between them. The irrepressible Robin van Persie predictably came back to haunt his former employers after enjoying a guard of honour which must have stung for Arsenal fans. Also, the league said goodbye to two teams, but judging by the match they served up, few will miss them. Let's see who were this week's Tops & Flops.
Tops
Robin van Persie (Manchester United)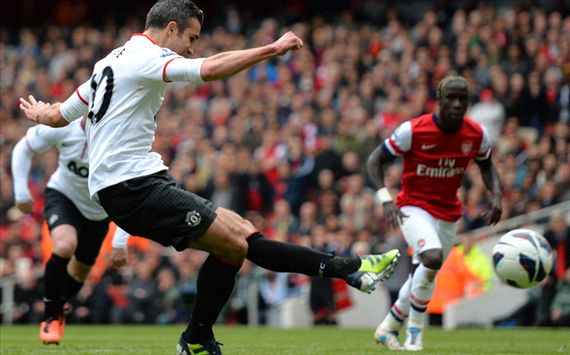 While Sunday may not have been the Dutchman's finest performance of a magnificent season which has seen him hit 25 EPL goals, and 29 goals in all competitions, the sight of him walking through an Arsenal guard of honour as an EPL champion justified the decision to leave the Emirates last summer. Yes it was his loose pass that eventually led to Theo Walcott opening the scoring, but van Persie would show his coolness by equalising from the spot to make it 17 goals in his last 17 EPL appearances at the Emirates, and to keep up his record of scoring in each of his last four appearances where Arsenal have played Manchester United. Former manager Arsene Wenger's reaction to the goal was bizarre to say the least as the Frenchman said, "I don't think he scored. He scored a penalty — it counts but it's not completely the same." Well while Wenger claims the small victories such as this, and maybe his coveted fourth place trophy once again, his former captain has done what Arsenal have not been able to do in nine seasons, win the title!
Christian Benteke (Aston Villa)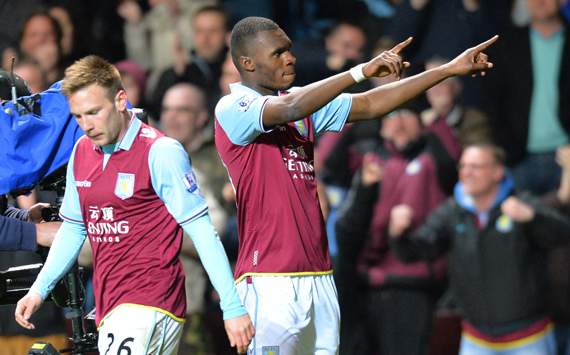 The 22 year old Belgian sensation should give Gareth Bale a call this week, as the Welshman seems to be in possession of his young player of the season award. Without Benteke, Villa may well have been relegated already, with him and his goals, there is now a real chance that this young Villa team may make what once seemed an improbable escape. His hat-trick on Tuesday morning in the 6-1 demolition of Sunderland meant that Benteke has now scored more EPL goals in a single season than any other Aston Villa player. Another statistic worth noting is that the only players in the top five European leagues to score more league goals than Benteke in 2013 are two men you may have heard of: Lionel Messi (18) and Cristiano Ronaldo (17). Benteke, along with outstanding performer Matthew Lowton inspired Villa to score six goals in an EPL game for the first time at Villa Park in 13 years which as well as taking them five points clear of the drop zone, has done wonders for their goal difference.
Liverpool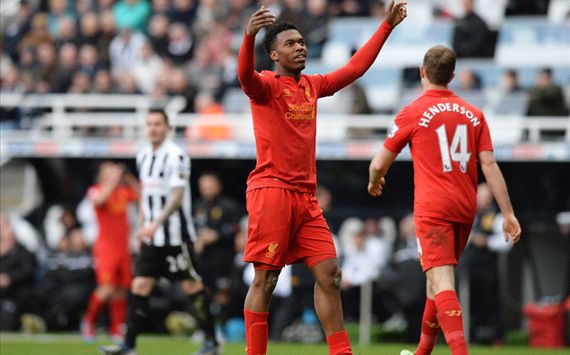 Were Liverpool that good, or Newcastle that bad? While the answer is probably a bit of both, Liverpool should be applauded for the way in which they played in their first match without talisman Luis Suarez. Daniel Sturridge excelled in his position showing a side to his game that has barely been witnessed so far, that is, the ability to hold up the ball and play unselfishly as seen in the first goal. Sturridge has now scored eight goals in 13 appearances for Liverpool and his link-up play with the again exceptional Philippe Coutinho was a delight to watch. The young Brazilian was at his tormenting best throughout the game, frustrating Newcastle to the point that their right-back Mathieu Debuchy could take no more, and lunged at him to receive his second yellow card. The Reds now have 67 goals in the EPL this season, second only to champions Manchester United, and while I don't wish to sound like a delusional Liverpool fan, if they can make a few quality additions over the summer then next year could well see them seriously challenging for Champions League places once again.
Romelu Lukaku (West Bromwich Albion)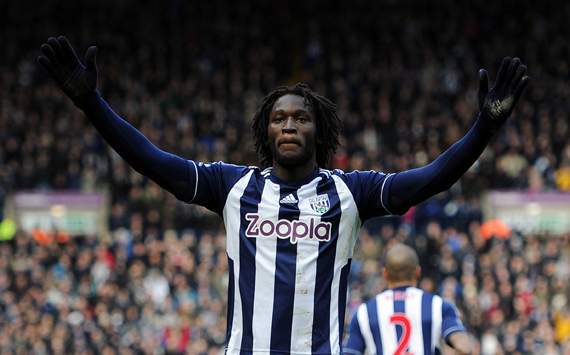 A goal and an assist in the 3-0 victory away at Southampton, Albion's first win in five, which means the team are pretty much nailed-on to finish the season in an impressive eighth place with their best ever EPL points tally (after yours truly predicted they would get relegated). The goal means that the powerful Belgian became one of only three players to score three of more EPL goals with their left foot, right foot & head this season; and his value is now such that it's unlikely he'll be playing his football anywhere but Stamford Bridge next year.
Bobby Madley (Referee in the Southampton vs West Bromwich Albion game)
Sending off three players on your EPL debut refereeing would make many think that you've had a shocker and that you need to go back to the Championship. The thing is though, Madley got all of his decisions spot on. Gastón Ramírez deserved to go for an early bath after his elbow on Shane Long, and while Marc-Antoine Fortuné's hand to Ramírez's face was relatively harmless, it was stupid and also deserved a red. Danny Fox's two-footed lunge on Steven Reid was also worthy of the maximum punishment, and while the debut referee may have been mentally exhausted upon the final whistle, he should be proud of a match well officiated.
Flops
Newcastle United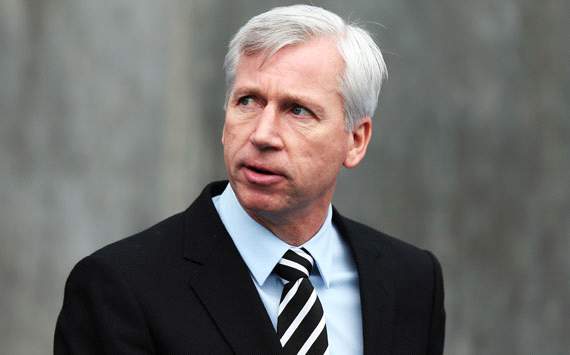 The Magpies are picking a bad time to display such bad form, the 0-6 defeat on Sunday morning at the hands of Liverpool, coupled with the recent 0-3 loss at home, means that this is the first time in Premier League history that Newcastle have conceded more than eight goals over two home games. The defeat against Liverpool was their first six goal defeat at home in 88 years, and there's a good chance that such bad defending has not been witnessed in all these years. When a team does lose by this many goals, there is certainly a lot of blame to go around. Goalkeeper Rob Elliot looked uncertain all game, Mapou Yanga-Mbiwa seemed to never know whether he was coming or going, Mathieu Debuchy was constantly out of position and lost his temper to get dismissed late on and Cheick Tioté looked an absolute shadow of the player he was 12 months ago, such was his lethargic and downright lazy display. Manager Alan Pardew cannot escape blame, whenever a team looks as disorganised as Newcastle did on Sunday then questions need to be asked, especially as this season Newcastle have conceded more goals than in any other EPL campaign. With so many players out of form, including the likes of Tioté, Yohan Cabaye and Jonás Gutiérrez, getting another three points from anywhere won't be easy.
Joe Hart (Manchester City)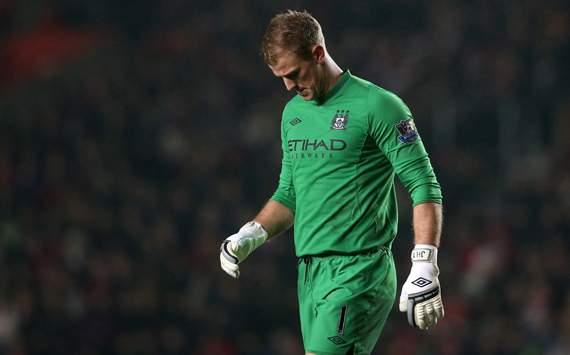 After letting Andy Carroll's routine shot go in-between his legs and trickle into the net, it now means that England's number one has made five errors that have led directly to goals in the EPL this season, this is four more than last season. If Hart carries this form into next season, then a new goalkeeper may well be on Manchester City's shopping list before too long.
Queens Park Rangers and Reading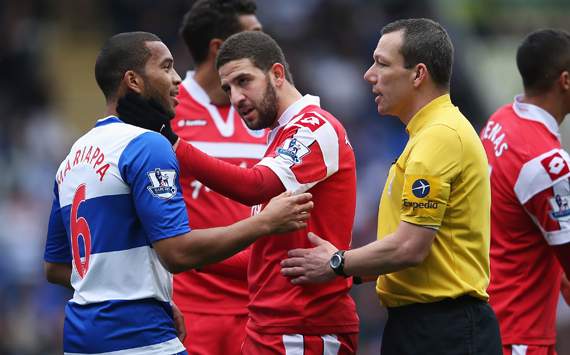 Two teams that were pretty much already relegated no matter what happened on Sunday, so you may expect the clash between them to be a free-flowing affair where both teams go all out for a win that would give some pride to what has been disappointing seasons for both. This was not what was delivered, instead both teams offered up something that apparently was called football, but failed to resemble it in any way. The match was a cure for insomnia and a fitting way for both teams to unceremoniously exit the league. For QPR it has been a disastrous season in so many ways, and despite the best effort of Harry Redknapp to blame everyone else but him, the fact remains that he has a measly win percentage of 18%. As for Reading, this season has perhaps been a step too far for a limited squad. They are the only team to average less than 40% possession and have kept fewer clean sheets than any other team, next time they make it back to the EPL they will certainly need to invest in a stronger squad to give themselves a greater chance of survival.
Marc-Antoine Fortuné (West Bromwich Albion)
He picked up a goal and assist, which would have been enough to put him on the tops list, if not for his petulant sending off after shoving a hand in the face of Gastón Ramírez. With that sending off Fortuné became the first player in six years to have the auspicious honour of scoring, assisting & being sent off in the same EPL match.
Joel Robles and Maynor Figueroa (Wigan Athletic)
One of the worst goals you'll see a side concede this year. With your team in the bottom three, and desperate for a good start on the way to a positive result, why oh why would you decide to try and play keep ball in your own 18-yard box within the first 10 minutes. Manager Roberto Martinez preaches a passing style of football which calls on his players not to panic despite the situation, something that has guided them to safety on so many occasions, but in this instance such football was brainless by the two players.
Fulham
Have lost the last 19 league games in a row away at Everton, that's right…..not a typo…...19 games! Taking zero shots on goal in Saturdays match, their latest defeat was never in any real doubt.