By Andrew Leci


I like 'bittersweet' chocolate.
Hardly a headline grabber, I know, but I do enjoy the taste experience.
It's defined as 'sweet with a bitter aftertaste', but I rather think you get both at the same time, and depending on the brand of chocolate and/or its composition, you may even get the bitter first and the sweet a little while later.
In any event, it's supposed to be a combination of two antagonistic flavours - a limited melange if you prefer - but when it's used to describe an emotion, or the reaction to an experience, it's a slightly different animal.
Robin van Persie returning to the Emirates Stadium on Sunday, as a Manchester United player, will, I would like to venture, be bittersweet. Unlike the chocolate scenario however, the antonymical relationship, so pleasing to some, will not be felt by many.
Sunday will be sweet for Van Persie; and bitter for everyone associated with Arsenal Football Club.
As Manchester United claimed their 13th Premier League title on Monday night, it was fitting that Van Persie should have scored – illustrating, in my opinion, one of the main differences between the two Manchester clubs this season.
As Roberto Mancini himself said, City simply haven't scored enough goals this campaign, and while we can all too easily point fingers at certain underperforming players, it would be interesting to speculate on what Manchester City would have been able to achieve with, say, an extra 24 items in the 'Goals For' column.
It is, coincidentally (yeah, right!) the total reached by Van Persie after his hat-trick against Aston Villa that set United on their way to securing the three points they needed for the title, with four games remaining, and plenty, apparently, still in the tank.
What was also interesting to witness on Monday night at Old Trafford, was the "magician" (not my word – Roy Hodgson applied it this week) that is, Sir Alex Ferguson.
United had put the game to bed by the break, and certainly took their feet off the gas in the second half. Halfway through it, we saw Sir Alex at the very edge of his technical area, barking out instructions, and seemingly incandescent with rage. Someone wasn't following instructions; someone else wasn't pulling his weight, and not everything was as good as it could have been. United got a bit sloppy and Fergie was livid.
And we get to the rub.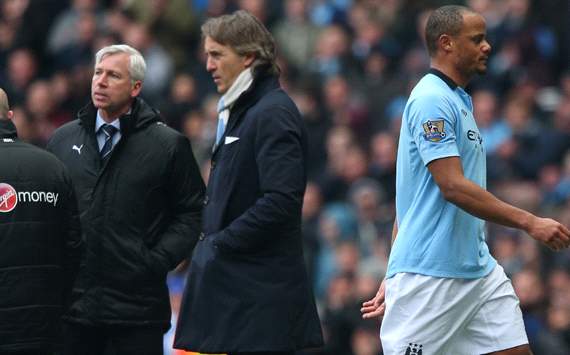 City could have done better to score more goals this season.
The title was in the bag, United were cruising to the win by a comfortable margin, and yet Ferguson still refused to ease up. His expression, and apparent sense of dissatisfaction were throwbacks to earlier days in the season, when United had let leads slip away to drop points (against Swansea, and Spurs, for example, and never forgetting – as I'm sure Sir Alex won't - the defeat at Norwich).
It's a measure of the man, and illustrative of the expectation levels at the club as well as the demands he makes on his players.
Contrast Ferguson's behaviour on Monday night to Roberto Mancini's the day before, as Spurs scored three times in less than seven minutes, and perhaps we have another clue as to what has made the essential difference between the two Manchester clubs this season.
Mancini looked perplexed; nonplussed in fact, and resigned in such a way as to suggest that the football gods are very cruel. He knew then, as he knows now, that he'd been beaten.
Mancini has maintained throughout the season that he feels his team were as good, if not better than United. He also considered it anomalous that the points gap between the two clubs should have reached (and will almost certainly end up being) double digits.
Actually, Mancini has come up with quite a few excuses this campaign - from poor decisions made by officials, to a burdensome fixture list, and even on to suggesting that opponents don't put in enough effort when playing against Ferguson's team, but I digress.
The Italian may be right; Manchester City may be as good a team as United, and if we went head to head, player for player, City might shade it.
Unfortunately, this is not a good argument for Mancini to pursue, as it rather begs the question of why such a group of high quality individuals hasn't done better. Mancini should be thinking about where the buck stops.
On Wednesday, at The Etihad, I spoke to Manchester City's Kolo Toure, and he suggested that during the title-winning season of 2011-12, City had reached levels of focus, concentration and commitment that in the following campaign were difficult to replicate.
Ultimately, Robin van Persie's goals and Sir Alex Ferguson's outstanding managerial acumen have made the difference this season, and it's something that will not be lost on the crowd at The Emirates on Sunday.
Robin van Persie's former teammates will be lining up to configure the guard of honour as United take to the field, and the Dutchman will be walking through it experiencing, I would imagine, quite a few emotions.
Arsenal fans will be bitter, having seen a favoured son fly the coop in pursuit of silverware – a decision incidentally, that appears to have taken only one season to vindicate. There might even be a tinge of bitterness from Van Persie himself, thinking perhaps on what might have been, had the Gunners been more active on the transfer market during his time at the club.
The occasion however should be sweet for the soon-to-be-crowned champions, who have responded magnificently to all the noise made last season in the light blue half of Manchester. Football can often be a game of fine margins, and now we know the importance of those key individuals who can make such a big difference over the course of a Barclays Premier League season.
Catch more of Andrew Leci's expert analysis and opinion of the English Premier League on FOX SPORTS!