Benitez in the tops, Nasri in the flops, a fair statement or a sign of madness? Also the rise of Gervinho, the demise of O'Neill, the comedy of Mulumbu and the wages of Samba
In Week 31 of the English Premier League (EPL) we saw Manchester United get one step closer to the title, and draw an end to Martin O'Neill's spell in charge of Sunderland in the process. We also saw the race for the top four heat up, as Chelsea lost while Tottenham and Arsenal took full advantage. But the most exciting story in the remainder of the season looks set to be the battle against relegation with Stoke, Norwich, Newcastle, Sunderland, Wigan, Aston Villa, QPR and Reading all battling it out with one another. Let's see who were last week's Tops & Flops of the EPL.
Tops
Steven Gerrard (Liverpool)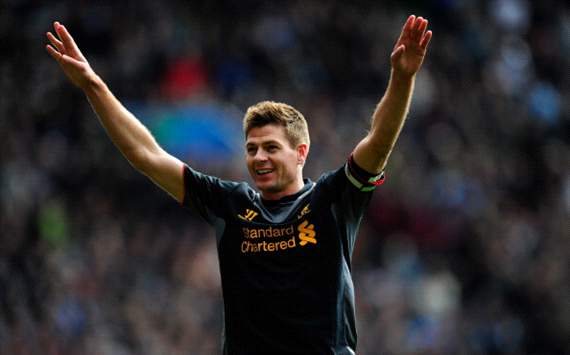 The Red's captain, who took an injection before the game in order to play, demonstrated the leadership ability and know-how that their opponents, Aston Villa, sorely lacked. While Villa have placed their faith in youth this season, Gerrard's performance demonstrated just how important experience can be as he ran the game for long parts. Often finding space deep within his own half, he completed 61 passes, including an impressive cross-field pass which led to his team's equaliser. In addition to this, he stepped up to score the winner from the spot and helped out defensively in an all-round performance, including an acrobatic headed clearance off the line. Unbelievably Gerrard has played every minute of Liverpool's EPL campaign this year and still there are few signs that his legs are tiring.
Gervinho (Arsenal)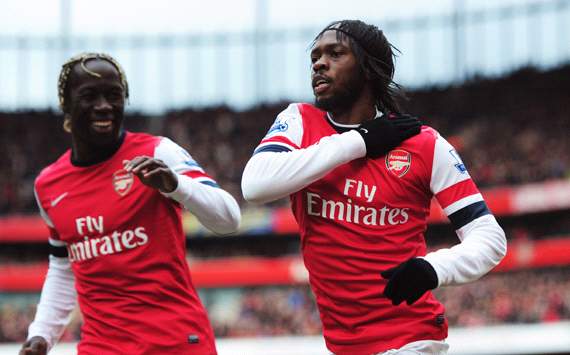 I'm as amazed as you, Gervinho in the Tops list. But it is well deserved after a goal and two assists, albeit against a dreadful Reading side. The Ivorian has now scored a goal every 174 minutes in the EPL this season, which is better than Olivier Giroud's rate. If Arsene Wenger is correct, that Gervinho is a player who relies on confidence, something has now found, then perhaps he will prove his doubters wrong and help fire Arsenal into the Champions League for the 16th consecutive season.
Kevin Mirallas (Everton)
In a poor game that barely resembled football, Mirallas was the shining light whose performance helped his team pick up a vital three points. His winning goal vs. Stoke was an example of what he does so well, that is picking up the ball and driving at his opponents who do not know which way he will twist and turn. With compatriot Marouane Fellaini odds on to depart Goodison Park in the summer, it will be interesting to see if Mirallas is given a more influential role, perhaps playing in the middle of the park just behind the central striker.
Rafael Benítez (Chelsea)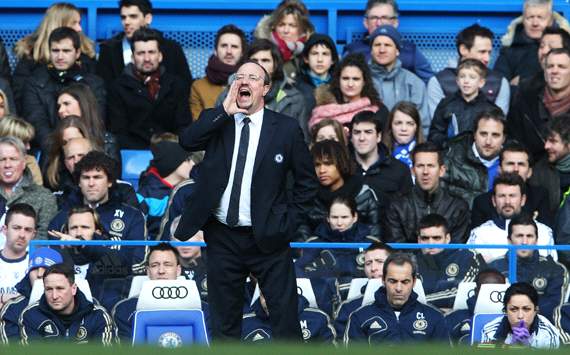 Ok, bear with me here. You may ask, how can a manager whose weakened team selection contributed to Chelsea's average performance, and disappointing 2-1 loss at Southampton, be in the Tops list? Simple, because judging by Benítez's priorities, Chelsea had a good week. After the defeat, in which he made seven changes, the Spaniard said "I have confidence we will finish in the top four and could win one or two trophies." But what he may as well have said is "I don't really mind if we finish in the top four, I'm not going to be at the club next year anyway, but I really want two trophies to add to my CV." Well after wins over Manchester United in the FA Cup, and over Rubin Kazan in the Europa League, it seems as if Benítez is edging closer to fulfilling his ambitions, potentially at the cost of Champions League qualification.
Ricky Lambert (Southampton)
Way back when, in week 3 of this column, I said 'don't be surprised if Lambert hits 15 goals this year.' Well after his sensational free-kick to dispatch Chelsea, he is now on 14, and the goal and subsequent three points surely erases any lingering relegation fears that Southampton have. When watching the game I told myself that there was absolutely no way he would score his free-kick from the distance he was, he proved me wrong, and surely he cannot be far away from proving England manager Roy Hodgson wrong also.
Andy Carroll (West Ham United)
Completely bullied Albion centre backs Jonas Olsson and Gareth McAuley to help himself to two goals, one of which was a beautiful over the shoulder volley which defied critics who think of him only as a battering ram of a forward. Is he a striker who is worth £35 million…..no! Is he an effective EPL striker who on his day will give a headache to even the most accomplished of defenders…..he most certainly is. If Liverpool do dispense of his services in the summer as is expected, there will be no lack of suitors for him.
Flops
Martin O'Neill (Former Sunderland Manager)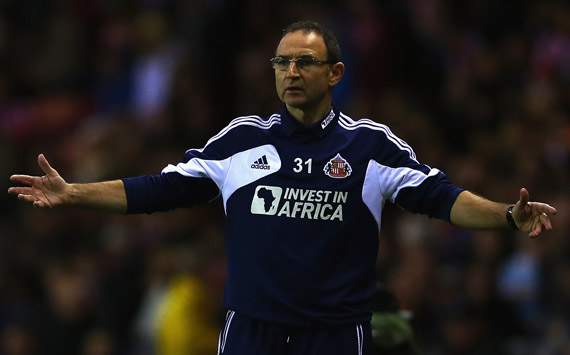 After only 16 months in charge, O'Neill leaves Sunderland looking like the shadow of the bubbly enthusiastic manager so recognisable from his previous jobs, arguably having been found out as a top level boss. There is certainly the argument to be made that the game has passed O'Neill by, in his time as a manager he has never really deviated from tactics that involve hard work off the ball and a direct counter-attacking style to pick off opposition teams. Well this only works when a side has pace, something his Sunderland team did not, and his team did not have the sufficient creativity or technical ability to break down teams that sat back, often making Sunderland home matches an unwatchable spectacle. The other flaws of O'Neill have also been exposed in his time in charge, his refusal to go beyond the British Isles when looking for talent, overpaying for said British talent (£14m for Steven Fletcher and £12m for Adam Johnson) when cheaper foreign players are often available (e.g. Michu for £2m, Christian Benteke for £7m, Pablo Hernández for £5.5m), the poor training methods and lack of rotation which lead to his teams being shattered by March (this year O'Neill got two points from a possible 12 in March, at Aston Villa it was 10 points from a possible 51), and ignoring squad members who can seemingly contribute to the team (at Sunderland it was forwards Conor Wickham and Fraizer Campbell). There is no doubt that Martin O'Neill is a manager who can highly motivate his team, as displayed by their resurgence last season when he arrived. But the power of motivation can only work for a period of time, and O'Neill had little else to offer once this faded.
Chris Samba (Queens Park Rangers)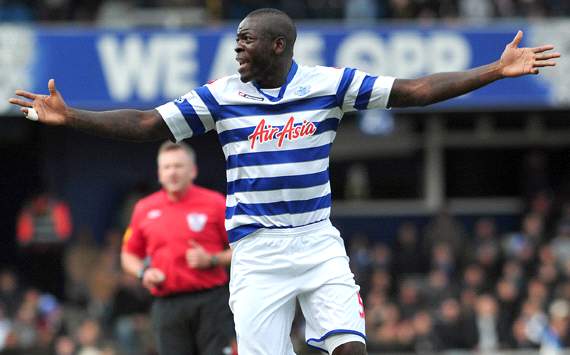 The towering defender was at fault for both of QPR's first two goals in the 3-2 defeat at Fulham and had to take to twitter in the aftermath of the game to defend himself, and his supposed £100k a week wage. In all fairness, it's not Samba's fault that QPR management were crazy enough to pay him such a wage, and he is correct in saying "like footballers cannot have an off day." However the signing does sum up QPR's erratic approach to building a squad this season; signing only one accomplished centre back in the summer (who subsequently has left the club), having to rely on Clint Hill (who has played an astonishing 23 EPL games this year) and then panicking and signing Samba for £12.5m on a reported £100k a week, four and a half year deal. Such crazy spending and financial mismanagement means QPR's problems may last longer than this season.
Samir Nasri (Manchester City)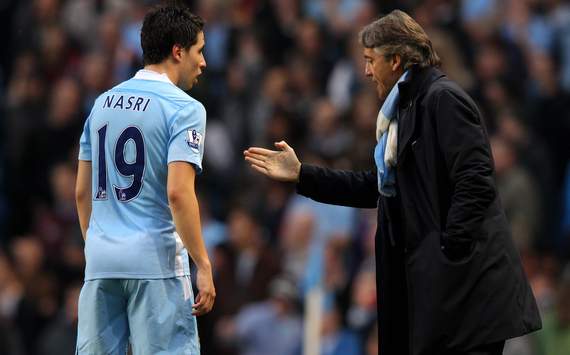 I know what you're thinking, Benitez in the Tops list, and man of the match performer Nasri in the Flops list, have I gone mad? Well I share Roberto Mancini's opinion on the enigma that is Nasri, the Italian saying: "I would like to give him a punch, a player like him should play like today, always. Every game. I can't understand how a player with his quality doesn't play like today every game." On Saturday, in the 4-0 victory over Newcastle, Nasri dominated the game only misplacing four passes and creating six chances, one of which was taken by David Silva to make the score 2-0. However a performance of this standard counts for little now that his team trail United by 15 points. One wonders if any other team will be willing to take a chance of his perplexing talent, oh and of course his enormous wages.
Youssouf Mulumbu (West Bromwich Albion)
His red card, for kicking picking up the ball and kicking it as hard as he could at the back of Gary O'Neil, was so funny that even opposition manager Sam Allardyce could barely contain his smirk. Not so funny for Mulumbu, who will now miss three games and be fined for his dismissal, oh dear!
Nathan Baker (Aston Villa)
The reckless and immature defending which saw him concede a penalty to condemn Villa to a potentially extremely damaging defeat sums Villa up well. I've lost track of the number of occasions this year that Villa's unproven backline has been responsible for goals conceded, and Paul Lamberts stubborn decision to not bring in a more experienced defender in January looks like being the difference between survival and relegation. On Sunday the whole world knew what Luis Suarez was going to do when he had the ball on the touchline, every week we see his trickery in these situations; but Baker still went to ground to give Liverpool a spot-kick. Baker's last three games for Villa have featured: an own-goal, a needless head injury which was of his own doing and a penalty conceded; there comes a time when you cannot keep chalking such mistakes down to a lack of experience, rather it is a lack of common sense and ability.
Stoke City
Another away game, another defeat. The Potters now have only one win in 12 EPL games, but their form away from home is even worse than that. One away win in 24 games, and just 14 EPL away wins since they were promoted into the division in 2008. Such poor form and a lack of any real goal scoring threat (27 goals from 31 games) means that Stoke now have their worst points total from 31 games in their five year EPL history, and has left them nervously looking over their shoulders. The home tie versus Aston Villa this weekend has now become a must not lose game, but whatever happens this season the question may well be has Tony Pulis taken the team as far as he can?
Marko Marin and Victor Moses (Chelsea)
If as I speculated earlier, that Rafael Benítez is not too bothered about Champions League qualification, then handing starts to these two wingers at Southampton was the perfect way to go about it. Both wingers made Southampton full-backs Luke Shaw and Nathanial Clyne look like Paolo Maldini and Cafu respectively, as time and time again Marin and Moses were guilty of wasting the ball and failing to make the correct decision. Moses in particular was poor with zero accurate crosses, only one successful dribble (out of five attempted) and no chances created for teammates.