COMMENT
By Dez Corkhill
On Friday night, Yemen provide the opposition for Malaysia in a "must-win" match in the second of six Asian Cup group qualification matches at Shah Alam Stadium, Selangor. Malaysia Coach, K. Rajogopal, has said - for several years - that he should be judged on the Asian Cup campaign of 2015.
Having lost the group opener in Doha, Qatar, that time has now arrived and the home match with Yemen is one in which Malaysia simply must take away three points to maintain a credible interest in the tournament.
For Malaysia to have a successful Asian Cup campaign, Rajagopal needs the players whom he has groomed and protected in his time at the National Coach to pay back the confidence he has shown in them. The likes of Safiq Rahim, Aidil Zafuan, S. Kunanlan, and Norshahrul Idlan Talaha - all of whom I expect to start against Yemen - owe the coach a big performance.
The payback is because Rajagopal has consistently placed his trust in young players. He was at the helm when Malaysia won the 2005 Lion City Cup with a team that included - from the squad to take on Yemen - Safiq, Aidil Zafuan, Khyril Muhymeen and Asraruddin Putra. That is a lot of history to ignore!
Two years later, he was the man behind Malaysia's Young Tigers impact on the national consciousness as Harimau Muda – the national under-19 – won Malaysia's second-tier league competition. Providing the bulk of the talent for Rajagopal for that team, and subsequent successful teams under both himself and Ong Kim Swee, was the Bukit Jalil Sports School (BJSS), which opened in Kuala Lumpur in 1996.
The coach has protected and shown faith in young players over a number of years. Several of the players whom he has groomed have been able to earn a very nice living out of football and K. Rajagopal is a key reason why they developed as they did. Now they must take a leading role in returning the compliment - not only in this game, but in the home match with Bahrain, and for the rest of the qualification campaign. King Raja has invested time and belief in them. It's payback time.
The 4-1 loss to Saudi Arabia in an International friendly earlier this week was a chastening experience for Malaysia. Two very late goals made the defeat seem worse than it was, but the game illustrated that, despite the BJSS influence, Harimau Malaya are simply not in the same class as Asia's more established powers. There are hopes that they one day will get to those levels, but for now it's a case of "if" and not "when".
Games such as Sunday's, when both teams used multiple substitutions, can be valuable for a Coach both to blood new players, and also to look at how his players react when faced with better class opposition.
Media attention may have focussed on a dearth of attacking players in the Malaysia squad both for this game and the all-important Yemen match, but Datuk Rajagopal will have been equally concerned with the cheap goal conceded before seven minutes had been played against the Saudi's and the powder-puff challenges that enabled Yahya Al-Shehri to score mid-way through the half. He'll also have been alarmed at the gaping holes that appeared in the last minutes to enable KSA to pull away so convincingly.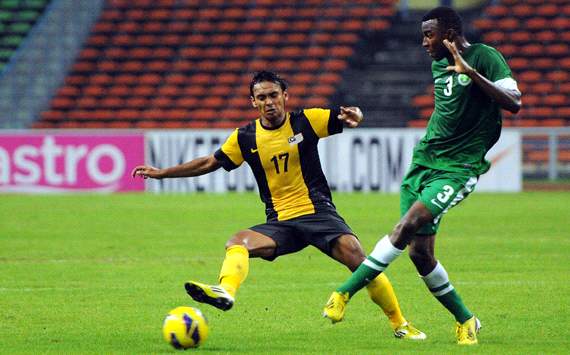 Against Saudi, the Malayan Tigers have shown that they are not one of Asia's big players yet
For the Saudi game, Rajagopal was almost forced by public pressure to experiment with his tried and tested selections. The suspicion is that all it will have done is to confirm to him that the players whom he has trusted since 2005 are still the most reliable to undertake what he wants to achieve.
All-in-all, Rajagopal's previous behaviour suggests that he will go for the tried and tested. It would be consistent with his decisions over the last four seasons, and consistent with his belief that those who come through the Bukit Jalil Sports School are more disciplined than some of the more celebrated Malaysian professional players who might make "fire" as Rajagopal said back in 2010.
A hero to K. Rajagopal is Manchester United Manager, Sir Alex Ferguson. They share a common belief in that if you trust young people, you will always be rewarded. If I am reading Raja's thought process correctly, then his "graduates" will be trusted against Yemen. BJSS graduate Khairul Fahmi – when positive and decisive – remains Malaysia's best goalkeeper by far; BJSS graduate Fadhli Shas has been consistently strong whether at left-back or centre-back. Spot the theme?
BJSS graduate Aidil Zafuan, on form, has no opponent as Malaysia's best centre-back. The thing is, Aidil needs to find his form. Pronto. BJSS graduate Norshahrul Idlan Talaha is a cert for the centre-forward role – even if he doesn't want it. And BJSS graduate Safiq Rahim, more than any other, owes his coach a responsible, mature, disciplined performance.
The lesson from the less-than-stellar Suzuki Cup campaign in December was that there was a need for more expansion going forward, whilst maintaining defensive discipline. If K. Gurusamy is fully fit, he can be a perfect foil for Safiq's attacking bent.
Other selections are less certain. Amri Yahyah's wonderful goals for Selangor against Johor Darul Takzim and Tampines Rovers in recent weeks might just have earned him a reluctant nod over BJSS graduate Khyril Muhymeen - though Manaf Mamat's performance against the Saudi's might have earned him a call-up. Out wide, S. Kunanlan's work ethic and "favoured" status must surely earn him one berth, whilst Pahang's Azamuddin Akil has earned his place on the other side.
SO what can Malaysia expect in opposition on Friday? Yemen have a FIFA ranking of 170, and have yet to score in four Internationals in 2013. All the players in the National squad are locally based, and their top League teams struggle to get beyond the group stages of the AFC Cup. As a bald description, the story is very similar to Malaysia. A 160's ranking, four straight International defeats, a struggle for club teams in AFC Cup qualification, and all squad members playing in the domestic league.
And yet, the eternal optimist in me says that Malaysia should be able to rise to the occasion both on Friday, and throughout the Group phase. Malaysia may not qualify for the Finals in Australia, but the performance is important. Starting with Friday.
Lose against Yemen, and Rajagopal's Bukit Jalil policy really comes under scrutiny. Win, and he's still in the game. Until Bahrain. The squad has been given time, resource, incentive and support to be ready for this challenge. Gents, K. Rajagopal is a thoroughly decent man. He's trusted you. He's believed in you. You owe him your very best efforts.
Dez Corkhill is the managing Editor of Astro Arena - the malay-language sports Channel that broadcasts Malaysian Domestic football. He is also a commentator on the Malaysian League for Astro, and has commentated on Asian Football Leagues from Singapore to India via Indonesia and Malaysia for the past 9 years.