Last week in the EPL was a week of hat-tricks as we saw the finishing prowess of both Shinji Kagawa and Luis Suarez in comfortable 4-0 victories for their teams. We also saw Tottenham keep up their recent good form at the expense of an Arsenal team who look to be is disarray, with another goal for Gareth Bale. As we hit ten game weeks to go, let's look at last week's Tops and Flops.
Tops

Shinji Kagawa (Manchester United)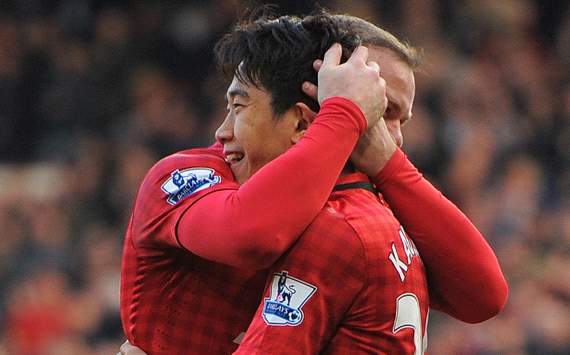 After the game Reds manager Sir Alex Ferguson said that fans will see the best of Kagawa next season, after he has fully acclimatised to the EPL. If that is the case then United fans will have a lot to look forward to as he demonstrated just what prodigious talent he has with one of the most well taken hat-tricks in EPL history against Norwich. Three exquisite finishes, mixed in with some beautiful attacking interplay and an elusiveness that made him virtually impossible to pick up showed Kagawa at his best. While Sir Alex may not trust him fully just yet, as displayed with his place on the bench in Wednesday mornings clash against Real Madrid, the Japanese maestro is only 23 and will surely establish himself as a first team regular in seasons to come.
Tottenham Hotspur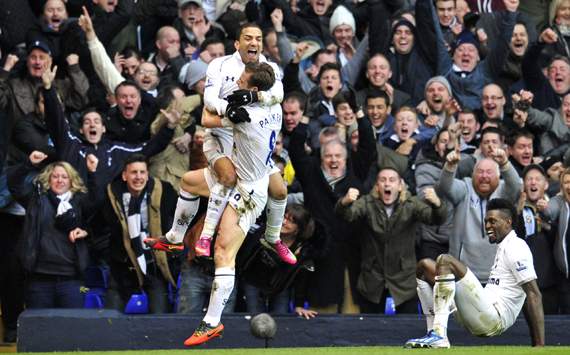 Spurs are now unbeaten in 12 matches, their longest unbeaten run in EPL history, and on a roll in Europe also, as demonstrated by their 3-0 thrashing of Inter Milan on Friday morning. Indeed a week in which they defeated Arsenal to open up a seven point gap over their rivals and destroyed one of Europe's great clubs would have been unthinkable many years ago, but this Tottenham team seem a more focused and disciplined unit under the stewardship of Andre Villas-Boas than in previous years. Truth be told, against Arsenal last Monday morning, the game could have swung either way with kamikaze defending on display by both sides, but it was Spurs who grabbed the all important first goal and took the momentum from there. While Gareth Bale got the opening goal, and took most of the headlines once again with his 16th league goal, it was a quiet game by his standards as he completed only ten passes during the match. However to beat a team of Arsenal's reputation without your key player excelling shows that the rest of the Spurs team is also pulling its weight, including Jan Vertonghen who defended manfully all game and Gylfi Sigurdsson who seems to finally be entering form. Last season Tottenham collapsed like a pack of cards in the final stretch of the season, the greatest compliment I can pay AVB is that under his astute management, that doesn't seem like a possibility this year.
Philippe Coutinho (Liverpool)
Any player who is good enough to get an assist for a goal which consists of Stewart Downing scoring a header must be commended. Watching his performance at the DW Stadium in the 4-0 annihilation of Wigan it was hard to believe that the Brazilian is only 20 years old, and was let go by Inter Milan for a seemingly bargain price of £8.5m (RM40m), less than half of a Stewart Downing! His instant understanding with fellow South American Luis Suarez will be enough to get Liverpool fans dreaming of what is to come next season and beyond, with a delightful through ball to the Uruguayan to make it 2-0. While it's too early to make any real conclusions about a player so new to the league, it will be encouraging for Liverpool fans to see a player who can possibly provide value for money after the expensive disappointment of players such as Downing, Charlie Adam and Andy Carroll.
Luis Suarez (Liverpool)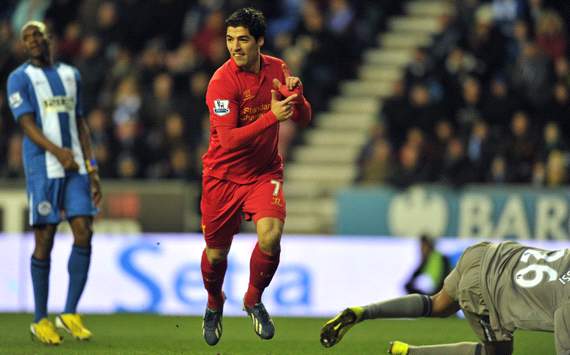 Another hat-trick away from home, which took him to the top of the EPL scoring charts with a remarkable 21 goals so far. Even more astounding when you consider for large parts of the season he was tasked with leading Liverpool's line by himself, now he is getting more support from the likes of Danny Sturridge and Coutinho, and his game and end product has not suffered as a result. The forward's goalscoring has triggered a bonus in his contract which is thought to have raised his wages to £120,000 (RM560,000) per week, and in the context of modern day EPL earnings, it's hard to argue that he doesn't deserve it.
Steven Pienaar (Everton)
The South African was the inspiration behind the Toffees comfortable 3-0 victory over Reading with his first assist of 2013 and a stunning left-footed drive which flew into the top corner past helpless keeper Stuart Taylor. While there is no doubting that Pienaar has enjoyed a better spell back at Everton that he did at Tottenham, it must be said that if he is to be remembered as a truly special player then performances such as this need to be more common. The attacking midfielder has a combined nine goals and assists for the season, I feel that a player of his high standards should be contributing more.
Swansea City
Many would have given Swansea a free pass if they had lost their first match after their Capitol Cup triumph. After all it was the first major trophy in the clubs history, and you would think that the celebrations would have lasted for days after last weekend. But it is a testament to this team, and to manager Michael Laudrup that they were able to come back with a 1-0 defeat of Newcastle United, which means they have 11 points from their last five home matches, a record bettered only by Manchester United, Manchester City and Liverpool.
Flops
Arsenal's Defence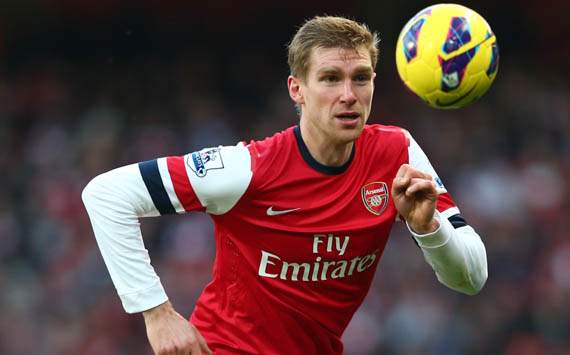 Not for the first time they are on the Flops list this season, and so rotten has been their overall performance, it may not even be the last time. On Monday morning at White Hart Lane the Gunners backline looked perpetually confused, never quite sure what tactics they were meant to be deploying to stop the pace of Tottenham. Chief culprit must be captain Thomas Vermaelen who now genuinely seems a worse player than when he entered England, seemingly having lost any positional awareness he once had. The Belgians indecisiveness at Spurs helped unsettle left-back Nacho Monreal, causing him to commit costly errors, it's easy to forget that this was only the Spaniards fourth appearance in the EPL, and the lack of any leadership or positional discipline beside him really hampered his own game. The worrying thing for Arsenal fans, they seem to be making the same mistakes in each game and defensive players seem to be getting poorer in their time at the club. More worrying still, they don't have a certain Mr. van Persie to paper over the gigantic defensive cracks, something which I'm certain will prove costly when the season ends.
Norwich City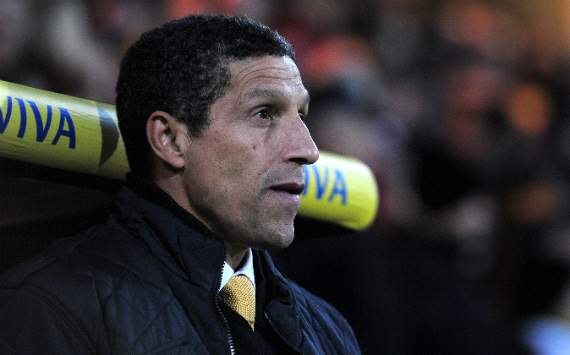 The Canaries had the dubious honour of being the first team this season to not record a single shot in an EPL game in their 4-0 loss at Man United, in what was an uncharacteristically bad display, even by their recent standards. Chris Hughton's team have only one win in their last 11 EPL games, to well and truly take the wind out of the sails of what had been an extremely promising season. On Saturday they again looked porous defensively, it was the sixth time this season that they'd conceded at least four goals in a match. Sitting too deep, not tracking midfield runners and generally being immobile has been a hallmark of Norwich's defensive play this season and something they surely need to work on resolving with signings this coming summer.
Ciaran Clark (Aston Villa)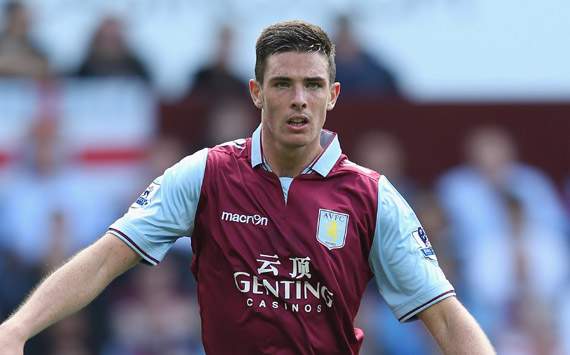 Picked an extremely bad time to channel his inner Johan Cruyff and try and use some skill to take the ball around an onrushing Edin Dezcko. Ten seconds later and the ball was in the net and Villa had another improbable mountain to climb after yet another defensive error. This one moment perhaps summed up Villa's season. Manager Paul Lambert has persisted with young players, but in several cases, including Clark's, the players he has entrusted have not been good enough. While Clark may prove himself to be an EPL standard defender over the course of his career, it seems that the prominent role that he has had in the Villa team over the past three seasons has been too much too soon. Perhaps it's not a case of Clark underperforming, just not being good enough, which can be said of many of Villa's young team this season.
Wigan Athletic
Four goals down at home by the 48th minute is bad enough, but when you factor in that Wigan have the worst home record in the EPL with just ten points from 14 home games you have to ask serious questions about a team. The classy 3-0 victories they have recorded at Reading and Aston Villa this year demonstrates that Wigan are not a poor side, they are a side capable of playing good football and despite their meagre budget, they are still likely to survive yet another season in the EPL. But five points won from a possible 45 against top-half sides says to me that manager Roberto Martinez needs to, at times, alter his strategy when coming up against better teams. Wigan at times play far too openly against the top teams who do have the players to punish the opposition which makes me think that perhaps a more pragmatic approach every once in a while may not be the worst idea.
Tony Pulis (Stoke City Manager)
I've spoken at lengths about the Stoke City manager in the past and while I don't' dislike him, I do feel he should be doing a better job with the resources he has been given. Stoke's insipid 1-0 defeat at home to West Ham means that they have now picked up just four points from their last eight games, making them the worst team in the EPL on form. Pulis has been defiant about his position, his signings and his tactics, but the fact is that nearly 70 per cent of respondents have voted for his dismissal on the influential fans' website The Oatcake. You get the feeling that unless Pulis is willing to alter Stoke's style of play, then the relationship between he and the Stoke fans will continue to get worse.