Was this the weekend that the title was decided, if you ask me, yes it was! Manchester United went 12 points clear at the top with a professional 2-0 victory over Everton, whilst their noisy neighbours crashed on the south coast. However the remaining 12 weeks of the English Premier League (EPL) season should provide entertainment as the battle for 4th place continues to heat up, while the struggle for survival continues to take many twists and turns. Let's see who the Tops & Flops of Week 26 were.
Tops
Manchester United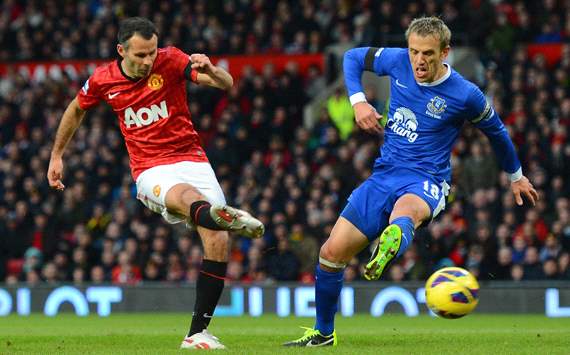 Ok so the league is officially over in February after United opened up a surely unassailable 12 point lead over disappointing rivals Manchester City. United's victory now means that they have won a record 21 of their first 26 matches of the season. Their victory over Everton owed in large part to the ability of Fergie's men to effectively shut down their opponents. In week one I stated that Marouane Fellaini 'gave United problems all night' as he bullied the Red Devils. This time around the versatile Phil Jones did an expert job in shadowing the gangly Belgian, denying him any time or space on the ball. While Antonio Valencia may not be enjoying a vintage season, his tireless efforts up and down the right flank ensured that the in-form Leighton Baines was not able to attack with the frequency that he usually does, taking away a large part of Everton's attacking strategy. And the powerful Victor Anichebe at times looked like a weak child as he bounced off the dominant Nemanja Vidić, whose fitness over the past month has arguably been more influential than Robin van Persie's goals. While it can certainly be suggested that this United team are not as dominant as some of Fergie's old teams, there is no doubt that this group is dogged, resilient and canny; qualities that will secure them the EPL title.
Mauricio Pochettino (Southampton Manager)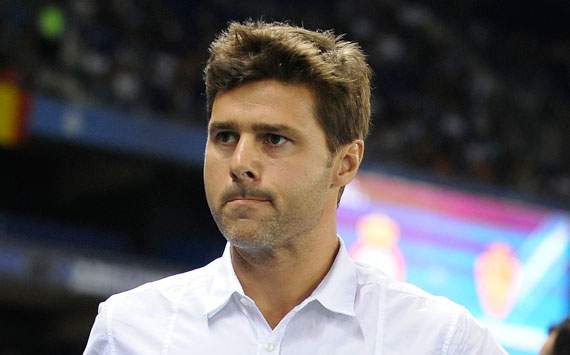 I, like many others was sceptical when the predominantly unknown Argentine Pochettino was bought into Southampton to replace the successful Nigel Adkins. While several were quick to criticise chairman Nicola Cortese for his harsh dismissal of Adkins, who had delivered successive promotions, it was claimed that the Saints chairman was looking at changing the playing style of the team – and indeed the club, from top to bottom. In his short time in charge, Pochettino has moved away from the 4-4-2 formation so often employed by Adkins, and implemented a 4-2-3-1 formation that has allowed his team to effectively press high up the pitch, a formation which paid dividends against Manchester City. The work rate of wide men Jason Puncheon and Jay Rodriguez, forward Ricky Lambert and central midfielder Jack Cork meant that City never got into their stride on Sunday morning, and were beaten by the better team. The initial appointment of Pochettino may have been puzzling, but perhaps we are beginning to see the wisdom behind it already!
Gareth Bale (Tottenham Hotspur)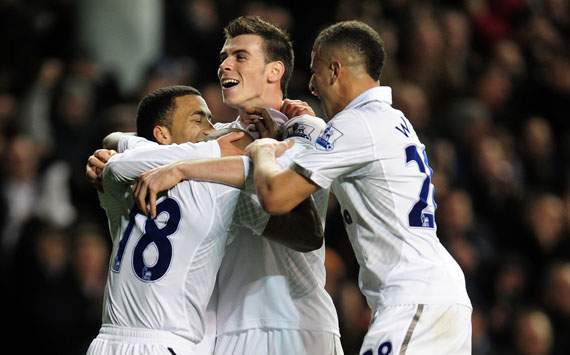 Watching Spurs on Saturday, they seemed fresh out of ideas on how to break down Newcastle, with Emmanual Adebayor looking as unproductive as he did before the African Cup of Nations, and Clint Dempsey again anonymous. But again, cometh the hour, cometh the man, as Bale scored his third and fourth goals in three EPL matches to secure another precious three points for his team. After the match, manager Andre Villas-Boas said that losing Gareth Bale would be similar to Barcelona letting Lionel Messi leave or Real Madrid letting Cristiano Ronaldo go, on this form it's hard to argue that the Welshman is as valuable to his team as both of those players. His first goal came direct from a free-kick, an area that Bale needs to improve upon to be consistently recognised as world class. His second, and winning goal, was a goal from nothing as he burst past a hesitant Fabricio Coloccini before coolly slotting home. Bale may well be the difference in helping Spurs finish in the hallowed 4th spot again this season.
West Bromwich Albion & Ben Foster (West Bromwich Albion)
Bounced back in style from five defeats in six games to snatch a win at Anfield for the second season running. In truth it seemed as if the Baggies would have gladly taken a point throughout the course of the game, something that may not have been possible if not for the excellence of Ben Foster in their goal. However Albion weathered the storm and prayed on the weakness of Liverpool to complete a league double over the Reds for the first time since 1966-67. The question is now whether manager Steve Clarke can inspire his troops to recapture their early season form after their mid-season blip, if they can then it wouldn't be a surprise to see Albion above Liverpool at the end of the season when all is said and done.
Charles N'Zogbia (Aston Villa)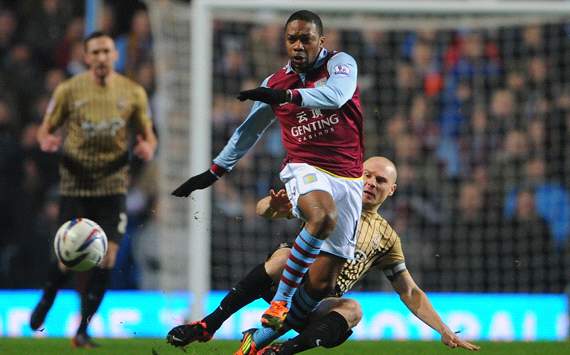 Frustrated Villa fans may feel that his good form has come roughly 19 months later than it should have done, but nevertheless will be delighted with his performance in the past month, and especially in the crucial 2-1 victory over West Ham. There's no denying that the Frenchman is capable of brilliance on his day, and was the inspiration that a listless Villa side so desperately needed on Sunday. Nimble footwork in the area to win a penalty, and a perfectly placed free-kick reminded us of the N'Zogbia of old, Villa will certainly need him as they face a tough fixture list in their last 12 games.
Swansea City
Scoring four goals past opposition who had only conceded one goal in their last five matches was ideal preparation for the Swans Capitol Cup final in two weeks' time. Even more pleasing may have been the return to goal scoring form of Michu, who ended his run of six EPL matches without scoring with two goals against QPR. The fact that barely an eyebrow is raised by the fact that Swansea won 4-1 at home and completed 242 more passes than their opposition shows just how far Michael Laudrup's team have come this season. They now sit in seventh place and will surely be gracing Europe next season.
Flops
Roberto Mancini (Manchester City Manager)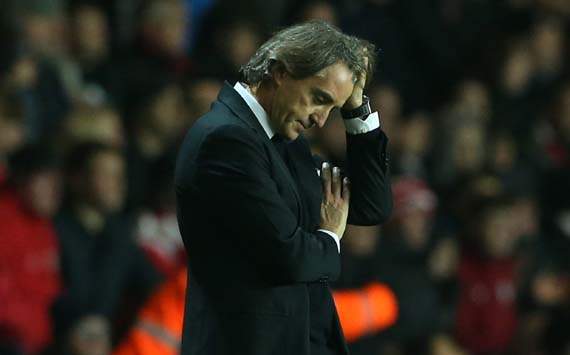 The Italian is seemingly keen to publically point the finger of blame for his team's season at his players. After watching his team fall 12 points behind Manchester United he said - "When you play football and you are a top player, you should take your responsibility, always, it's not always the fault of the manager. The players should take responsibility - if they have big balls. If not, they can't play in a top team." But for me the finger of blame should primarily fall on Mancini. He is the manager who constantly moaned about the state of his squad in the summer, despite having a team that was more than good enough to challenge for the league. He is the manager who sold one of the teams key players, Nigel de Jong for a paltry RM15 million (£3.1m) to AC Milan, and replaced him with the disappointing Javi García. He is the manager who failed to properly deal with the loss of Captain Vincent Kompany, while last year Sir Alex Ferguson was able to plan around the absence of Nemanja Vidić. He is the manager who took City out of the Champions' League group stages in the last two seasons. The truth is that last season City should have won the league more convincingly than on goal difference, and this season their title defence shouldn't be over in February; Roberto Mancini would do well to recognise his part in this!
Liverpool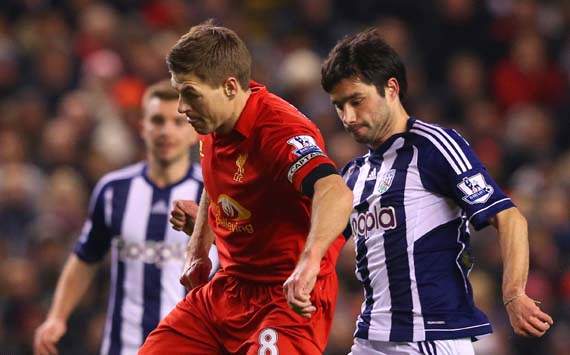 In the past season and a half the Reds have lost matches at Anfield to Wigan, Fulham, West Bromwich Albion (twice) and Aston Villa, as well as dropping points to Norwich, Sunderland, Swansea, Blackburn and Stoke (twice). In their latest 'Groundhog Day' defeat they had 25 shots on goal without scoring, the second highest total in the EPL this year. While Brendan Rodgers has made a decent start in his job as manager, if he is to truly win over a sceptical fan base then disappointing home results such as the defeat against Albion will need to become less common. He will also need to show that his team can beat a team within the top half of the EPL, in their 14 games against top half opposition this season they have drawn seven and lost seven. Perhaps step one will be to bench the underperforming Daniel Agger, at fault for both Albion goals on Tuesday morning.
Joe Hart & Gareth Barry (Manchester City)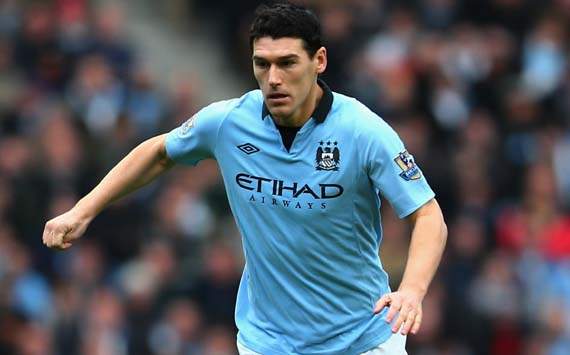 While most of the City team were dreadful in the defeat at Southampton, it was Barry and Hart whose mistakes put the nails in their team's coffin. Stats show that City's players have made seven individual errors leading to goals this season, compared with only one such error last season. I have spoken about Hart before in this column, the amount of mistakes he is making (like his dropping of Ricky Lamberts routine effort) exclude him from being a World Class keeper. With the league already out of reach, surely now is the time for reserve keeper Costel Pantilimon to be given a chance to apply some pressure to Hart's place. As for Barry, he has been a consistent performer this season, but being robbed by Jason Puncheon for Southampton's first goal, before scoring a comical own goal to kill the game meant it was a day to forget for the veteran midfielder. The 31 year old has made as many appearances this season as Jack Rodwell and James Milner combined, perhaps he also is in need of a rest or some stiffer competition for his place.
Lee Cattermole (Sunderland)
Launching into a senseless and reckless challenge two minutes into his first EPL start since November demonstrated the lack of common sense that is as much a part of Cattermole's game as his tackling! Not only was the tackle dangerous for the recipient Aaron Ramsey, but it was a foolish tackle for the Sunderland captain to make, considering the on-going medial ligament damage in his knee that has plagued his season so far. In September, Cattermole received the seventh red card of his young career (to go along with his 71 yellow cards) in the Capitol Cup game against MK Dons, leading a warning from manager Martin O'Neill that he needed to mend his ways quickly. Considering that O'Neill had to withdraw him after 45 minutes on Saturday to avoid him getting himself sent off, it seems that Cattermole hasn't considered his disciplinary situation much in his time away. At some point again in the future this will clearly cost his team, and his manager dearly.
Sam Allardyce (West Ham United Manager)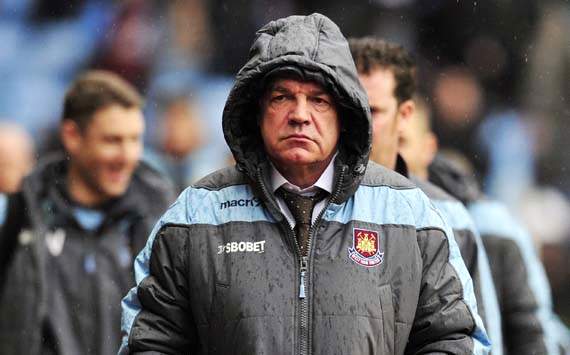 Allardyce's comments after his sides' latest defeat on the road sounded like that of a man desperate to deflect blame away from himself. He said "Aston Villa created and contributed nothing. Our plan was to go at them in the second half and we created chance after chance. We completely dominated the second half and we've ended up losing 2-1. We can't play any better than we played." Perhaps Big Sam could take a look at his involvement in their latest loss away from home. Deciding to line up with five defenders against a young Villa side bereft of confidence, with the worst defensive record in the league showed a startling lack of ambition; Villa were there for the taking but Allardyce was too cautious to capitalise. It all means that the Hammers have now taken only one point from the last 24 available on the road and they have lost their last five EPL away matches. While they will not get relegated this season, you have to wonder if the form over the last few months means that the clubs owners will look to change manager when Allardyce's contract expires at the end of the year.
Queens Park Rangers
In an attempt to protect their limited backline containing players such as Armand Traore, Clint Hill and Nedum Onuoha, QPR have recently played with two deep-lying holding players (usually Stéphane M'Bia & Shaun Derry) and quite often with 10 men behind the ball. If the opposition is having an off-day, or your keeper has a tremendous game, then this strategy can help keep clean sheets, much like it did against Chelsea, Tottenham Hotspur and Manchester City. But if the opposition manage to score early, then this game plan is pretty much useless, as the Hoops found to their cost against Swansea. Dropping the midfield deep and applying little pressure on their opponents high up the pitch was a faulty strategy against a vibrant Swansea team, who in the blink of an eye can manoeuvre their way through a team with their passing and movement. Their chances of a result were not helped by the groin injury afflicting the previously excellent keeper Julio César, was at fault for two of the goals. But the bigger worry is that of the reinforcements bought in by Harry Redknapp, one is injured (Loïc Rémy), one is noticeably short of match fitness (Christopher Samba) and one is no improvement on the players they already have there (Jermaine Jenas). Seven points off safety, survival now looks like a lost cause for QPR.