Phew, the festive season of English Premier League (EPL) football is over. Players had to drag their tired legs onto the pitch for a fourth round of fixtures in only 12 days, and in many cases the fatigue was visible. Both Manchester clubs registered wins against opposition that are often kind to them, Luis Suarez inspired Liverpool to another comfortable victory and Tottenham continued their impressive form. Undoubtedly the biggest shock was QPR's victory at Chelsea, their first in almost 30 years! Let's see who were this week's tops and flops.
Tops
Shaun Wright-Phillips and Queen's Park Rangers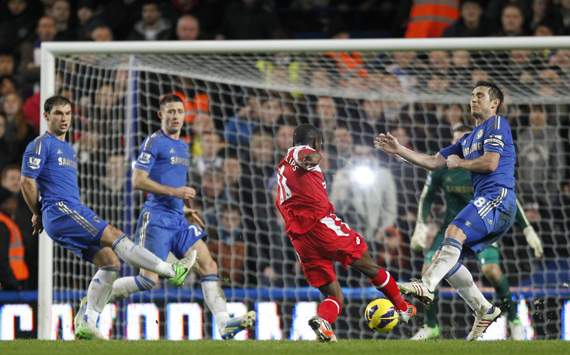 Just when you think the EPL can offer up no more surprises, bottom club QPR go to Stamford Bridge, where Chelsea scored eight in their previous fixture, and pull off a shock victory. Before this game QPR had not won in 23 EPL away games (drew 5 and lost 18), and had not won at Chelsea since April 1983. As much as I have ridiculed their defending this season, here they defended bravely with full backs Nedum Onuoha and Fabio having solid games and centre-backs Ryan Nelsen and Clint Hill excelling (the central defensive partnership managed seven blocks and a massive 10 clearances between them). Having Julio Cesar in goal also made a difference, with his 53rd minute close range stop from Fernando Torres being particularly impressive, however his life was made easier by Chelsea's careless shooting, only two of their 26 attempts were on target. But special mention needs to go to Wright-Phillips, who scored his first EPL goal in 54 matches, or 969 days. He didn't score in the whole of 2012, despite registering a massive 42 shots, but his goal here was priceless and one which could be very important in the context of the season. If Wright-Phillips can even recapture half the form which made him such a promising player early in his career, then he has chance to not be the expensive flop I have made him out to be in the past.
Robin van Persie & Javier Hernández (Manchester United)
Two goals apiece for the strike partnership that is now showing real signs of connection when they play together, making Wayne Rooney's date of return from injury an afterthought. Hernández's two goals may have both been relatively straightforward finishes from inside the box, but it demonstrates his great anticipation whenever the ball is near his opponent's goal. As for van Persie, he was again excellent in most areas, namely his balance and finishing ability, it is now 19 goals and nine assists in 25 appearances for United. United now have 52 points after 21 games, a record only two teams in EPL history have bettered, not too bad for what many have said is a 'limited' team is it?
Luis Suarez (Liverpool)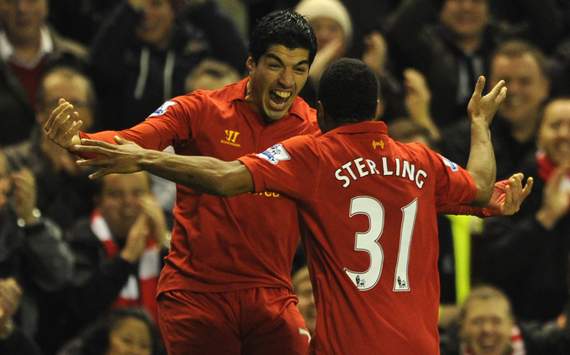 While I want to make note of the improved performance of Liverpool's often maligned Jordan Henderson in their 3-0 victory over Sunderland, and the beautiful passing of Steven Gerrard who registered his eighth assist of the season with a sublime pass for the third goal; it was Suarez again who stole the show. He followed up his assist for Raheem Sterling with a double which takes his league tally for this season to 15, and means that he scored back-to-back braces in EPL matches for the first time. Suarez was as tricky, hard-working and smart as ever; and if he can continue his form into 2013, he is surely a contender for player of the year awards.
Bryan Ruiz (Fulham)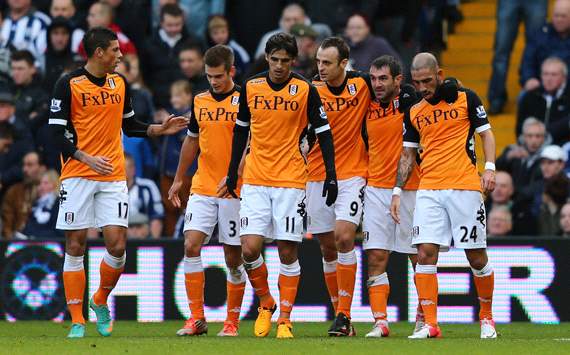 You feel that if Fulham's fortunes are to improve in 2013, then keeping the Costa Rican playmaker fit will be crucial to this. While languid forward Dimitar Berbatov is seen as the key player for the Cottagers, without proper service he can be left isolated, and Fulham can struggle for goals. Without Ruiz, Fulham have scored just 13 goals in 12 games, with him they have 20 goals in nine. Following his reintroduction to the team following injury, Fulham have scored three goals in two games, with Ruiz scoring one and assisting one. His performance in the notable victory at West Bromwich Albion (their first victory at the Hawthorns in 13 attempts) was impressive as he only misplaced three passes during the whole match, and set up Alexander Kacaniklic's winning goal with a fine through ball from deep. As Fulham now don't have the services of Moussa Dembélé and Clint Dempsey to call upon, keeping players such as Ruiz fit is more vital than ever.
Aaron Lennon (Tottenham Hotspur)
Dangerous throughout as he stepped up in the absence of the gravity challenged Gareth Bale to give Reading left-back Ian Harte a difficult 90 minutes. His burst of pace and cross for Emmanuel Adebayor's goal was Lennon at his best, and his recent good form has been a essential part of Tottenham's seven wins in their last nine EPL games and their deserved rise to third place.
Leighton Baines (Everton)
His goal now means that since August 2010, Baines has scored or assisted 27 EPL goals, 10 more than any other defender during this time. Always a danger from set pieces, his equalising free-kick was easily the best scored in the EPL so far this season and launched a comeback for this resolute Everton side. In fact, the Toffees have come from behind to claim 20 points in the EPL, which is second highest behind Manchester United. The race for the top four should be a fascinating battle considering the form of both Everton and Tottenham.
Russell Martin (Norwich City)
No goals in 39 matches, then all of a sudden he cannot stop scoring with three goals in two matches. His latest volleyed goal against West Ham was a beauty that any forward would be proud of.
Flops
Tony Pulis (Stoke City Manager)
The comments from Stoke manager Tony Pulis after the match were as follows: "Someone has just asked me what the difference was - I said about £220 million. They have got a bit of a head start on clubs like us. I don't know whether it was because it was the fourth game in the holiday period and we didn't bring our 'A' game - but I am not going to criticise the players." Now while it's true that there is a massive difference in the budget between the two teams, and playing away at the Etihad in your fourth game in 11 days is taxing, Stoke's dire performance at this ground is all too common. They have lost 0-3 in four of their last five visits to the Etihad, and in their five matches at the ground, they have conceded 14 goals and scored none. Furthermore in these games they have had only 14 total shots on goal, compared to City's 50, and have managed only 42% possession on average. For a team so resolute at their home ground, the meek surrender they demonstrate so frequently away from home displays a startling lack of ambition by manager Tony Pulis. In this fixture last year he lined up in a defensive 4-5-1 formation with Cameron Jerome and Jonathan Walters asked to support lone frontman Kenwyne Jones, that day they had zero shots on goal and managed only 36% possession. For him to repeat the same forward selection again this year, and again see his team beaten easily is in my eyes, poor management.


Wigan Athletic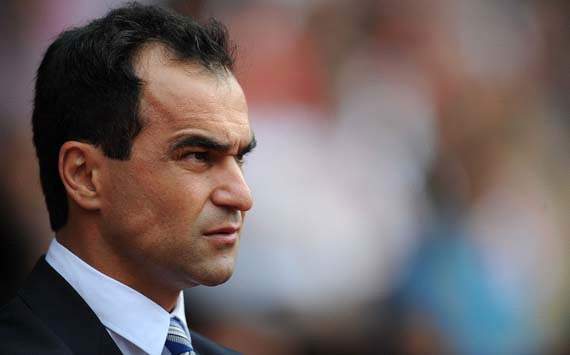 Credit should go to United for such a professional and accomplished performance, something we've come to expect from them over time. But perhaps equally, criticism should come the way of a feeble Wigan performance, something we've come to expect from them when they line up against the red half of Manchester. With the 0-4 defeat, it is now 16 EPL games against the Red Devils, their record reading: won 1, lost 15, scored 5, and conceded 50. The Latics have failed to score in ten of the last 12 EPL games against United and never looked likely to better that record on Tuesday night. Poor defending, especially by Gary Caldwell and Maynor Figueroa didn't help their cause this time around and they are now back where they are seemingly most comfortable, the relegation zone!


Swansea City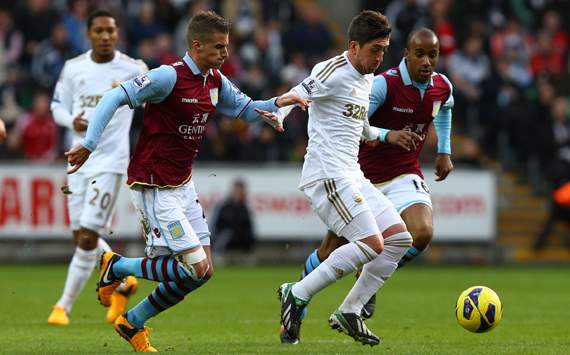 Scoring an equalising goal in the 94th minute may seem like a point rescued, but rather it was two points lost against a disoriented Villa team whom they had completely dominated in the opening 45 minutes. The game should have been out of sight within 15 minutes as the visitors looked every bit the young team that had conceded 15 goals in their last three games. Indeed it was unbelievable that the score was 1-1 at half time,
as Swansea had hit the post twice and taken 10 shots against a Villa team who seemed as confused as an 80 year old using a smart phone. The attacking interplay of Michu, Pablo Hernández and Wayne Routledge, which was so inspired in the first half, was strangely missing in a second period as Swansea's sharp passing game dried up, possibly as a result of the draining festive fixture programme. Two points lost for sure.


Artur Boruc (Southampton)
List of things the Southampton keeper cannot catch: a football, a bus, a cold…..ok you get the idea. Inspired little confidence with his nervous handling and kicking, the goalkeeping situation is still a mess at Southampton, with him, Kelvin Davis and Paulo Gazzaniga all looking inadequate.


West Bromwich Albion
Judging by their insipid first half performance in the early kick-off on New Year's Day, it is a safe bet to assume that the entirety of Albion's squad were up till the early hours drunkenly celebrating the New Year in one of the local nightclubs. That would be one explanation for a performance so out of character with a team that has exceeded expectations so far this season. In the first half against Fulham they were sluggish, tired, slack in possession and completely ineffective in attack, registering no shots. Rightly deserved the chorus of boos that they exited to at the end of the half with a performance that helped stretch their winless record against Fulham to five matches.


Norwich City
After their phenomenal run of 10 games unbeaten, they have now well and truly crashed back down to earth with the worst record in the EPL over the Christmas and New Year programme, losing four consecutive games. In their 2-1 defeat at West Ham they wanted to point the finger of blame at referee Mark Clattenberg, but for me it seems their bigger problem is their lack of squad depth. For this game first team players such as Steven Whittaker, Bradley Johnson, Grant Holt, Steve Morison and Javier Garrido were missing, with young replacements such as Ryan Bennett, Harry Kane and Elliott Bennett unable to match their level of performance. Manager Chris Hughton has performed wonders in the league, and also in the transfer market this season, bringing in important players such as Robert Snodgrass, Michael Turner, Sébastien Bassong, Alexander Tettey and Garrido in the summer. Perhaps he will need to make a few additions in January if he is to keep up their encouraging season thus far.