Last weekend we saw another crazy round of English Premier League (EPL) football as a massive 41 goals were scored in 10 matches, as players legs tired after a hectic festive period. We saw two men strengthen their case for contract extensions, a Tony Yeboah special by the unlikeliest of players, another dive by Gareth Bale and a now all too common incompetent performance by Queen's Park Rangers. Let's see who were the Tops and the Flops of Week 20.
Tops
Nemanja Vidić (Manchester United)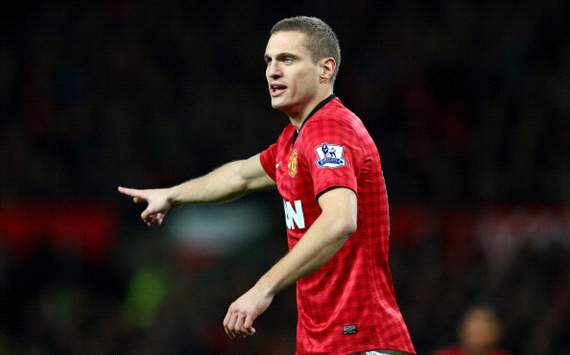 In a game that had few stars, the Serbian defender was the stand out performer for United with a typically dominant display that his team has sorely missed this season. You have to believe that if Vidić had not missed 13 games this season, then the Red Devils would not such a poor defensive record that's seen them ship more goals than Swansea City, West Ham United and Sunderland. For long periods against West Bromwich Albion, the out of sorts visitors threatened little, but when they did, they came up against the brick wall of Vidić. Three tackles, four interceptions, three blocks and a massive 12 clearances, including seven of those with his head, illustrates just how dominant he was. If he can stay fit this season then you may as well send the EPL trophy to Old Trafford already.
Theo Walcott (Arsenal)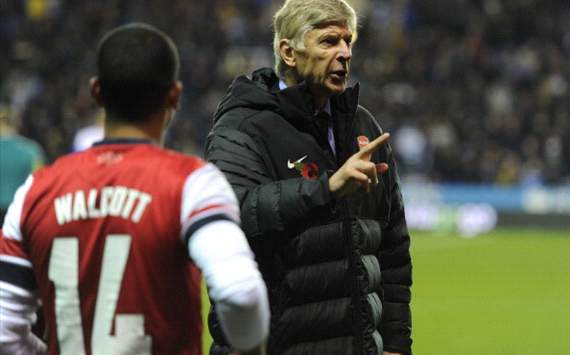 Made the weekends of some fantasy players with a hat-trick of goals and two assists, in his latest on the field message to manager Arsene Wenger that he is deserving of the big contract that he is asking for. On days such as this, Theo looks worth every penny of the reported £100k per week that he is asking for. Playing in his favoured centre-forward role he was always looking to utilise his pace and make runs in behind a leggy Newcastle defence, capitalising on the play-making ability of Lukas Podolski, Santi Cazorla and Jack Wilshere. His first goal in which he ran onto a Podolski through ball before stroking the ball home, in the manner of Thierry Henry, demonstrated just what he is capable of as an out and out forward. Whether he can produce such displays with regularity, against more resolute defences who haven't just played at Old Trafford three days before, is the real question. But he now has 10 goals in his last 10 appearances in all competitions and on that form, Arsenal would be foolish to let him go.
Demba Ba (Newcastle)
Two goals for him, taking his seasons tally to 13, he also led the line brilliantly completing 88% of his passes as he expertly bought teammates into play. Newcastle fans will be distraught that he is likely to move on this transfer window as he has been one of the few bright spots in an otherwise disappointing season.
Frank Lampard (Chelsea)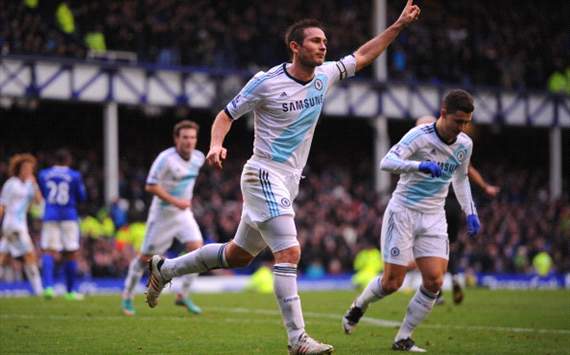 Another player who is desperately seeking a contract extension, but unlike Walcott, Lampard has been a beacon of consistency over the past decade for Chelsea and on current form is surely deserving of a new deal. On Sunday at Goodison Park it was a typical Lampard performance as he often used the ball intelligently in deep areas, before ghosting into dangerous areas whenever Chelsea looked to attack. His two goals were both as a result of his uncanny knack for being in the right place at the right time. Quite why a team would be happy to keep John Obi Mikel on their books but get rid of Lampard is a mystery to me, but then again it is not out of character for the atypical Blues owner Roman Abramovich. Big credit should go to Chelsea, who now have consecutive wins away at Norwich and Everton, two very difficult grounds to play at this season. I'm still not convinced by their title chances as they are currently 11 points behind United, but it's hard to deny that Rafa Benitez has this team organised and winning some tricky fixtures.
Reading
In Week 17 I mentioned that the root of Reading's struggles 'has been their defensive record as they have conceded a massive 36 goals already.' Well since the 5-2 beating they took at the hands of Arsenal, they have got their defence together only conceding one goal in their last three games, that being a stoppage time effort against Manchester City at the Etihad. Their 1-0 victory over West Ham was scrappy, and owed in large part to the error from West Ham's James Collins, but the clean sheet in this game, and one previously against Swansea should give the Royals confidence for the second half of the season. Last year they went on a tremendous run in the New Year to gain promotion, perhaps I spoke to soon calling them doomed as if they embark on a similar run in 2013 then they may well escape the drop.
Tottenham Hotspur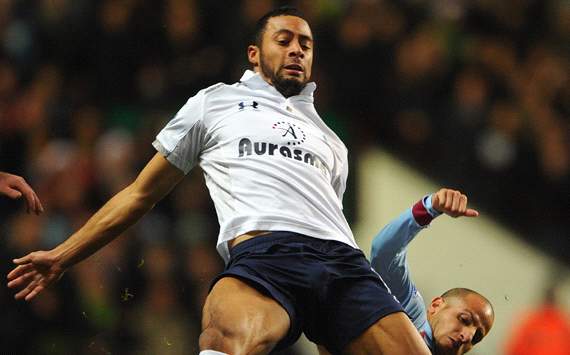 Wins at Villa Park and the Stadium of Light may not be as difficult to achieve as they once were, but to get six points in three days from these fixtures demonstrates that the AVB Spurs relationship is progressing along nicely. Key to their good form is the accomplished midfield partnership that has developed between Sandro and Mousa Dembélé, who combine as effectively as any two midfielders in the whole league. Against Sunderland Sandro was at his combative best winning five tackles, while Dembélé was calm as ever in possession with a 97% accuracy rate. If both of these players can stay healthy, and continue to provide the platform for the entire team with their dominance, then perhaps Tottenham will not collapse in the second half of the season as they did last year.
Cameron Jerome (Stoke City)
The super sub channelled his inner Tony Yeboah with a rasping 70 mph, 30+ yard effort, which rescued his 10 man team an unlikely point at home to Southampton. As someone who has seen a fair amount of Jerome over the past eight years, I wouldn't expect to see another goal like this any time soon from him.
Flops
Queens Park Rangers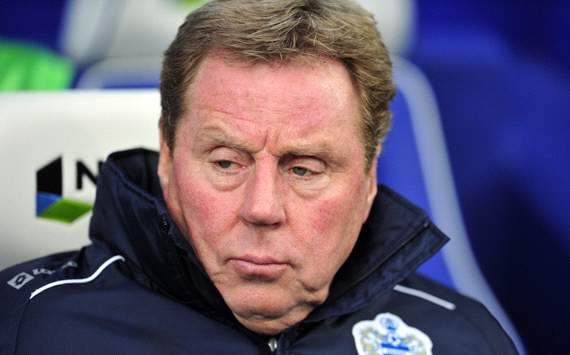 A pathetic performance by the Hoops who gave Liverpool the freedom of Loftus Road in the first half, exerting no pressure on them whatsoever, leading to them being 0-3 down within 27 minutes. Harry Redknapp had little option than to line up with Clint Hill to stop Luis Suarez, and the way in which the tricky Uruguayan went past the defender to open the scoring within 10 minutes would have been no surprise to anyone who has seen the respective performances of both players this season. Redknapp also called upon the inept Armand Traoré and Nedum Onuoha in defence, and these two look like Premier League players in name only, quite how previous manager Mark Hughes thought QPR could flourish with a backline containing such players is a mystery to me. Only three clubs have escaped relegation having been bottom on New Year's Day in the last 20 years of the EPL, QPR look exceedingly unlikely to make it four. When a team is scrapping against relegation you at least expect some fight, this performance offered none, R's fans should be very worried with a trip to Stamford Bridge up next.
Samir Nasri (Manchester City)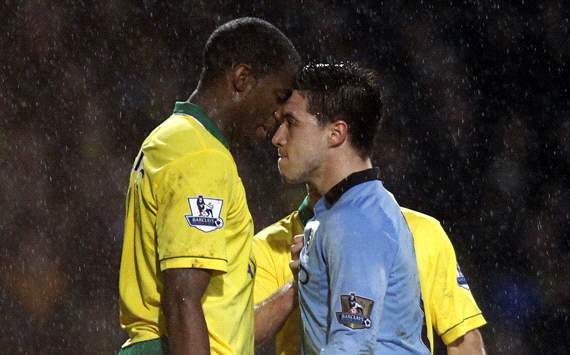 For the second time in a month he let his team down. Against Manchester United it was his scared dangle of his leg that deflected Robin van Persie's free-kick past Joe Hart, here against Norwich it was a poor reaction to a dangerous challenge by Sebastien Bassong which got him dismissed and meant his team had to play with 10 men for the entire second half. The sublime talent of David Silva, Sergio Aguero and Edin Dzeko helped pull City over the line on this occasion; but if manager Roberto Mancini keeps persisting in unreliable players such as Nasri and Mario Balotelli then it will surely come back to haunt him.
Gareth Bale (Tottenham Hotspur)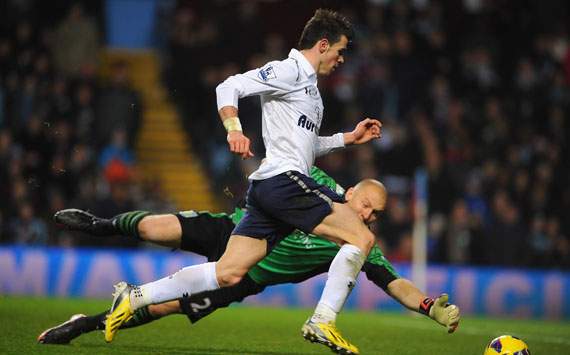 Picked up his fifth booking since the start of 2011-12 for a dive at Sunderland, in this time no other player has any more than two! After the incident Bale said "If there's contact, what do you want me to do, hit my head on the floor? I have to put my hands down to protect myself." Bale needs to realise that contact doesn't automatically mean a foul, he is too good a player to ruin his reputation by needless diving.
Bacary Sagna and Kieron Gibbs (Arsenal)
Produced a masterclass on how not to defend as full-backs for Newcastle's second and third goals. Step One, allow the opposition winger time and space. Step Two, allow the opposition winger to run at you. Step Three, allow the opposition winger to cross. Step Four, watch the ball only and don't worry about any opposition players behind you at the far post. Step Five, watch the opposition team score, look around in confusion. Step Six, blame someone else. Good work guys.
Newcastle United
The first time ever that a side has scored three goals in successive EPL matches and lost them both. Even more galling is that they scored three at both Old Trafford and the Emirates and returned back home empty handed. The positive is that the Magpies have looked much improved over the festive period, which should bode well for the remainder of the season. However with Demba Ba likely to leave, and Cheik Tiote heading off to the African Nations Cup after his best performance of the season against Arsenal (he attempted 99 passes against the Gunners, more than any other player ever from a visiting EPL team), things may not improve quite so dramatically in the near future.
Aston Villa
Three games, no goals scored, 15 goals conceded. They match the West Ham team of 2002-2003 as the only EPL team to concede so many goals in three matches, that West Ham team were relegated despite many saying that they were too good to go down. Not many are saying that this young Villa team are too good to go down, and if they do not sign some experienced players in the January transfer window to assist their confidence shattered young players then it could be tears come May.
James Collins (West Ham United)
In week two he was in the flops list for a dreadful backpass that came nowhere near reaching its target of keeper Jussi Jääskeläinen, allowing Michu to steal in and score in a 0-3 defeat at Swansea. Against Reading he was at it again, this time he was roughly 40 yards from goal, and his attempted backpass travelled less than 10 yards, allowing Pavel Pogrebnyak to score the winning goal. In week 11 while praising West Ham I cautioned that players 'such as James Collins may well be exposed at stages during the season;' well such a mistake once in a season is understandable, making the same dim-witted mistake twice is inexcusable.
West Ham United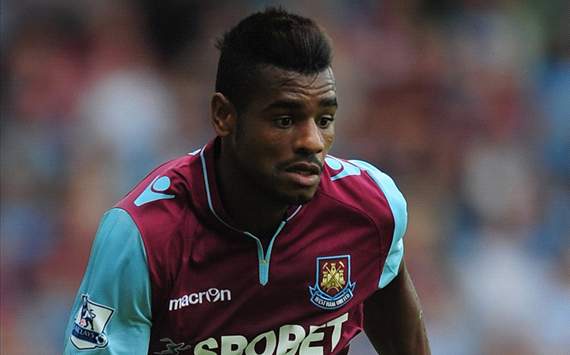 That they were unable to get anything out of their fixture at Reading, despite getting Boxing Day off due to the postponement of their match at Arsenal was a real hammer blow, pardon the pun. It is now three defeats in four matches and the team is noticeably missing the strength and dynamism of midfield lynchpin Mohamed Diamé, they have not won a match since his hamstring injury. They may well have rescued a point if not for possibly the worst EPL miss of 2012 by Ricardo Vaz Tê who headed wide with the goal at his mercy from six yards in a chance that even their square headed mascot 'Herbie the Hammer' would have buried.
Andy Wilkinson (Stoke City)
Beaten at the far post by Ricky Lambert for the first goal, sliced the ball into his own goal for the second goal, had his head bloodied after an accidental clash with German giant Robert Huth and substituted after 70 minutes…an uncharacteristically poor days work for the hardworking full back.