Nine fixtures took place in the English Premier League (EPL) this Boxing Day, and it is a day that we may look back on as vital come the end of the season. Manchester City again fell to a defeat at Sunderland, despite their domination. Manchester United again came from behind to win, the eighth time this season they have accomplished such a feat. Stoke kept up their impressive home record with a convincing win over Liverpool, Rafa's Chelsea continue to pick up points and Aston Villa again lose heavily. Let's see who were this week's tops and flops.
Tops
Gareth Bale
The Welsh wizard was at his best at Villa Park, hitting a hat-trick to take his season's goal tally to nine in 16 appearances, totalling his previous best for a season already. Against Villa, Bale was dangerous throughout, although he was assisted by the generous time and space afforded to him by Villa's young backline. Nowadays several teams often enlist two players to try and stop Bale, knowing that if you frustrate him, then you can likely disrupt Spurs' attacking threat; but Villa all too repeatedly left young right-back Matthew Lowton with the almost impossible task of stopping the rampaging Bale. Time and time again he got to the by-line and put in dangerous deliveries, if not for some desperate Villa defending and Emmanuel Adebayor's general ineffectiveness, then Bale may well have had some assists to show for the four clear chances he created. In a one-sided first half he predominantly hugged the touchline and was unfortunate not to get a goal following two long range efforts kept out by the overworked keeper Brad Guzan. In the second half Bale was not restricted to the left touchline, and as a result scored his first EPL hat-trick exhibiting all of his trademark pace, elusiveness and cool finishing. Bale may well have been built-up too much after his last hat-trick, against Inter Milan in 2010, but there is no doubt that this season he again taken his game to another level and now is one of the league's top players.
Manchester United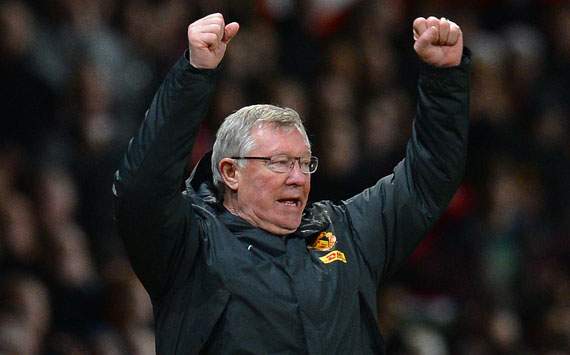 Against Newcastle it was a familiar tale, falling behind. But this United team are a resolute bunch, despite going behind on three separate occasions they roared back to get all three points meaning they have taken 24 points from losing positions this season, a remarkable record. Many may wonder how a team that looks so porous defensively can be seven points clear at the top of the table. For me it is clear, they have a stubborn spirit and an outstanding attacking prowess (48 goals in 19 EPL games so far). The plan to overcome your dodgy defence by outscoring the opposition won't do much for the heart-rates of United fans, but it should be effective enough to capture another EPL crown.
Juan Mata (Chelsea)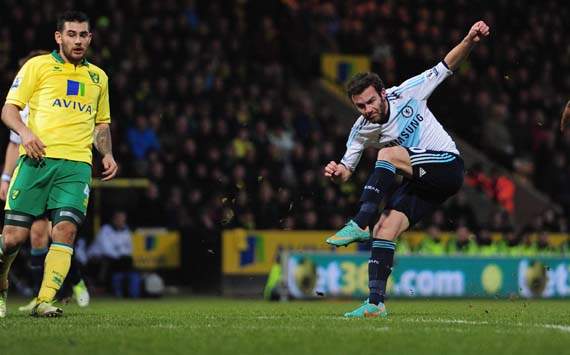 Got the winner in Chelsea's impressive victory at Carrow Road, the Spaniard has now scored or assisted 14 goals in 16 EPL games this season, and has goals in six of his last eight appearances in all competitions. Mata has benefitted from Rafael Benitez's decision to play him in the central attacking midfield role, as opposed to the wide role he was placed in earlier this season, and against Norwich he was Chelsea's key player with much of their attacking play running through him. While Chelsea have enjoyed comfortable wins over oppositions such as FC Nordsjælland, Sunderland, Monterrey, Leeds and Aston Villa, this was arguably Benitez's most impressive result so far, going to a ground where Manchester United, Arsenal and Stoke have all lost this season and winning. Perhaps this is a sign that Benitez's Chelsea are not quite ready to be ruled out of the title chase yet this season.
Jonathan Walters and Kenwyne Jones (Stoke City)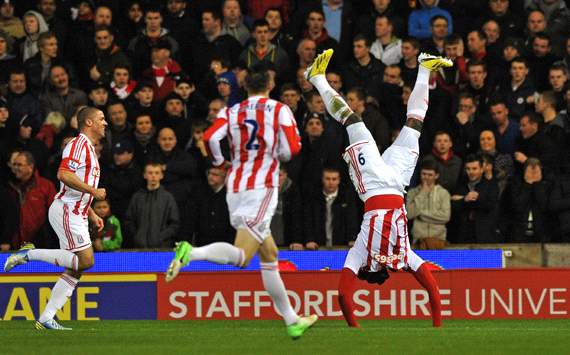 Now I'm not the type to say I told you so…actually I am….so when it comes to my comments regarding Jones in week 17 (perhaps now that Jones has scored, it would be a good time for the Stoke manager to give him a run in the team as history shows that when the big striker scores a goal, another usually follows)….I told you so. Jones not only scored his second goal in three games here (after 27 Premier League matches without one), but he claimed two assists for his strike partner Walters as Liverpool centre-backs Daniel Agger and Martin Skrtel failed to cope with his physical strength and aerial ability. Also give credit to Walters, starting his 72nd consecutive EPL game for Stoke, as he did as all good forwards should do – anticipate that your teammate will win the ball and make a run off him. His second goal, a beautiful volleyed finish following some sublime control with his chest was one of the most well taken goals this season so far. Their fine 3-1 victory was the first time Stoke had scored more than two goals in an EPL game in 44 matches and they are now unbeaten in nine EPL fixtures, and 16 home fixtures. Their goals may have come from a long ball up field, a corner and a long throw, but that wasn't all Stoke were about. During the game they played some good football and more importantly, their strong work-ethic never allowed Liverpool to implement their brand of passing football, rending them unproductive for large spells.

Simon Mignolet and Sunderland
In Week 7 when Sunderland travelled to the Etihad I commented that they would have planned to 'copy the blueprint of their 1-0 victory over Manchester City last year; work hard, get men behind the ball and keep the score at 0-0 for as long as possible in the hope of snatching a goal on the break.' That day they were undone by an early goal, but here they showed what they could do against City as they got off to a better start, and a defence which has been unimpressive for most of the season collected their third clean sheet in four games. The victory was in large part due to some fine saves by keeper Simon Mignolet who made seven saves including a stretching stop from Yaya Toure, and close range blocks from David Silva and Sergio Aguero. However credit should also go to left-back Danny Rose, and also the central defensive pairing Matthew Kilgallon and Carlos Cuellar who had their best games of the season in keeping Tevez and Aguero quiet for the most part. A month ago Sunderland looked bereft of confidence, slack in defence and devoid of ideas, with three wins in four any talk of relegation can surely now be put to bed.
Patrice Evra (Manchester United)
Scored his fourth goal of the season with a vital, and well taken equaliser against Newcastle, no defender has scored more EPL goals than Evra this season. He was as dangerous as ever bombing down the left wing making those who believed he would immediately lose his place to Alexander Büttner look foolish.
Youssuf Mulumbu (West Bromwich Albion)
The exceptional performer in Albion's much deserved victory over QPR, the Congolese midfielder made six tackles, three interceptions and created two chances, including assisting Chris Brunt's opening goal. Albion recorded their tenth win of a tremendous season and they were the more fluid and enterprising team throughout despite turning up to the ground late due to traffic. Up next for the Baggies is a trip to Old Trafford in what should be a fascinating tie.
Flops
Martin Skrtel and Daniel Agger (Liverpool)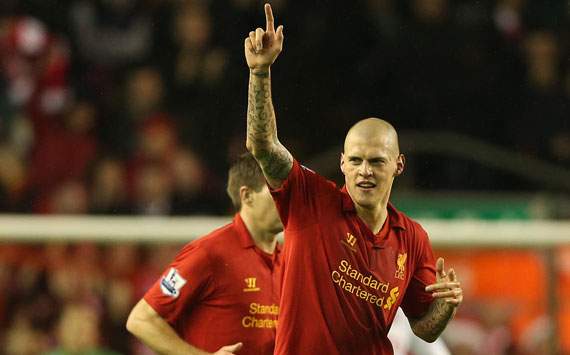 Comments before the game by Martin Skrtel: "The game against Stoke is not about the football it is about the fight and the tackles. We have to deal with it and that is the key for us as defenders, to fight against them and then our creative players can play our game and try to score goals." First goal: Agger beaten in the air by Kenwyne Jones, Skrtel fails to track Jonathan Walters. Second goal: Agger beaten in the air by Kenwyne Jones. Third goal: Skrtel beaten in the air by Kenwyne Jones, Agger not tight enough to Jonathan Walters. From this I think we can all reach a conclusion to why Liverpool again conceded three goals, manager Brendan Rodgers summed it up nicely: "we just gave away poor goals tonight. All three goals were actually quite straightforward to defend. When you come to places like here you've got to defend better or you'll get nothing." Continues the poor form of the pair who were also both in the flops section in week 17.
Joe Hart (Manchester City)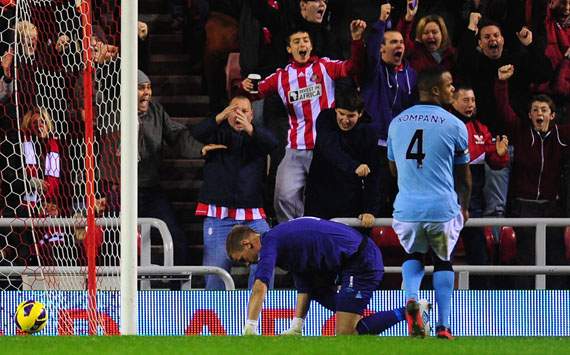 This was not a game that City should have lost as they dominated possession (67% to 33%), made more passes (519 to 209) and had more shots (23 to 12). But they did lose, in large part to a poor error by Joe Hart who let former teammate Adam Johnson's near post effort creep in under him. Afterwards Johnson called Hart the best keeper in the world, he's not, if he was then mistakes such as this, his error for Steven Caulker's goal in Week 11 and his gaffe at the Bernabeu against Cristiano Ronaldo would be far less common.
Alan Pardew (Newcastle Manager)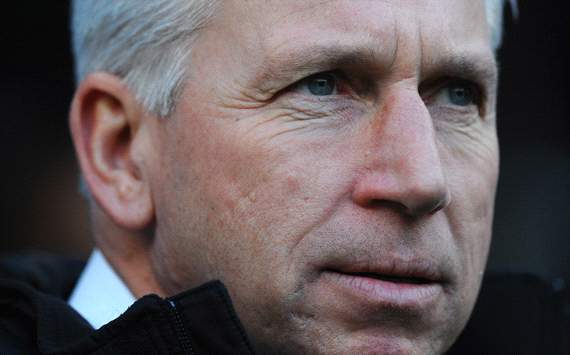 In Week 8 I was baffled when Newcastle, despite being down to 10 men, decided to sit back in the second half and invite pressure when playing at Sunderland. Before that they had been assured and confident going forward, if only they had continued to show some ambition then I am certain they would have secured all three points – at the time I felt this was a large misjudgement by manager Alan Pardew. Well at Old Trafford on Boxing Day, Newcastle did the opposite as in the final 20 minutes, after already losing the lead on three occasions, they continued to press forward leaving acres of space behind their backline. People who did not watch the game may think that Javier Hernández's stoppage time goal was typical United fortune and cruel on their brave visitors, but the truth is that the Red Devils should have been ahead long before then as they created six chances before the Mexican's late winner thanks to Newcastle's amateurish defending. Indeed the goal itself was virtually a carbon copy of Robin van Persie's volleyed chance in the 78th minute when the ball was chipped over the defence by Michael Carrick; Newcastle did not heed the warning and as a result, a morale boosting point was lost.

Manchester United Defence
David De Gea, Chris Smalling, Michael Carrick and Rio Ferdinand can all take a portion of blame for United's latest defensive horror show. They have now conceded 28 goals this season, the most of all the teams in the top 10, and they have leaked the fifth most goals at home of all teams in the league.

Aston Villa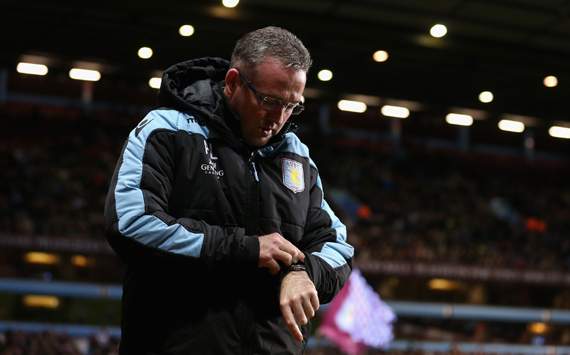 Come back Alex McLeish all is forgiven! Ok things may not be that desperate, but these are worrying times for Villa fans. After the 8-0 drubbing at Chelsea last week, confidence was always going to be low, therefore Paul Lambert's decision to go with five defenders and four midfielders in the line-up was understandable. It led to an embarrassingly one-sided first half in which Spurs has 15 corners to Villa's one, and 11 shots on target to Villa's zero, although against all odds the game was goalless at the half. Perhaps more defensive minded managers such as McLeish would have continued with the defensive game plan, hoping to nick a 0-0 draw, but to Lambert's credit he tried to change the game with the introduction of the more attacking Stephen Ireland and Marc Albrighton. Despite an initially improved second-half performance, the team would soon pay the price for the more attacking line-up, as Spurs sliced through them like a sharp knife through Turkey to hit four goals without reply. Villa have now equalled an EPL record by conceding 12 goals over a two-game period and they look desperately short of experienced players, especially in defence where Chris Herd and Ciaran Clark are now committing costly errors. Lamberts philosophy of bringing young hungry players to play attacking football is admirable, but if Villa want to keep their EPL place for next season then signing an experienced player / players in the January transfer window, and less gung-ho tactics, may well be required.
Christian Benteke (Aston Villa)
Perhaps he is now attending the Filippo Inzaghi school for strikers where lesson one is 'How to be offside 10 times per game.' The Belgian has let his previously high standards slip over the past two games, and against Tottenham he was again wasteful in possession completing a lacklustre 51% of his passes. His most critical failed pass was a misplaced cut-back with Stephen Ireland in a good position in the Spurs area when the game was level at 1-1, instead 20 seconds later the away team were two up, and the game was over, thanks to Gareth Bale and more poor defending.