Week 16 of the English Premier League (EPL) was a week that could very well be pivotal in deciding who will win the league come May, as Manchester United snatched an injury-time winner over their "Noisy Neighbours" thanks to a weak dangle of Samir Nasri's leg. In other happenings the man that can't stop scoring, Sébastien Bassong, scored again, the man that previously couldn't start scoring, Fernando Torres, hit a much-needed brace and there was yet more diving controversy. Let's see who were the tops and flops of week 16.
Tops
Manchester United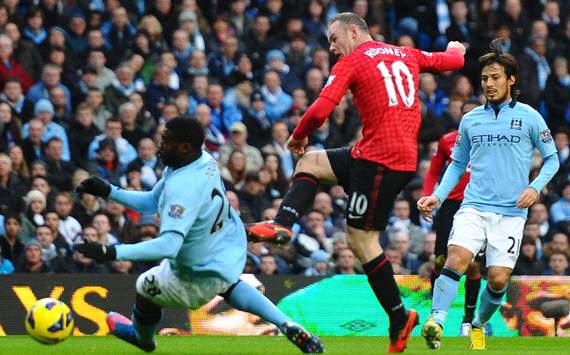 A ruthlessly efficient counter-attacking performance from Sir Alex's men, who scored with all three of their shots on target at the Etihad. In last May's title decided at the same stadium, Fergie uncharacteristically played it safe when he started Park Ji-sung, Paul Scholes and Ryan Giggs in his team, leaving more pacey and dynamic players such as Antonio Valencia, Rafael and Ashley Young on the bench. Last Sunday all of these three players started, as did other attack-minded players including Robin van Persie, Wayne Rooney and Tom Cleverley, clearly demonstrating the intent of United to break City's 37 game unbeaten run at home. This year the Red Devils have struggled to stop the opposition from scoring, therefore relying on their array of attacking talent to try and outscore the opposition is perhaps the best approach, and one that means that they have now won top-flight away games at Chelsea, Liverpool & Man City in the same season for the first time since 1913-14. In their midst United have a number of match winners, including one in particular.
Robin van Persie (Manchester United)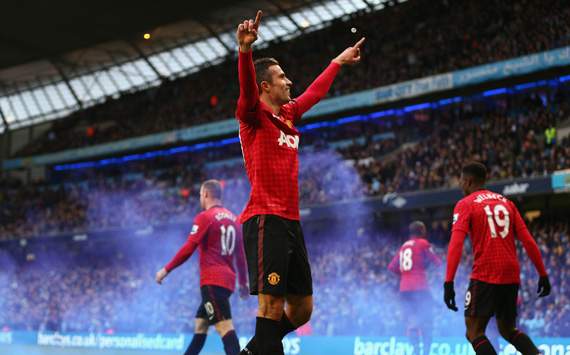 In Week Nine I wrote "Many in the summer questioned the wisdom of Sir Alex purchasing a striker when his team was crying out for midfield reinforcements, so far, it seems like a wise investment." Again on Sunday the Dutchman displayed that he has the ability to win a game with the swing of his deadly left boot, and in 2012 he now has scored three EPL match winners in the 90th minute or in stoppage time. No player has scored or assisted more goals this season than van Persie, who leads the list with 15, showing that despite his team having weaknesses in their midfield and defence, having a forward who can gloss over such weaknesses with his goals is invaluable. Last season it was a certainty that Arsenal would not have finished so high (3rd) if not for van Persie and his goals, we will be saying the same about United come the end of the season – therefore making him a worthy signing.
Fernando Torres (Chelsea)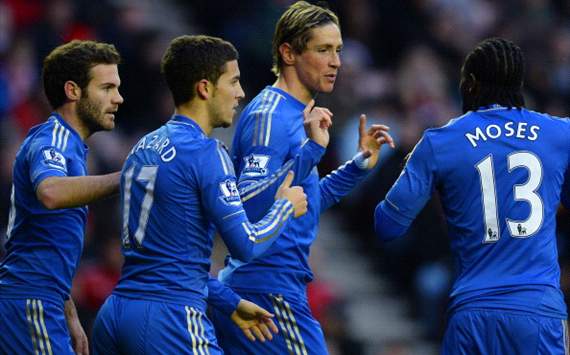 Finally ended his EPL goal drought at the Stadium of Light, which had stood at a massive 12 hours and 30 minutes. There is no doubt that Torres is looking rejuvenated under new Chelsea boss Rafa Benitez, and has said himself that he is benefitting from the "more direct" style of play. Torres has had 11 shots on target in his last two games, and 16 attempts in five games under Benitez, compared with only 20 shots on target in his previous 19 games under the management of Roberto Di Matteo. He will come across tougher defences than the porous Nordsjaelland and Sunderland backlines, but this is a good start and no doubt the confidence boost that an often desolate looking Torres requires.
Liverpool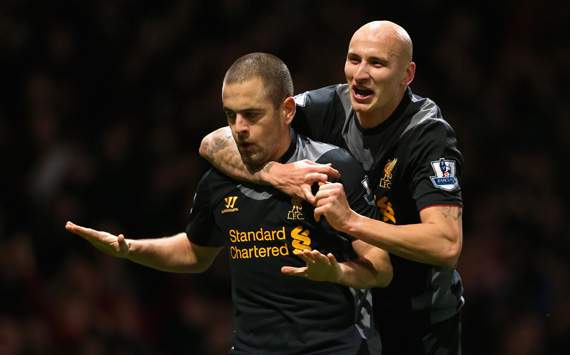 Back to back EPL wins for the first time in one year, the Reds have 20 points over their past 11 EPL games, a record only bettered by the top two of Manchester United and Manchester City. Critics may suggest that all five of their EPL wins this season have come against teams who currently sit in the bottom half of the table; however I would suggest that winning at such a difficult ground as Upton Park, without talisman Luis Suarez and with flop-signings Stewart Downing and Joe Cole playing a major role – is an impressive feat. Amazingly Liverpool now sit only four points off the Champions League places, although finishing in the top four is surely too lofty an aim for this season. It will be fascinating to see what Brendan Rodgers does when given funds to strengthen the squad and further implement his 'footballing philosophy.'
Robert Snodgrass (Norwich City)
On Saturday he became the first EPL player to register two assists and a goal in a game this season, as his team overcame Swansea 4-3. The hard-working Scotsman has been a vital player for the Canaries this season, taking part in all but one of their matches and giving them an added dimension with his ability from set-pieces. At approximately £1.5 million (RM7.38m), Snodgrass is another bargain to have been signed by Norwich in recent years alongside the likes of Bradley Johnson, Anthony Pilkington and Alexander Tettey.
Rob Green (Queen's Park Rangers)
Credit where credit is due, he made four key saves on Saturday against Wigan, from Jordi Gomez, Arouna Kone, Mauro Boselli and James McCarthy. What QPR needs now is wins, but every point they are able to pick up is potentially precious, and without Green they would have surely lost at the DW Stadium.
Sunderland
Their 3-0 victory at home to Reading on Wednesday morning was only their third win in their last 23 EPL games, but it was much needed with games against Manchester United, Manchester City, Tottenham Hotspur and Liverpool on the horizon.

Glen Johnson (Liverpool)
Three goals in his last three EPL games against his former team West Ham, Johnson was dangerous as ever going forward and been one of Liverpool's more consistent performers this season so far.
Norwich City and Sébastien Bassong (Norwich City)
After their thrilling victory at Swansea, the Canaries have now gone nine EPL games without a defeat, their longest such run in over 23 years! Over the last eight games, only league leaders Manchester United have picked up more points than Norwich, who now find themselves seven points clear of the drop zone. Special credit must also go to defender Sébastien Bassong, scorer of three goals in his last four EPL games (after scoring two in his last 94 EPL games), who has shed his reputation as an error-prone player and is arguably the most improved player in the league so far this year.
Flops
Samir Nasri (Manchester City)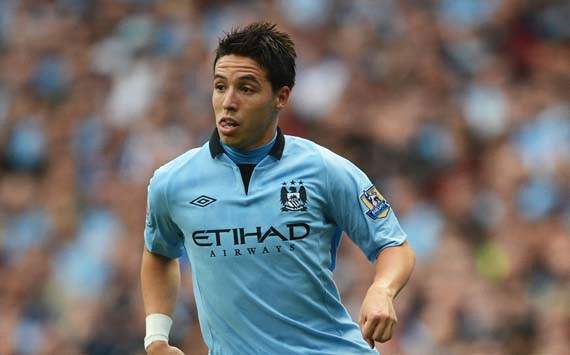 His act of cowardice not only gave his teams fiercest rivals the victory, but it may have even bigger implications come the end of the season if the EPL title ends up back at Old Trafford. Nasri, who is one of the highest paid players in the EPL, looked like a petrified child as he cowered behind Edin Džeko and half-heartedly waved a leg out in the direction of Robin van Persie's free-kick, deflecting it past Joe Hart. Nasri seemed only concern about his own well-being, putting his needs before the needs of his team, perhaps a good metaphor for several of the Man City mercenaries.
Roberto Mancini (Manchester City Manager)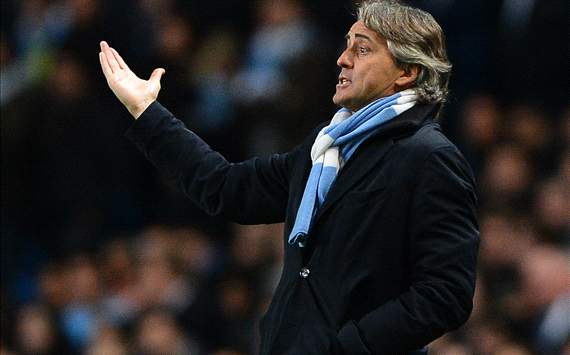 An absolutely baffling decision to start the frustrating Mario Balotelli over the more proven Carlos Tevez, which did his team no favours what-so-ever. In the last four games in which Balotelli and Sergio Aguero have started together, no goals have been scored until one of the two has been substituted. And on Sunday it was only when Argentine Tevez was introduced that City began to look threatening, in 38 minutes Tevez took five shots, more than any other City player in the whole game. Quite why Mancini insists on persisting with Balotelli, when the partnership of Aguero and Tevez is obviously his most dangerous combination, is a mystery. The managers' comments on Balotelli afterwards make for even more puzzling reading. Mancini said: "I love Mario as a guy and a player but it is important for him to start to think about his job. He has everything to play well but he can't continue to play like today. When you have a player of this quality you can't understand that he could continue to throw this out of the window. This is incredible." Perhaps it's time Mancini thought about his own job, as starting a player who's form this season has been poor, in the biggest game of the season, is also incredible, in fact – it's madness.
Santi Cazorla (Arsenal)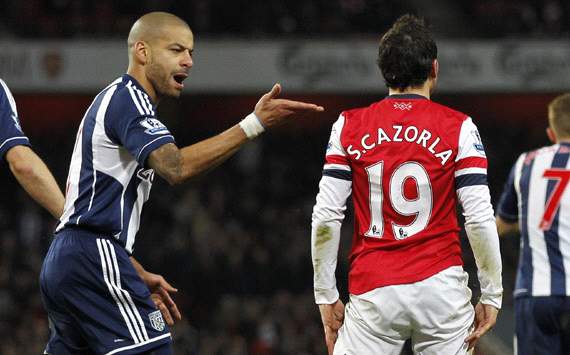 An absolutely ridiculous dive against West Bromwich Albion and Steven Reid, which gave his team a penalty, and the lead in the much needed victory over the Baggies. The Spaniard isn't the first player to dive to win a foul, and unfortunately he most certainly won't be the last. Until the EPL introduce sterner punishments for diving, then players will continue to do it. However now that Cazorla has cried wolf to win a penalty, and referees have seen this latest act of dishonesty, expect few debatable decisions to go the way of Cazorla in the future.
Newcastle United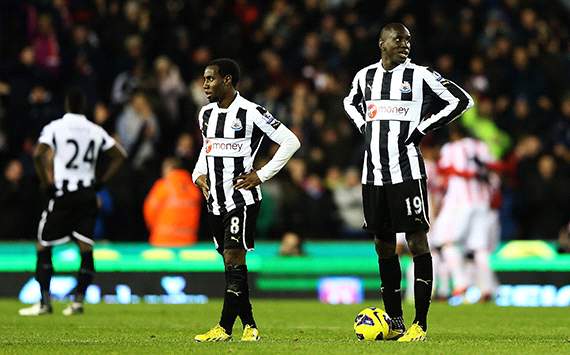 Have lost six of their last seven EPL matches away at Fulham and now sit only four points off the relegation zone. Without the influential Yohan Cabaye, the team looks lost, and his midfield partner Cheick Tioté seems to have completely gone off the boil, losing the form that prompted so much transfer speculation around him last summer. Their upcoming fixture list may not look to favourable (Manchester City, QPR, Manchester United, Arsenal & Everton), but they will need achieve some unexpected results to avoid being further dragged into a seemingly unlikely relegation battle.
Tottenham Hotspur
Two late goals conceded in the 2-1 defeat at Everton now means that Spurs have leaked 10 goals in the final 15 mins of their EPL matches this season. This total is unsurprisingly the highest in the league and is amazingly 40% of all the goals they have conceded. Furthermore they have thrown away 16 points from winning positions this season, with those points on board they would currently sit above Manchester United, on top of the EPL. On Monday morning against Everton you could see the confidence visibly drain out of the team once Steven Pienaar had equalised for the home team, further making me question whether a Tottenham team not known for their mental strength over the past few years, quite have the belief to finish in the top four this campaign.
Steven Caulker (Tottenham Hotspur)
Culpable for both goals his team conceded. For the first goal he mistakenly attempted to clear the ball despite his goalkeeper Hugo Lloris coming to claim it, while for the second goal he failed to get his head on a long ball played into the area allowing Apostolos Vellios to assist Nikica Jelavic. Two errors, leading to two goals in 90 seconds, not the best few minutes of the young defenders life that's for sure.
Reading
Their two matches this week were not easy (away at Southampton and Sunderland), but it was imperative that they got something out of these games against relegation rivals. The fact that they lost both games without scoring a goal means that it is impossible to see a limited Royals side staying in the division this season. Their current points tally of nine points from 15 games is five fewer than at the same of the 2007-08 season when they were relegated, and they have now conceded a massive 20 second half goals, more than any other EPL team. Six points from safety and defeats to Aston Villa, Wigan, Southampton and Sunderland in the past month, it will take a miracle to save them.
Queen's Park Rangers
The first team in 21 seasons (since Sheffield United in 1990-91) to fail to win any of their opening 16 games. Harry Redknapp has not had a bad start, with three matches unbeaten, but he needed a win in at least one of the games against fellow strugglers Sunderland, Aston Villa and Wigan.