Goal.com Malaysia's Chief Editor, Falah Abdullah takes a closer look at the key Indonesian players which should be given extra attention by the Malayan Tigers
With the crucial derby match between Malaysia and Indonesia looming, let's take a closer look at the dangermen posessed by our rivals.
ANDIK VERMANSYAH | WINGER

ANDIK'S STATISTICS IN THE AFF SUZUKI CUP 2012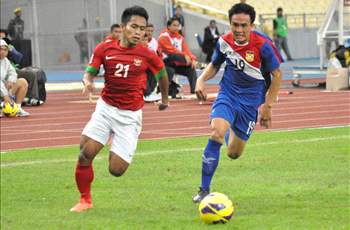 APPEARANCES:
MINUTES PLAYED:
GOAL:
ASSIST:
2
137
1
1

VERDICT

3.5
He is the main threat to our defence with blistering pace and technique to bolster. Expect piercing runs down the flanks to cause panic to our full backs.
Andik is arguably Indonesia's biggest threat this Saturday. This nippy winger has proven time and again that he has the pace and technical ability to trouble his markers. He is also comfortable on both flanks, playing on either left or right side.
In the first encounter against Laos, he was a constant thorn in the side of the opposition defence with piercing runs, but lacking any conviction in his end product. Irfan Bachdim would agree with me on this as Andik's passes failed to find provide the striker with the opportunity he deserved.
However, Andik's influence in the match was evident as Laos defender Sopha Saysana was sent off due to a nasty foul on Andik.
When Indonesia were down 2-1 in that match, it was the nippy winger's venomous shot which the Laos custodian fumbled for Vendry Mofu to capitalise on and draw his team level.
In the match against Singapore, Andik was a second half substitute for the ineffective veteran Elie Aiboy.
He was yet again the catalyst to the opposition going down to ten men with Irawan Syah his latest victim with a crunching tackle which was duly punished wih a second yellow card by the referee.
His speculative free kick in the 88th minute was the only difference between the two sides as it went out of the reach of the solid Izwan Mahbud.
Against Malaysia, the likes of Mahali Jasuli and Zubir Azmi must be on guard as his pace and trickery will be dangerous to the defence.
BAMBANG PAMUNGKAS | STRIKER

BAMBANG'S STATISTICS IN THE AFF SUZUKI CUP 2012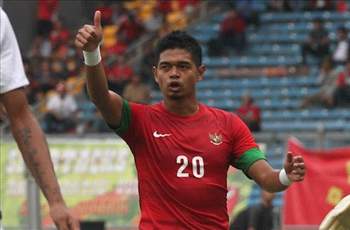 APPEARANCES:
MINUTES PLAYED:
GOAL:
ASSIST:
2
98
0
0

VERDICT

3
Bepe needs no introduction to the Malaysian players and its football fans. At 32 years old, he might have lost that extra yard of pace but his intelligence and experience will be dangerous to our defence.
Bambang Pamungkas, also known as Bepe, is no stranger to Malaysian football as his trophy laden two seasons is still fresh in the memories of Selangor fans. He scored an impressive 34 goals out of 48 games during that period.
Against Laos he did show glimpses of his natural ability with clean first touches, and he tried his best to lead the line. He was later substituted in the 65th minute by eventual goalscorer, Vendry Mofu.
However, he shone in the match against Singapore when he came on as a an impact striker to replace Muhammad Rahmat.
In the 71st minute, he was close to scoring a goal but he failed to capitalise the rare mistake made by Singapore's lanky centreback, Baihakki Khaizan. 10 minutes later, he failed in his effort to win a penalty for the Red and Whites.
Although Bepe is no longer the player that he was at the peak of his career, his experience upfront will be handy for the young forwards in the squad: Irfan Bachdim and Rachmat Syamsuddin.
Bepe also remains as the record top scorer for Indonesia with an amazing tally of 37 goals out of 85 caps.
Lest we forget, Bepe scored the only goal against Malaysia in a historic Semi-final of the AFF Suzuki Cup which was back then known as Tiger Cup ten years ago. Aidil Zafuan will have to be at his best to ensure that our old foe does not come back to haunt us this time around.
OKTOVIANUS MANIANI | WINGER

OKTO'S STATISTICS IN THE AFF SUZUKI CUP 2012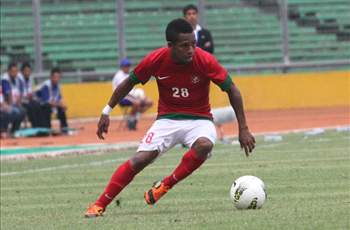 APPEARANCES:
MINUTES PLAYED:
GOAL:
ASSIST:
2
106
0
0

VERDICT

2
He is a surprise inclusion in this list but believe me, his pace will cause trouble to any defence. Our defence must keep their composure when dealing with the pacey winger
Oktovianus Maniani is not a known entity to the Malaysian football fans. This is due to his flashier teammate, Andik Vermansyah.
Truth be told, Oktovianus or Okto as he is affectionately known to his fans poses the same threat to the Malaysian defence as Andik as he also relies heavily on his blistering pace and technical ability.
The only telling difference between the two is that the latter has the much needed composure to actually execute his moves.
In the first match against Laos, Maniani could not stamp his authority on the game and he was sacrificed after goalie, Endra Prasetya, was red carded.
His dangerous movement down the flanks was evident against Singapore as the Lions defence failed to cope with the 22 year old's runs.
Here's an interesting fact about the young Okto, he is also one of the three surviving members alongside Bambang Pamungkas, and Irfan Bachdim from the Indonesia national team which defeated Malaysia 5-1 in group stages and eventually lost to Malaysia in an epic finale in the AFF Suzuki Cup 2010. Hence, he will be eager to avenge that painful defeat.
Any lapses in concentration in our defence will cause fatal effect in this crucial tie.