Last weekend we saw a momentum swing at the top of the English Premier League (EPL) table as Manchester City capitalised on away defeats for Manchester United and Chelsea. We saw much needed victories for two of the promoted teams, some idiotic red cards and as ever – some hopeless defending. Let's see who were the Tops & Flops of Week 12.
Tops
Jose Enrique, Luis Suarez and Raheem Sterling (Liverpool)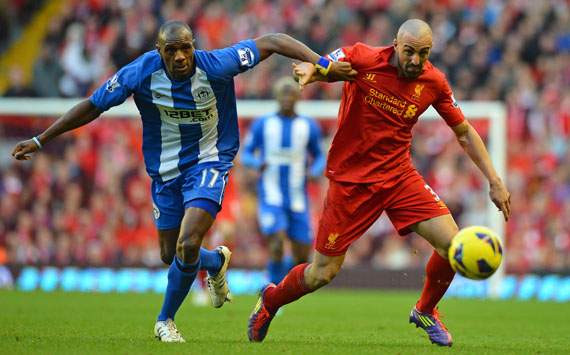 It seems as if I speak about Luis Suarez each week, but it's hard not to, at the moment he is truly world class. He has scored in four EPL matches in a row, is now the top scorer in the EPL with 10 goals, has created the most chances from open play (35) and has increased his chance conversion rate to 17% (from 9.7% last season). The encouraging thing for Liverpool fans is that he is now getting more assistance from his teammates. On Saturday, Raheem Sterling was again lively and was the creator of the first goal as he was alert enough to cut off a slack pass by Jean Beausejour and cut the ball back for Suarez. Then it was the turn of Jose Enrique who drove inside from the left-wing before threading a perfect through ball to the Uruguayan who duly made it 2-0. All three players then linked for the third goal, with neat interplay between Suarez and Sterling, resulting in a tap in for Enrique. Such attacking play will no doubt delight reds fans who have had precious little to cheer about in the EPL over the last 12 months.
Nathanial Clyne, Jason Puncheon and Southampton
A much needed victory for Nigel Adkins' Saints, who have admirably continued to play attractive passing football despite their precarious league position. Key to their victory over fellow strugglers QPR were the right wing tandem of Nathaniel Clyne and Jason Puncheon who capitalised on the ineptitude of left-back Armand Traore and the space vacated by Adel Taarabt, who constantly drifts inside leaving wide areas exposed. Puncheon was industrious throughout, grabbing a goal and confusing the Rangers backline which his movement. During the match he took nine shots as well as providing six crosses. He was aided by Clyne, who not only made nine tackles, but continually provided attacking support and assisted Puncheon's goal after dispossessing a ponderous Traore deep in QPR territory. It will still be a long season for the Saints, and they particularly need some consistent goalkeeper play following a beginning to the season which has seen Kelvin Davis, Artur Boruc and Paulo Gazzaniga all struggle at various times, but this was a heartening result.
Shane Long, James Morrison and West Bromwich Albion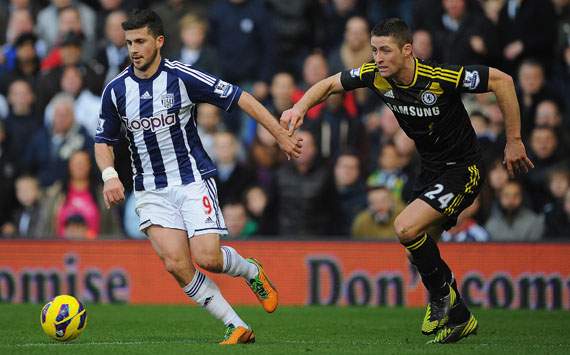 Simply put, this season Shane Long has been one of the most in-form strikers in the Premier League. Like Luis Suarez he has often been tasked with playing as a lone forward (although he has been ably supported by the likes of Peter Odemwingie, Zoltan Gera and James Morrison), but despite the fact that he is regularly up against two centre-halves, he still manages to find space thanks to his tireless running. On Saturday, David Luiz and Gary Cahill, two accomplished centre-halves, both struggled to contain Long whose movement was again exemplary. He was ably supported by James Morrison, possibly one of the EPL's most underrated players this year, who delivered a pinpoint cross for Long to open the scoring. Morrison and Long linked up again for Albion's winner as Morrison intelligently played the ball out wide to Long, allowing Long to whip in a beautiful near post cross which Odemwingie headed home. The Baggies now deservedly sit in fourth place, however it is worth noting that 18 of their 23 points have come at home. Their next two matches are away at Swansea and Sunderland, if they can improve on their away form then perhaps fans better start dusting off their passports for European football next season.
John Ruddy and Sebastian Bassong (Norwich City)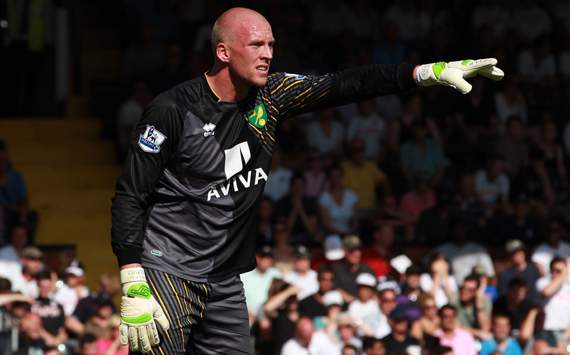 Norwich keeper Ruddy had arguably his best game in the EPL thus far as he made seven saves in this match, two more than in any other EPL game this season, including vital saves from Ashley Young, Anderson and a stray Bassong header. Cameroonian defender Bassong also continued his impressive recent form as he was dominant throughout, allowing Javier Hernandez little time and space. In fact, in the ten EPL games he has started, Norwich have conceded just eight goals. In week six I wrote 'Chris Hughton's teams have conceded 38 goals in 22 matches, if he cannot correct this then Second Season Syndrome will have claimed another victim,' well since that week Norwich have registered four clean sheets in six matches thanks to their new found organisation and ability to pressure the ball. Credit should go to Hughton, Norwich's weakness last year was their defensive frailty; well their defence is quick becoming the strength of their team.
Santi Cazorla (Arsenal)
After eleven matches without an assist he was back on form on Saturday with a goal and assist, but what was most impressive was his intelligence in the second half. With Spurs withdrawing full-backs Kyle Walker and Kyle Naughton at half time to go to a 3-4-1-1 formation, it left acres of space in wide areas which Cazorla continually exploited, something which 95% of the midfielders in the EPL probably wouldn't have the foresight to do.
Adam Johnson (Sunderland)
I criticised his lacklustre performance in Week 8 against Newcastle calling it 'wretched', but since then there have been signs of life that the winger is slowly beginning to find form. Against Aston Villa in week nine he was unable to register a goal or an assist but did look more direct and attempted a massive 16 crosses. Last week against Everton he became only the second Sunderland player this season to score, and in Sunday's vital 3-1 victory at Fulham he provided two assists, the first time he has done such a thing in 31 months. And all this after I advised my friend to get him away from his fantasy team as quickly as possible, sorry about that!
Dan Ashworth
Who you may ask, well he is the Sporting and technical director at West Bromwich Albion. The man responsible for the shrewd hire of Steve Clarke, which many including myself thought was foolish at the time. The man who helped build the Albion team that just defeated the expensively assembled Chelsea, for just over eight million pounds - roughly what it would cost to buy Eden Hazards left leg. The man who made canny signings such as Peter Odemwingie, Claudio Yacob, and Gareth McAuley. If we are to credit Albion, then we have to credit the mind behind the team: Dan Ashworth. Unfortunately at the end of the season he will be leaving the club to take over at FA as the director of elite development, this could arguably be a bigger blow for the club than losing any of their current players.
Flops
Manchester United Midfield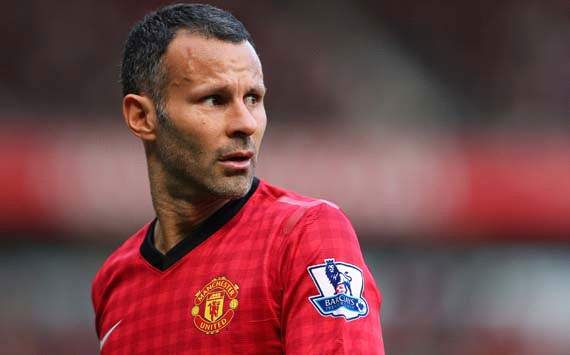 I've heard several people criticising the selection of Ryan Giggs and Michael Carrick in the centre of Manchester United's midfield on Saturday, claiming that they constantly slowed the pace of the Red Devils attacks. While it cannot really be argued that both of these players are not as dynamic as midfielders such as Darren Fletcher (when fit), Tom Cleverley and Anderson, they were still able to create chances, especially in the first half when the game was goalless and United rarely were threatened. This was demonstrated at the end of the first half when in the space of five minutes, Giggs played two sublime passes from deep midfield, firstly to Robin van Perisie and then to Javier Hernandez. Therefore the ability to create chances and keep the ball is not a problem with this partnership, what I believe this partnership does lack is the ability to pressure the opposition of the midfield. There was a great example in the 31st minute, Norwich midfielder Alexander Tettey received the ball 35 yards out, and was not closed down – thus allowing him to shoot from distance. In United's very next attack the contrast was stark as Norwich's midfield harassed and harried United until Robert Snodgrass blocked Giggs's pass. During the entire game United seemed happy to sit off Norwich and let them have the ball, a far cry from the days when Beckham, Scholes, Giggs and Keane wouldn't give players a moments rest on the ball. Ryan Giggs and Paul Scholes still have the quality to unlock a game, but perhaps they cannot be expected to be part of a midfield two in the EPL any longer.
Emmanual Adebayor (Tottenham Hotspur)
He looked to be justifying the faith that manager Andre Villas-Boas had demonstrated in him during the first fifteen minutes as he scored yet again against his former club, and looked in the mood to inflict further damage on a sluggish Arsenal backline. However the only damage he ended up doing was to Santi Cazorla's ankle and to his team's chances of winning the match. We have seen enough red cards over the past few seasons to know that if you go into a challenge in an out of control and reckless manner, then you are likely to be dismissed. Therefore Adebayor's tackle wasn't unfortunate, slightly late or unlucky; in such a big match it was brainless, idiotic and foolish.
Fernando Torres and Daniel Sturridge (Chelsea)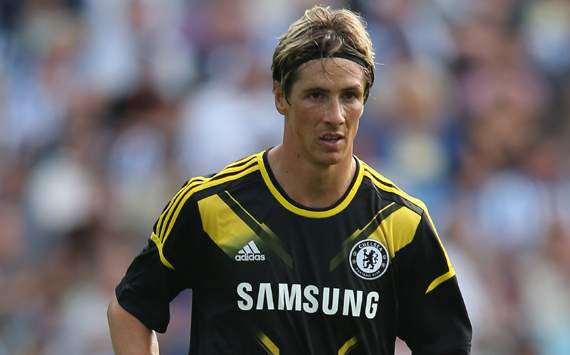 Many are clamouring for Roberto Di Matteo to drop Fernando Torres from his team in favour of Daniel Sturridge, and one can understand why so many are calling for this after yet another ineffectual performance on Saturday, in which it would have been easy to actually forget that the Spaniard was on the pitch such was his ineffectiveness. On Saturday, Torres took zero shots on goal and has now not scored in 458 minutes of EPL football, perhaps more worryingly is that he seems to be regressing into his form of last season where he looks like a man with the weight of the world on his shoulders who would rather be anywhere but on a football pitch. But after Saturday, we can also see why the Chelsea manager is perhaps reticent to start Sturridge. His game was rather summed up by his woeful miss in the 86th minute which would have rescued a point for his team. Found in space only seven yards out he managed to drag his shot wide, making that seven shots on the day, with no goals. Choosing between Torres and Sturridge at this moment may be like having to choose whether to eat sprouts or turnips, both are not particularly appealing options but Chelsea have to stomach one of them for the time being. At least in playing Sturridge there is the argument that he may hit form if given a run of games, for Torres it's looking increasingly likely that this season may be his last at Stamford Bridge.
(Editors note - This was wrote before Roberto Di Matteo's shock sacking on Wednesday, I guess dropping Torres for the Juventus game didn't really help him too much)

The Entire QPR Defence
I'm sorry Ryan Nelsen, but even your efforts this season aren't enough to make up for the sea of mediocrity around you. You've already read my thoughts on Armand Traore. As for José Bosingwa, fans cheered when the dreadful right-back, who failed to make a tackle or an interception in his time on the pitch, was substituted (I think it's fair to assume that the "you're only here for the money" chants were aimed at him). And Anton Ferdinand, in my estimation, is not of the calibre to play in the EPL, it was no surprise when it was he that scored an own goal to finally put the nail in the QPR coffin. After keeping just one clean sheet in their last 13 EPL fixtures it is reasonable to point out that perhaps Mark Hughes should have signed some more defenders instead of roughly 27 midfielders!
Queens Park Rangers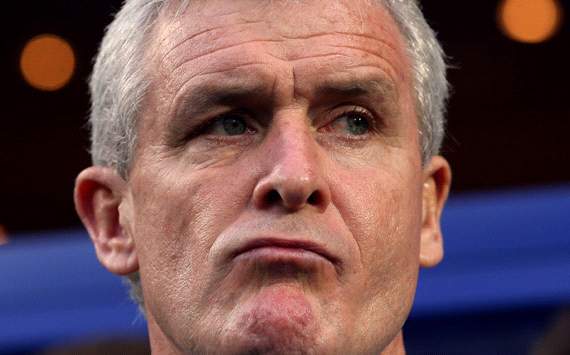 The manner of the defeat said it all, Southampton looked like a team, QPR looked like an assortment of highly paid and poorly motivated strangers. They have now made the joint-worst start to a Premier League season, having picked up just four points in their opening 12 games. The QPR board and Tony Fernandes needs to realise that they need to act now as they are unquestionably a team who look to be slipping out of the division without so much as even putting up a fight. Mark Hughes can say that "Stability is absolutely what this club needs in the long-term," but QPR look less stable than ever, which is hardly surprising after Hughes has signed 15 players in less than a year. The end is nigh for Hughes, as it should be.
Kyle Naughton (Tottenham Hotspur)
Endured a terrible first half in which he was continually beaten by Theo Walcott, come back Benoît Assou-Ekotto – all is forgiven.
Seamus Coleman and Everton
Often this season many have been guilty of puffing up Everton, talking about how fantastic they have been and how wonderful their football is. Indeed they have taken 238 shots so far this season, more than any other EPL team, so they are playing good football, but worryingly for their fans they are not picking up nearly as many points as they should be. The Toffees have now picked up seven points from their last six games, the same record as Wigan, Reading and Fulham – hardly Champions League form. Two weeks ago against Fulham they should have taken all three points instead of one, and last Saturday against Reading was another game they were in control of and should have gone on to win. That they didn't can be attributed to two individual errors by Seamus Coleman, who lost Adam le Fondre for Reading's first goal before needlessly barging him over in the area to concede the winning penalty. If Everton cannot improve their form and start to win some of the games that they are dominating then they can forget about Europe for another year.
Tim Krul & Newcastle United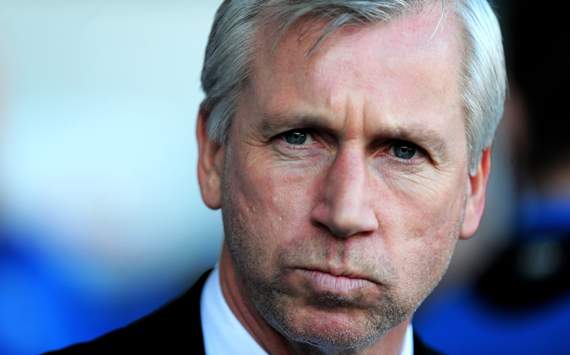 Saturdays 2-1 defeat at home to Swansea means that Newcastle have now lost four of their last eight EPL games at St James' Park, after losing just two of their previous 22 games there. It was the first time they have lost consecutive EPL home matches since September 2010. They were not helped by a poor clearance by Krul which directly led to Swansea's first goal, but it seems as if Newcastle are really feeling the demands of playing in Europe, with a squad that was not significantly added to in the summer. On Saturday, key players, and mainstays of last year's team such as Yohan Cabaye, Fabricio Coloccini, Jonás Gutiérrez and Papiss Cisse were unavailable – and it showed. Unfortunately players such as Mike Williamson, Shola Ameobi, Shane Ferguson and Vurnon Anita present a significant drop-off in quality, and signify the need of the Magpies to strengthen the squad in January.
Adrian Holmes
Another person that you may not be aware of, he was the Assistant Referee who gave the ridiculous penalty for handball against Andreas Weimann in Aston Villa's 5-0 defeat at Manchester City despite the Austrian not even touching the ball, with his hand or indeed any other part of his body. Here is a tip for you Adrian, when none of the attacking players appeal for a penalty, when the opposition manager doesn't appeal for a penalty, and when not one of 50,000 supporters appeal for a penalty, then there's a pretty good chance that it is in fact not a penalty. Villa may not have got back into the game, but they deserved better than an Assistant essentially guessing at a big decision.