OPINION
By CESARE POLENGHI
GOAL.COM MANAGING EDITOR - ASIA

The Italy national team won the World Cup in 2006. Despite Inter lifting the Champions League trophy in 2010, Italian football has been going through an undeniable phase of decline following the [in]famous
Calciopoli
scandal.
The difficult moment Serie A is experiencing today is well crystallized by half-empty stadiums, clubs selling out their best players, and an overall poor display in UEFA competitions.
Despite all the above, the Italian top-flight is still producing some great football. Juventus-Lazio, Milan-Napoli, Inter-Cagliari, and Sampdoria-Genoa - to mention the four games I have watched this past weekend - were all nailbiters, featuring exciting individual performances.
I must be redundant, but the problem with Italian football does not lie with what happen on the green rectangle; the principal responsible of the crisis are the clubs presidents, who cannot seem to act toward a common interest, and more often than not act just like those ordinary supporters you would meet at the bar after the game.
After Inter-Cagliari, Massimo Moratti again attacked the referee about a penalty not given to his team. This episode follows some controversy in Juventus-Inter [a game the Nerazzurri won anyway], and a dubious call in Atalanta-Inter last week. The Inter boss' words have this time been particularly harsh, as he commented that he felt as "We're going back to a situation already experienced."
He was referring, of course, to Calciopoli, and the years during which Juventus and Milan allegedly exercised a strong monopoly above the whole football system in Italy. In other words, Moratti wondered if the referees' mistakes that allegedly damaged Inter were part of a bigger scheme to maim his club.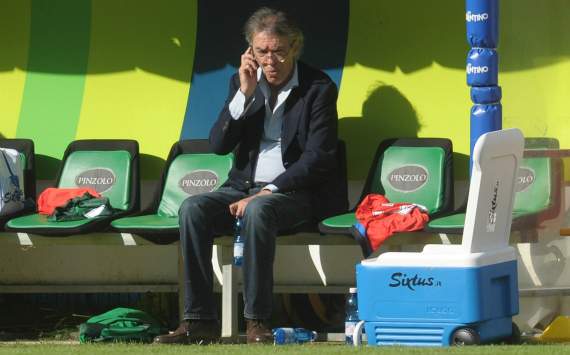 First of all, let us have a look at the hard facts: Against Cagliari was the first time Inter was clearly handicapped by the judges' decision. Against Atalanta, the penalty whistled against Inter was perhaps harsh, but not out of this world, while - as said - Inter defeated Juventus deservedly despite some very poor judgement by the referee.
In the same way, Inter had some favorable calls against Catania [a clear penalty not given to the Sicilians], and against Sampdoria, when Yuto Nagatomo scored after a seemingly offside position. The Milano derby, won by Inter 1-0 was a match that went under the microscope as well because of some alleged pro-Inter decisions.
Common sense would suggest that that these things happen in football, and over a season usually balance out.
Juventus made exactly the same faux pas Moratti [pictured above] is perpetuating now, when last season they officially complained about a couple of very poor calls after penalties were not conceded in games against Siena and Parma.
Not so surprisingly, in the rest of the season, referees did make some mistakes that favored Juventus [calling out the famous Sulley Muntari's goal is a perfect example], and Conte's men went on to win the league anyway - without scoring a single decisive penalty over 38 games.
On Sunday, Juventus' reply to Moratti's words was swift and pitiless. The official website of the Turin's club published a page titled "No Comment" with a link to download a 2011 document by FIGC [Italian Football Federation] that, in 72 pages, shows how there exist wiretaps proving that Inter as well has several times tried to influence referees before 2006.
The evidence that emerged much later than the trial that condemned Juventus and Milan was statute-barred, and Moratti - who has never commented on the events - got away with it.
The use of the official website for propaganda was also a strategy used by Milan in the past season: Their media guru Mauro Suma often used pictures and clips to win the favor of the public opinion. In an extreme case, Milan's main home page featured a YouTube clip in which their ex-player Andrea Pirlo, now at Juventus, was publicly accused of using his elbow improperly during the game against the Rossoneri.
This war of words and images, fought on newspapers, television and the internet reflects deleteriously on the whole Italian football scene, and to the fans interested in the game is becoming tiring and depressing.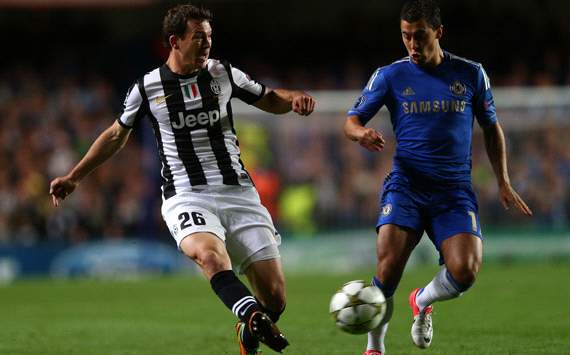 On Wednesday, Juventus will meet Chelsea while Milan visits Anderlecht.
Less than a decade ago, those two clubs met in the Champions League final. Now they are both at risk of being eliminated in the group phase. Is not this more important to address than revisiting skeletons in the closet that most want to finally forget about?
Italian clubs and their presidents need to move on and to find common interests, or else what was once the most beautiful league in the world is at risk of turning into a surrogate of a propagandistic war that will alienate the real supporters and foment those extremes that have already brought enough drama and shame to Italian football.