Many love to hate him because of his pretty 'irritating' character. And this includes even some of his club supporters as well.
This is the story of controversial centreback Pepe.
But the Portugal international, whose full name is Kepler Laveran Lima Ferreira, and who was born in Maceio in Brazil, seems to not be bothered with whatever people or the Press want to say.
He does not care about this 'bad boy' image… thus far.
What is more important to him is to assist Real to glory - even if he has to be a pain in the neck to irritate and provoke opponents who may lose focus, allowing Real to capitalise.
Pepe, who joined Real from Porto in 2007, has all the tricks up his sleeves to do his job of being a central defender, although at times he can been physically brutal as well, based on his disciplinary record.
Pepe has been involved in several cases and found himself suspended in the process. But he seems to be unrepentant…thus far.
Let's see some incidents which involved Pepe, who received his Portuguese citizenship in August 2007.
In a Primera Liga match against Getafe on April 21, 2009, Pepe brought down midfielder Javier Casquero
in the penalty box when the teams were tied at 2-2 with only a few minutes left.
He then proceeded to kick the fallen opponent twice - once on the shin and once on his lower back.
When pulled back away from Casquero, he also pushed the Getafe man's head into the turf and stamped on him several times.
In ensuing melee, the 6ft 2in Pepe then struck another Getafe player Juan Albin. He was banned for 10-matches for his efforts which effectively ended his season!
Another case happened on April 27, 2011. It was the Champions League semi-final first leg clash against Barcelona at the Bernabeu where Pepe was sent off for a controversial challenge on Dani Alves.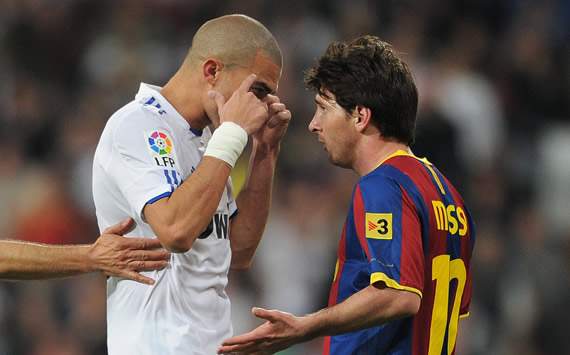 His next victim was Lionel Messi. This happened on Jan 18, 2012 where he intentionally stamped on the Argentine's hand after he was fouled in a Copa del Rey quarter-final clash.
Pepe received strong criticism from the Spanish Press for his action but he claimed it was not intentional. He escaped punishment as the referee did not see the incident.
On March 21, 2012, he was involved in another incident after a 1-1 draw with Villarreal in a Liga match in which he was booked and Real finished with nine men.
Pepe confronted referee Jose Romero in his locker room and abused the official .
So it is not a surprise to know that Real president Florentino Perez has now spoken with Pepe about his tarnished image.
El Confidencial reported Pepe retains the president's full support, but has been challenged to clean up his reputation after claims of taunting and dancing in front of Levante's players following victory last Sunday.
What? He seems to be into dancing as well just to irritate people.
That was the latest incident.
The official statement released by Real, defending Pepe and insisting he had behaved impeccably, is part of a new campaign from the club to promote a more positive image of the defender.
Anyway, Real host Athletic Bilbao this weekend at Santiago Bernabeu. It will be interesting to see how Pepe will react if things go against him or the team win.
Hopefully, he can do well in this aspect. After all, that's what club president Perez wants to see – the new Pepe.
Real to win this match against Athletic Bilbao for me.
But they are set to be still eight points behind leaders Barca after this weekend's fixtures as the Catalans are poised to beat Real Zaragoza at Nou Camp.
Adios!