While I'm sure everyone is excited by midweek International Friendlies such as Armenia vs. Lithuania, Cyprus vs. Finland and Luxembourg vs. Scotland, let's make sure we don't forget about what we saw in Week 11 of the English Premier League (EPL). More comebacks by both Manchester teams, another Suarez equaliser, more shoddy Arsenal defending and yet another week without a QPR or Reading victory....let's dive in and see who were last weeks Tops & Flops.


Tops
Javier Hernandez (Manchester United)
Eat your heart out Ole Gunner Solksjaer! On Saturday, Hernandez scored his eighth and ninth goals as a substitute away from home in the EPL, no player in EPL history has more. The introduction of the Mexican swung the balance in favour of United as they once again came back from a deficit; in fact they now have registered 15 points from losing positions already this season, five times as many as they managed last season. It typifies the 'never say die' attitude that has long been a hallmark of Sir Alex's teams, as Aston Villa once again found to their cost on Saturday.
West Ham United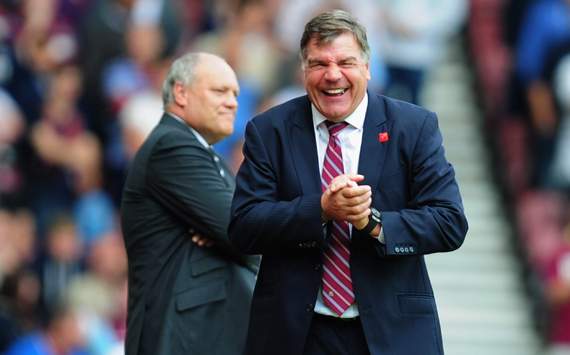 West Ham's victory over Newcastle last Sunderland would have failed to set many pulses racing as for much of the game the players treated the ball as if it were a ready to explode grenade, preferring to 'get rid of it' – than to find a teammate with it. However Sam Allardyce will rightfully care little about this as another impressive result now means that the Hammers have 18 points from 11 games, their best record at this stage in 26 years. His team may not be the most fashionable in the league, but Big Sam deserves an enormous amount of credit for the way he has approached a return to the EPL. Unlike fellow new boys Southampton and Reading, he has almost exclusively bought in players with EPL experience. Signings, previously unwanted by their former clubs, such as Jussi Jääskeläinen, George McCartney and James Collins may well be exposed at stages during the season, but they understand the rigours of what it takes to survive in such a tough league. Another under the radar signing by Big Sam was the free transfer of Mohamed Diamé, who has featured in every league game and was phenomenal again on Sunday registering a league high eight tackles. Many West Ham fans who criticised Allardyce last season surely now have to begrudgingly respect him, after all, look what happened to Blackburn and Bolton following his exit.
Sergio Aguero (Manchester City)
Much praise has been heaped on 'Super-Sub' Edin Dzeko, and on mercurial Spaniard David Silva, who provided the sumptuous through ball for City's winner; however less praise has gone in the direction of Aguero. Truth be told, City seemed to have few ideas on how to break down an average Tottenham side with players such as Silva, Yaya Toure and Aleksandar Kolarov looking ineffective. Once again, up stepped Aguero with some nimble footwork and a beautiful finish inside the penalty area to bring the Citizens back into the game. City's EPL record in the 18 games Sergio Agüero has scored in is 17 wins and one draw. While the Argentinian may not have reached the exceptional level of performance that he displayed last year, without him, the already off-colour Champions may not have salvaged so many points already so far.
Dimitar Berbatov (Fulham)
Was there ever a doubt that he would comfortably slot home his penalty? Another terrific performance from the Bulgarian who took advantage of continual confusion amongst the Arsenal backline to register two goals and one assist. When asked why Arsenal didn't try to sign him, manager Arsene Wenger commented "we did not even know he was on the transfer list" – thus making him quite possibly the only person in the whole of world football not to know.
West Bromwich Albion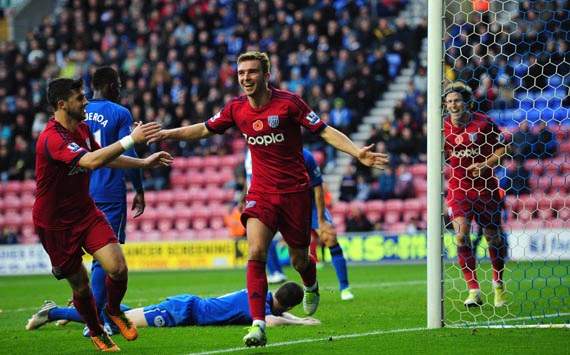 While many were outraged that Andre Villas-Boas dropped Jermain Defoe, fresh from hitting a hat-trick for Tottenham against Maribor last Thursday, little was said about West Bromwich Albion manager Steve Clarke and his decision to drop Peter Odemwingie after his brace against Southampton last Monday. Perhaps this decision barely made a ripple as Albion ground out another notable victory, this time at Wigan, to leave them level on points with 4th place Everton. Clarke has been one of the stories of the season so far as many, including myself, doubted his ability to go from coach to manager. However the Scotsman exudes calmness in his role, and has also demonstrated great tactical flexibility. On Saturday he countered Wigan's three man defence by playing both Shane Long and Romeo Lukaku, in an attempt to exploit the space out wide that is routinely vacated by the attack minded duo of Jean Beausejour and Emmerson Boyce. It will be interesting to see how Clarke copes when his team goes through a bad spell, but on this form is Europa League qualification a possibility?
Andreas Weimann (Aston Villa)
Came oh so close to joining the ultra-exclusive, but oddly filled list of players to score an EPL hat-trick against Manchester United (the other two were David Bentley and Dirk Kuyt), and worked tirelessly for his team. His two goals were both fantastic in their own right, the first a ruthlessly powerful effort that flew past David De Gea, the second a predatory finish from a fine team move from the Villains that will give their supporters cause for optimism. With Weimann beginning to fulfil his promise, Christian Benteke once again impressing and Gabriel Agbonlahor looking sharper than he has done at any point in the past year, the prognosis is getting bleaker for Darren Bent.
Brad Jones (Liverpool)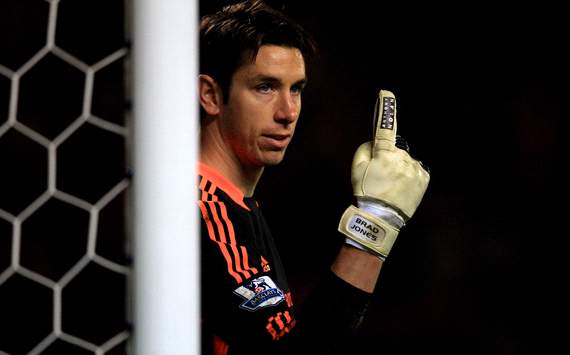 An apology is due, is week three I called Brad Jones 'hapless', essentially saying that he would never provide serious competition to Pepe Reina. Those who saw Jones's calamitous performance away at Blackburn last April would have tended to agree with my assertion, however this season the Australian stopper has taken advantage of Reina's injury problems and poor form and performed admirably in his place. At Chelsea on Sunday he pulled off two wonderful saves from Fernando Torres to keep the away team in the game when they were 1-0 down, and was solid in everything else he had to do. Jones is certainly not of the calibre of Reina, but at least the Spaniard now has some real competition for his place.
Maicon (Manchester City)
Rumour has it that for the past two years the Brazilian has often woken up in a cold sweat following reoccurring nightmares of the night at White Hart Lane when Gareth Bale beat him time and again, causing the chant 'Taxi for Maicon' to ring around the ground. Well on Sunday Maicon went about putting some of those nightmares to rest as he climbed off the bench and changed the dimension of Manchester City's play with some direct running down the right flank, without ever being troubled by his old tormentor Bale. Maicon can once again sleep easy.
Sandro (Tottenham Hotspur)
The lone bright spot in a disappointing Spurs performance (more on that below). Sandro made five tackles and seven interceptions vs. Man City on Sunday, setting a solid platform for his teammates to pass the ball and create chances, something they were incapable of doing.
Flops
Tottenham Hotspur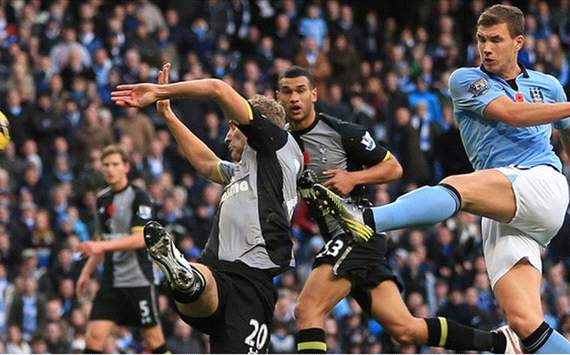 Words such as brave, plucky and unfortunate may be used by some to describe Tottenham's performance at the Ethihad, but you'll excuse me if I don't use such platitudes as truthfully speaking, Spurs were poor on Sunday. One goal to the good, it seemed as if Spurs had little interest in trying to keep the ball and add to their lead, instead launching it forward to the isolated Emmanual Adebayor in the style of a team fighting relegation and desperate to gain a win no matter what. During the game Tottenham completed only 66% of their passes, their lowest in an EPL game in 31 months! Frankly, Spurs have not looked the same since selling Luka Modrić and Rafael van der Vaart, the two players in the club who were the most adept at keeping the ball, since then Spurs have too often looked disjointed and unable to effectively keep possession. It doesn't help that Mousa Dembele, the man signed to replace van der Vaart, has been injured since week seven, with him Tottenham have won all four EPL games they have contested, without him they often look ponderous. It all sets-up for a fascinating game against Arsenal at the Emirates this weekend, where you would expect the home team to dominate possession and this new look Spurs team to counter attack. If they are unable to launch any effective counter-attacks against Arsenal, as they were unable to against Manchester City, then the Lilywhites may well crash to their third consecutive league defeat.
Ashley Young (Manchester United)
Last week I commented that Luis Suarez was the football equivalent of a bee as he is constantly buzzing around, well if he is the equivalent of a bee, then Young is the football equivalent of a crab – as he refuses to go forward, only sideways. Gone are the days when Young used to attempt to take on a full-back and get to the touchline, these days he is seemingly happy to continuously cut inside and lay the ball off. The good news for Young is that he completed 92% of his passes on Saturday, however 15 of his passes went backwards, six of his passes went sideways and only one pass went forward. Add that to the fact that he completed no dribbles or crosses and it was easy to see why Sir Alex dragged him off at half time – perhaps he and Nani are having a personal competition to see who can be the worst United winger this season.
Gareth Bale, Aaron Lennon & Clint Dempsey (Tottenham Hotspur)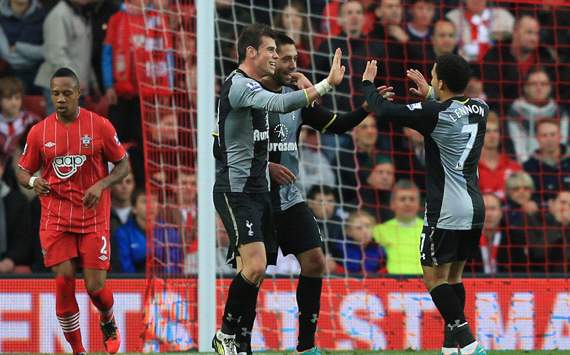 The three main culprits in Spurs' woeful second half showing. All three players will surely feel that they are good enough to play in the Champions League against top-quality opposition, yet in an important game against difficult opposition who are skilled at pressing the ball, these three players floundered. Bale, who many feel to be world class, was anonymous as he made only 15 successful passes, attempted two crosses and completed no dribbles. At one point he was even outpaced by 31 year old Maicon, a player who he absolutely destroyed two years previously. Dempsey completed 19 passes, attempted zero crosses, completed no dribbles and took no shots. And Lennon completed a pathetic five passes, had a 42% pass completion rate, attempted zero crosses, completed no dribbles and took no shots. If all of those figures confused you, let me simply sum it up for you, all three players were rubbish!
Joe Hart (Manchester City)
Steven Caulker's goal should have been a routine save for Hart and was a poor poor mistake by a keeper of his standards. He should also be worried that 60% of the goals that Manchester City have conceded in the EPL this season have come from set-pieces, something that shouldn't happen to a team containing such physically imposing players.
Mark Hughes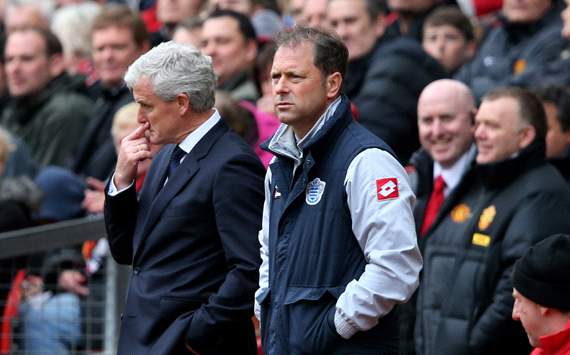 Surely the time is fast approaching for Tony Fernandes to once again wield the managerial axe midseason. Things are not looking good for Hughes, Saturdays defeat at Stoke meant that QPR are the first club since Watford in 2006-07 to fail to win in their first 11 EPL matches of the season, and ominously only three teams have won none of their opening 11 EPL games and managed to stay up. I've wrote at length about Hughes in the Flops section before, for me, the money he has spent on transfer fees and wages means that it is wholly unacceptable that QPR currently sit bottom. Add to the fact that he has now lost 19 of his 33 league matches in charge and he is now on borrowed time, anything less than a win against Southampton next weekend would surely seal his fate (and probably a large compensation package – every cloud has a silver lining I guess).
Aston Villa
Sure it was an encouraging performance for Villa fans, but the fact now remains that after their latest two goal collapse at home to Manchester United (their second such surrender in three seasons), that it now 17 EPL matches since they have beaten the Red Devils at Villa Park. United's 17 game unbeaten run (11 wins and six draws) is the longest ever unbeaten away run in the EPL. As I said, there is encouragement for the Villains, their starting line-up had an average age of 24 years and 61 days, their third-youngest ever in EPL history – so the future may well be brighter. However if they cannot get over the mental block that they have against United, then there will be several more years of hurt when this fixture rolls around.
Mikel Arteta (Arsenal)
The usually reliable Spaniard made an error leading to a goal, gave away a penalty and missed a penalty vs. Fulham. He is the first player to do this in Europe's top five leagues since 2009. Both he and fellow countryman Santi Cazorla has not looked up to their usual high standards in recent weeks, perhaps the fact that they have played 32 matches between them so far already this season is a factor in this.