English Premier League (EPL) football was back after another international break with Week 8 of fixtures. This week we saw Manchester United flex their attacking muscles, but be exposed again at the back. We also saw a shock victory for Norwich over an inept Arsenal team. There were also red cards, late winners, sloppy defending and local derbies...all in all another fascinating weekend. Let's see who were the Tops and who were the Flops.


Tops
Norwich City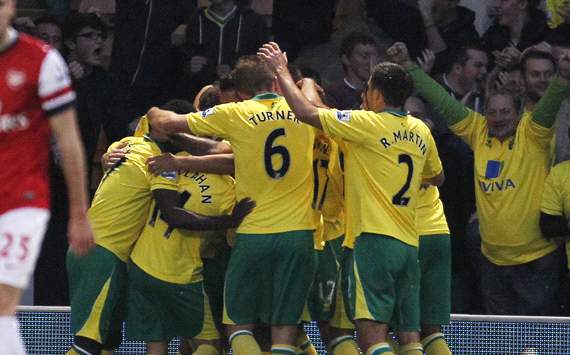 There was a fascinating picture 60 minutes into this match when the camera focused on a Norwich fan, his hands clasped together in prayer and his face wracked with nerves. In truth he needn't have been that anxious as rarely in the match did it look as if the more professional and organised Canaries would throw away their lead to an Arsenal side playing with a startling lack of imagination. In my article in Week 7, after Norwich's drubbing at Chelsea, I wrote the following 'they (Norwich) seem passive, happy to sit back off their opposition and allow them to play, rather than tirelessly closing them down and snapping into tackles.' This was obviously something that Chris Hughton had worked on with his players during the international break as Norwich were a team transformed, their midfield leading by example in not standing off the ball and closing Arsenal down diligently. Bradley Johnson and Alexander Tettey were both key to this, however credit should also go to the diminutive Wes Hoolahan. It was his job to play behind goal scorer Grant Holt and help create chances, but time and time again he dropped back deeper to assist his team, demonstrating excellent energy as he harassed and won tackles. Another bright note for Norwich was the performance of their two physical centre-halves Michael Turner and Sebastien Bassong, who registered their first clean sheet as a partnership after their respective summer moves to the club. Both men played with a composure and organisation that has been lacking from both their games in recent seasons and between them they managed six interceptions and seven clearances. It will still be a long season for Norwich, but a result like this shows that they have the fight in them to compete all the way.
Peter Cech (Chelsea)
In truth Cech's form has been stable for a while now, but two pivotal saves on Saturday helped his team to victory. The first was in the 68th minute, with the game finely balanced at 2-2 he clawed away a twenty yard strike by Jermain Defoe, 69 seconds later and Juan Mata put Chelsea 3-2 in front. Then in the 89th minute he smartly saved a low swerving effort from Kyle Walker, 79 seconds later Daniel Sturridge made it 4-2. A keeper who can make vital game changing saves is important for any title contender, and while Cech may not be of the same vintage as he was in the 2004–05 and 2005–06 title winning seasons, he is certainly nearer to that form than he was a year ago.
Robin van Persie and Wayne Rooney (Manchester United)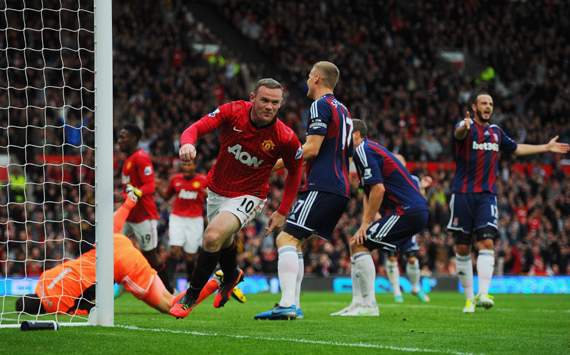 A very worrying sight for all 19 other EPL clubs that these two players are beginning to link together so well, as we inevitably knew they would at some point. In truth, both players were aided by some careless Stoke defending, for the first and third goals there was a pathetic lack of effort displayed by Jon Walters and Marc Wilson (respectively) in stopping van Persie and Rooney crossing from wide. And for the second goal, scored by van Persie, the usually reliable Ryan Shawcross thought it would be a good idea to leave a man who has scored 45 goals since the beginning of last season, all alone on the edge of the six yard box. But back to United, they will need the firepower from Rooney and van Persie, and from other attacking players such as Shinji Kagawa, Paul Scholes, Danny Welbeck and Javier Hernández if they are to continue covering up their newly found defensive fragility. The Red Devils have now conceded the first goal in eight of their 12 competitive games so far this season and amazingly have conceded two or more goals in three of their four EPL home matches so far.
Juan Mata (Chelsea)
How can this guy not even get into the Spain squad, if he were English there's every likelihood that he'd be England's number 10, captain and the main meeting room at St George's Park National Football Centre would be named the 'Juan Mata Suite.' Either that or England would stick him on the left-wing. Anyway, it was another dynamic performance by Mata this week and in his last six games in all competitions, he has six goals and seven assists. Chelsea have seemingly managed to integrate Mata, Eden Hazard and Oscar into the same team, it will be fascinating to see how they all perform this Sunday against Manchester United.
Manchester City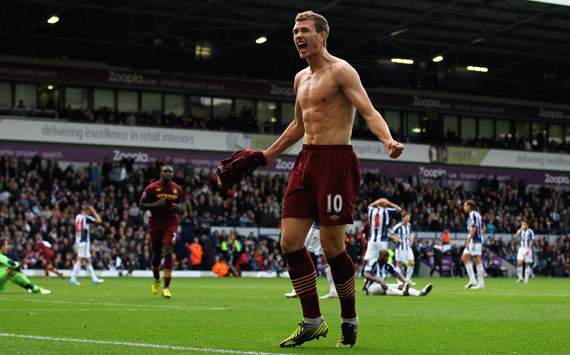 You have to admire, although maybe grudgingly, a team who can still lead possession (56% to 44%), have more shots (24 to 17) and complete more passes (402 to 281) despite being down to 10 men for 70 minutes. But that is what the Citizens did as they battled back from a man down and a goal down to end Albion's 100% home record in style. The fact that you could not tell that City were even down to 10 men can be attributed to the positional flexibility of players such as Carlos Tevez, Samir Nasri, Yaya Toure and Sergio Aguero (when on), who displayed great movement throughout and did not just rigidly stick to their set positions. There is a case to be argued that Albion could have introduced a second striker to partner Shane Long earlier, which would have helped press City further up the pitch and disrupted their ability to keep the ball, but nonetheless, the away side's skill at keeping the ball in tight situations was impressive. Also notable was the impact yet again of Edin Dzeko, who has now netted seven EPL away goals as a substitute, a remarkable record.
Emmerson Boyce (Wigan Athletic)
If Ronaldo had of scored that goal it would have been repeated 1000 times over, but because it's Emmerson Boyce we doubt if he meant it. Perhaps it because Ronaldo doesn't have a CV of Luton Town, Crystal Palace and Wigan Athletic.
Mark Noble and West Ham United
Both have quietly gone about making a great start to their return back in the EPL, and for West Ham their tally of 14 points so far is their best ever EPL start. Noble is one of the key six players who have started every game so far for the Hammers, and he has carried on from an impressive campaign last season. Two goals on Saturday and 17 chances created for his teammates this season, no team will find it easy against a battling midfield trio of Noble, Mohamed Diamé and Kevin Nolan.
Yohan Cabaye (Newcastle United)
An all action display from the Frenchman who was seemingly everywhere on the pitch. With his midfield partner Cheik Tiote dismissed, he took it upon himself to take the game by the scruff of the neck working determinedly both on and off the ball. All this only five days after helping France to a 1-1 draw against World and European Champions Spain, no wonder he was out on his feet by 80 minutes.
Flops
Arsenal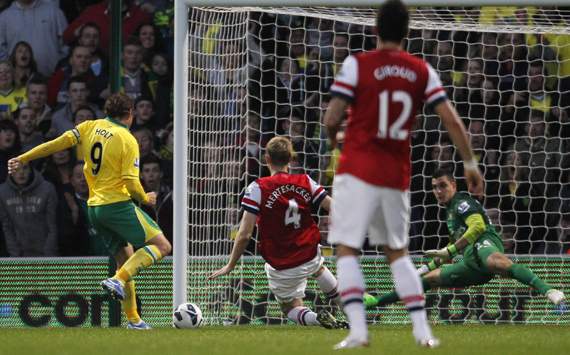 As much as I complimented Norwich's performance earlier on, I have to be equally as critical at an impotent display by the Gunners which already leaves them 10 points behind leaders Chelsea with only eight matches played. If Arsenal's game plan was to leisurely pass the ball from left to right, right to left, left to right and back again, without actually putting the ball in Norwich's 18-yard box and threatening at goal – then Saturday was a roaring success. The usually excellent Santi Cazorla had an off day with his range of passing unusually amiss, Gervinho and Mikel Arteta attempted in vain to get their team going, but the most worrying thing for Arsenal fans would have been the performances of Lukas Podolski, Olivier Giroud and Aaron Ramsey, who remained utterly anonymous throughout and offered little to the team. In Week 1 I said 'Expect Champions League qualification again this season, but until they (Arsenal) can turn draws like this into wins, forget a title challenge,' well no team has ever won the EPL with fewer than 14 points after eight matches and based off this performance, and the fact that this is the Gunner's fourth worst start to a EPL season, don't expect that record to change.
Rio Ferdinand (Manchester United)
Rio Ferdinand may have been in the headlines for his refusal to wear a t-shirt, but it was another demonstration of his declining pace which will have worried fans more. Last time out at the Theatre of Dreams he was outpaced for a goal by Gareth Bale, which can happen to anyone, this time it was Michael Kightly who highlighted Ferdinand's sluggishness as he burst past him to score Stoke's second goal. One wonders if Sir Alex will "deal" with Rio at the end of the season by showing him the door at Old Trafford.
William Gallas & Kyle Walker (Tottenham Hotspur)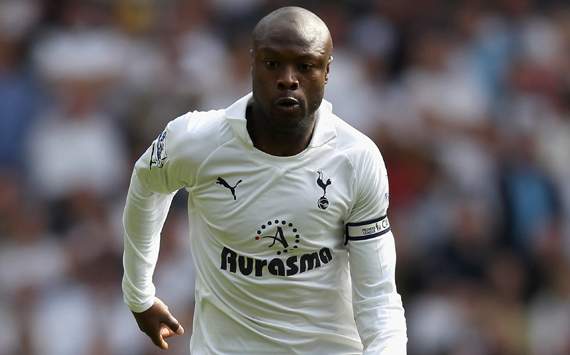 Surprisingly, 35 year old Gallas has started every EPL game for Spurs this year, at times being selected ahead of Jan Vertonghen, Steven Caulker and Michael Dawson. Obviously AVB sees something valuable in him, but the times when I've seen him this year he always seems hesitant, an accident waiting to happen to the Spurs defence. Well on Saturday, it happened, as he was culpable for three Chelsea goals. For Chelsea's first goal it was a poor headed clearance back across the face of his own 18-yard box which Gary Cahill enthusiastically smashed home. For the second goal it was another poor clearance which was gobbled up by Mata. Here he got his body shape all wrong as he let the ball come across his body onto his right foot, rather than sweeping the ball away with his left foot. For the third Chelsea goal, both he and Walker were culpable as together they failed to track Mata's run from deep into the area. Not to be outdone by Gallas, for the fourth goal Walker decided to dribble the ball clear, never a good idea for a right-back (from my own experience), only to be easily mugged by Mata. Walker is young, and still learning his trade, often he will take chances on the ball and often he will be able to avoid danger through his fantastic recovering pace; on Saturday he wasn't so lucky, but he'll be stronger for that experience. As for Gallas, he doesn't have such a bright future and one wonders if AVB can afford to rely on him so heavily for the remainder of the season.
Nigel Adkins (Southampton)
In Week 4 I wrote that the job speculation regarding Nigel Adkins was wholly unfair, well after another crushing defeat which brings the amount of goals conceded to a record breaking 24 in their first eight games, it's easier to justify the speculation now surrounding him. Although he defended his decision to drop prolific striker Rickie Lambert in favour of Jay Rodriguez, it was a bizarre decision considering the early season form of Lambert, and one which rather blew up in Adkins face as the team fell 0-2 down and the Saints fans chanted for Lambert. Adkins and the majority of his team are new and inexperienced to the EPL, it can be a steep learning curve, especially after two successive promotions, therefore expectations need to be tapered and patience needs to be demonstrated. However if his team cannot improve their defensive record, and the fact that they have trailed in all eight EPL games at some point, then there is unfortunately a strong chance that he will not remain in position for the duration of the season.
Sunderland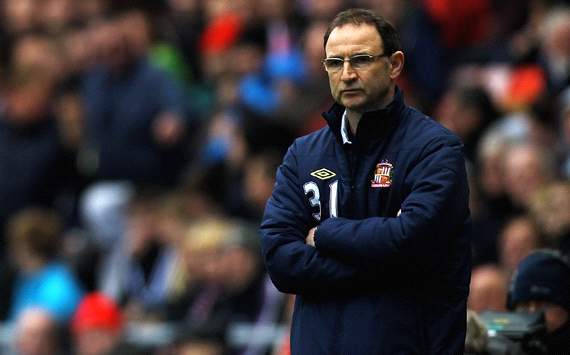 Please don't let the final result fool you, this was a woeful performance by Sunderland that papered over few cracks. It is now one win in 16 matches for the Black Cats, dating back to last March, and that was a fortunate win over a Wigan team in week 6 who harshly had a key midfielder (Jordi Gomez) dismissed. They weren't able to manage a win in similar circumstances this time, in fact they didn't even come close as they looked totally bereft of any ideas or inspiration, despite having a numerical advantage for 65 minutes. They managed one shot on target over the whole game, worryingly the fourth time this season they have done this, and players who would be expected to provide service to Steven Fletcher such as Adam Johnson, Stephane Sessegnon, James McClean and Sebastian Larsson created next to nothing. Martin O'Neill cannot be absolved of any blame either, in the second half a previously assured and confident Newcastle team abandoned any sense of attack and were happy to sit back and invite pressure, yet O'Neill was reticent to change his tactics and introduce any attacking options from his bench. The form of players such as Johnson, Sessegnon and McClean has dropped sharply this year, contributing to Sunderland managing just 12 shots on target in eight games so far, unless they can find some form, a seemingly unlikely relegation battle will become all too real.
Adam Johnson (Sunderland)
I gave him a pass for his poor performance last time out against Manchester City as news surfaced that he was playing with illness, last Sunday he was just as poor, something that cannot be blamed on illness. He was successful with two out of 12 dribbles and lacked any ideas on how to make an impact on the game as he was thoroughly outplayed by Davide Santon. To give you an idea of how wretched he was, Martin O'Neill withdrew him in the 83rd minute as Sunderland were desperately seeking a goal and replaced him with central midfielder David Vaughan, a man not particularly known for his goal scoring / creating prowess. You would expect a disgruntled and angry response from fans, questioning the reasoning of their manager; the fact that there were so few raised eyebrows at the decision spoke volumes at Johnson's performance.
Aston Villa
Without a win in 13 away EPL fixtures and they have failed to score in six of their last eight away EPL fixtures. Paul Lambert must have hoped that dropping Darren Bent from his team for consecutive fixtures would help motivate him into a higher level of performance, so far it hasn't, on Saturday it was more of the same from Bent as he managed only 20 touches in 75 minutes before being withdrawn. Saturday's early kick-off against his former team Norwich is now a massive game for Lambert and his team, especially with games against Manchester United, Manchester City and Arsenal to come in November.
Ben Foster (West Bromwich Albion)
I would rather not include Foster on this list, truth be told he was reliable throughout, pulling off six saves and looking assured. But the fact is that Albion were well on their way to knocking off the Champions and picking up another three points at home when Foster made an ill-fated decision to come and claim Carlos Tevez's 80th minute free-kick, the result – an Edin Dzeko goal. If Foster had of stayed on his line, it would have been a routine save for him, a poor poor decision that cost his team.