Week 7 of the English Premier League (EPL) provided us with several headlines on diving, stamps, elbows and tweets. But lost in all the controversy were dominant performances by the so called big four and further lackluster performances by strugglers QPR and Norwich. As always the weekends matches gave us several Tops and Flops, so lets see who they were.


Tops
Manchester United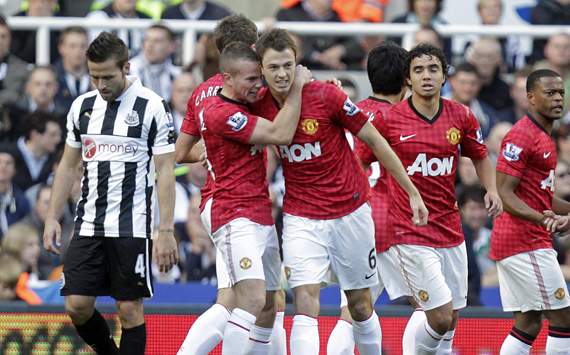 A team selection brimming with boldness and attacking talent as they clearly went for the jugular of a Newcastle side deprived of key players Tim Krul, Steven Taylor and Fabricio Coloccini. United won't be able to accommodate Robin van Persie, Wayne Rooney, Danny Welbeck, Tom Cleverley and Shinji Kagawa in the team every week, but on the rare occasion they do, teams may find themselves out of sight early on as Newcastle were on Sunday. Amazingly the Red Devils have now not lost in 344 EPL games where they have led by two goals (winning 334 and drawing 10), a phenomenal record which demonstrates their ruthlessness in killing off teams. More pleasing for United fans is the return to form of Wayne Rooney who on Sunday got two assists in a game for the first time in 21 months and also contributed defensively by tirelessly tracking back. With van Persie so adept at playing as the lone striker, look for Sir Alex Ferguson to more regularly harness Rooney's energy in deeper positions, allowing him to help out the often maligned United midfield.
Santi Carzorla (Arsenal)
Another exquisite performance from the mercurial midfielder in the Gunners highly impressive victory at West Ham. In seven games he has now taken 29 shots, scoring two goals, and created 26 chances, registering two assists. Furthermore he has now scored more goals from outside the box than any other player in the EPL, Serie A, Eredivisie, Bundesliga and La Liga since August 2011.
Aleksandar Kolarov (Manchester City)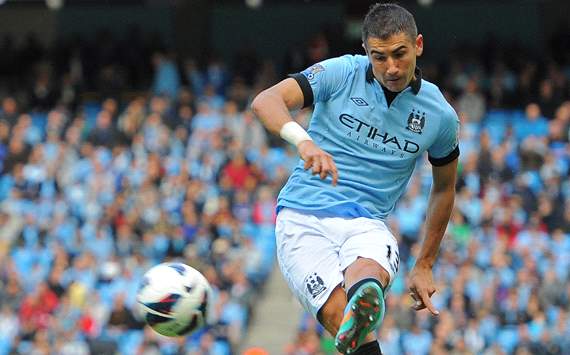 On Saturday Roberto Mancini reverted to the 4-2-3-1 formation that served his team so well last season, after his latest dalliance with the 3-5-2 formation ended in embarrassment following a football lesson from Borussia Dortmund in the Champions League. Whether the 3-5-2 formation can work for City is another conversation for another day, but there is no denying the attacking effectiveness of Kolarov in their tried and trusted 4-2-3-1 formation. In this formation the left-back benefits from the natural inclination of players such as David Silva, Mario Balotelli and Samir Nasri to tuck inside, allowing acres of space which he can exploit. On Saturday, Kolarov was stout defensively, not something always associated with his game, as he never allowed Adam Johnson and later James McClean the space and time they required. As an attacking force Kolarov not only fired home another sumptuous free-kick, but also assisted City's other two goals with his marauding runs up the wing. This was City's first clean sheet of the season, and arguably their first real convincing league win, giving more support to the argument that Mancini needs to cease and desist with his 3-5-2 and go back to what City do so well. Make no mistake, the majority of City's chances this season will be created by attacking players such as Silva, Nasri, Yaya Toure, Sergio Aguero, Carlos Tevez etc, but the Citizens also possess four attacking full-backs in Kolarov, Pablo Zabaleta, Gael Clichy and Maicon whose bursts up the wing may just help break down stubborn teams as it did on Saturday.
Adam Lallana (Southampton)
Sharp throughout on Sunday, he now has four assists in the EPL this season, enough to put him joint top of the assists charts alongside some esteemed company: Juan Mata and Eden Hazard.
Olivier Giroud (Arsenal)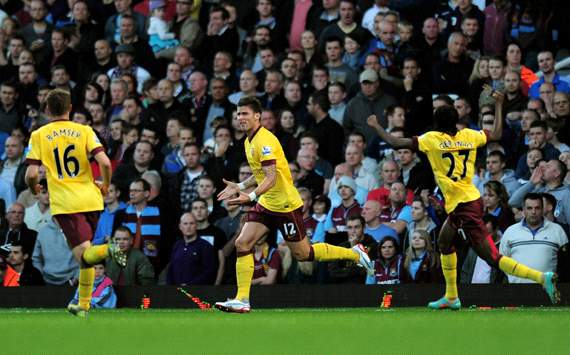 From a flop to a top in the space of a week. Last week that I wrote that 'Giroud has the pedigree to come back from this (missed chance) and to start scoring', and he rebounded in perfect fashion last Saturday against West Ham. He entered a composed all-around performance testing the Hammers backline with eight shots and a goal he so richly deserved where he demonstrated fantastic desire to get on the end of Podolski's cross. He was also the architect behind Theo Walcott's winning goal as he provided an expertly threaded through ball. It is maybe worth remembering that it took the great Thierry Henry 464 minutes to score his first EPL goal and look what he achieved, if Giroud can get a third of the goals Henry did then he'll be an extremely valuable player for the Gunners.
Adel Taarabt (Queens Park Rangers)
His second tremendous finish in six days, he has completed more shots and dribbles than any of his teammates, despite his limited playing time this year. He and fellow impressive midfielder Esteban Granero will be vital if QPR are to begin turning around their early season form.
Arouna Koné (Wigan Athletic)
Has scored or assisted five of Wigan's seven PL goals this season, to put that in perspective, the man he replaced (Hugo Rodallega) had only eight combined goals and assists during the whole of last season. Koné again demonstrated his direct, powerful and pacey style of play as he scored Wigan's opener, and then outpaced Johnny Heitinga to create Franco Di Santo's goal, one of three chances he created in the game. Statistics have said that this is Wigan's worst ever start to an EPL season, however you feel that with the acquisition of Koné, and the periodic goal scoring contributions of Di Santo and Shaun Maloney, that Wigan will be just fine come May.
Flops
Mario Balotelli (Manchester City)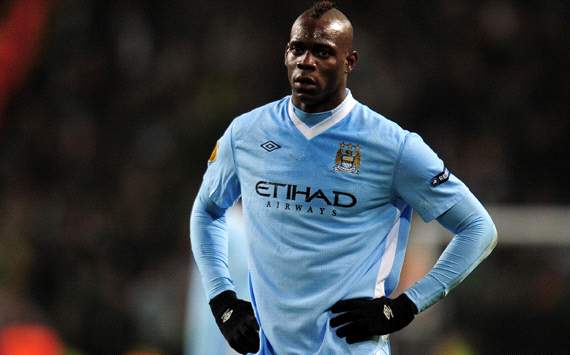 I know that the Italian is capable of special performances, but the problem is that we seldom see the beauty of his game, instead 90% of the time it is frustration, moodiness, being withdrawn around the 60 minute mark and him consistently blazing shots over the bar from the edge of the area. At Liverpool in Gameweek Two he put in a similarly ineffective performance and was taken off in the 61st minute, last weekend he didn't even last that long as he sullenly trudged off the pitch in the 55th minute after touching the ball only 21 times, being dispossessed four times and having three shots off target. The Italians stock may never be as high as it was following his double in Italy's semi-final win over Germany at Euro 2012, time will tell as to whether Roberto Mancini made a mistake in not selling him then.
Robert Huth (Stoke City)
If you can't beat them then stamp on them hey Robert. Or if that doesn't work maybe you can elbow them in the face (vs. Mario Balotelli in the FA Cup Final 2011) or maybe punch them in the face (vs. Matthew Upson in 2009). His stamp on Luis Suarez in Sunday's game was deliberate and in keeping with a defender who all too often relies on thuggery in an attempt to get the better of his opponents. Suarez's later dive was ridiculous and deserves all the criticism it gets, but Huth's stamp was the greater offence and it defies belief that the FA have failed to charge him for this.
James McClean (Sunderland)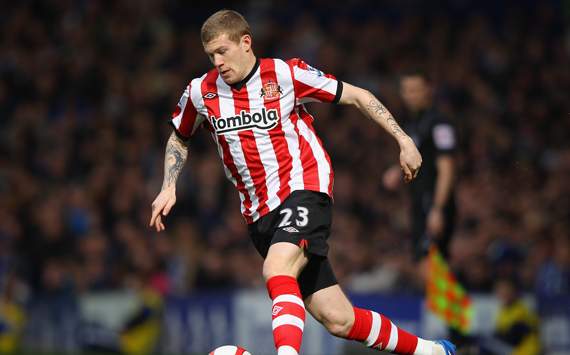 Against Manchester City last New Year's day, McClean made his full debut for Sunderland and impressed with his energy and direct style of play. Thanks to performances such as this McClean has not been out of the Sunderland side since then and has gained several plaudits along the way. However last Saturday demonstrated that against top-quality opposition, McClean still has a long way to go. He lost the battle against Argentinian full-back Pablo Zabaleta and was not able to make an impression on the game as an attacking force. In the 20th minute Sunderland were fortunate not to concede a second goal after McClean first failed to track Zabaleta, whose effort was saved by Simon Mignolet, before McClean gave the ball away to Carlos Tevez inside his own area, only for the striker to snatch his effort wide. Sunderland would not survive for too much longer and again it was McClean who should have done better in the 60th minute as he failed to track Kolarov who crossed for Aguero to smash home. McClean is still learning, having only played 27 matches in the EPL so far; Saturday was a steep learning curve for the Irish winger.
QPR's Defence
They were in the flops section in Week One, and I'm afraid not much has changed since then. It was another torrid defensive performance that means that they have now gone 20 away EPL matches without a clean sheet. In week one's column I wrote "it will be a miracle if the sluggish Clint Hill, aged 33, can play as many as the 22 games he did last season after his opening day performance." Well he played again, and he was predictably at fault for the first goal. He was drawn out of his left-back position ball chasing and was never able to then catch up to the ever impressive Shane Long who crossed for James Morrison's opener. Hill wasn't the only QPR player at fault, Anton Ferdinand was too easily beaten in the air by Morrison for the first goal and made a mess out of a clearance for the second goal, allowing Zoltan Gera to put Albion two goals ahead. Only £3 million of the approximate £33 million Mark Hughes has spent has been on defenders, a possible explanation for why QPR find themselves bottom of the table having conceded 16 goals so far. The pressure is now growing for Hughes, the good news is that their next match is not away, so they won't have chance to continue their woeful away form of three points from the last 48 available. The bad news, up next is Everton, so things may get worse before they get better.
Norwich City
A defeat away at Chelsea would have been expected by Norwich fans, however the way in which they capitulated from 1-0 up to 1-3 down in the space of 20 minutes will have caused concern. Their defending was again poor on Saturday and was summed up in Chelsea's third goal where Juan Mata was allowed to travel forward 50 yards without anyone applying any pressure to him, despite there being six Norwich players back. It is a trend I've noticed with Norwich this season, they seem passive, happy to sit back off their opposition and allow them to play, rather than tirelessly closing them down and snapping into tackles. Norwich conceded just three fouls against Chelsea and have only picked up two yellow cards this season, is this to be admired or should they be looking to stop teams through more robust methods? They need to do something that's for sure as they have won only once in their last 12 EPL games, losing six of them.
Carlos Cuellar (Sunderland)
Ahead of their visit to the Etihad Stadium, Sunderland would have undoubtedly looked to copy the blueprint of their 1-0 victory over Manchester City last year; work hard, get men behind the ball and keep the score at 0-0 for as long as possible in the hope of snatching a goal on the break. This game plan was destroyed within three minutes after Carlos Cuellar got caught on the wrong side of Carlos Tevez before needlessly hacking him down on the edge of the area. An Aleksandar Kolarov free-kick later and the ball was in the back of Sunderland's net and any chance they had of getting a positive result from the game went up in smoke. I was surprised that more effort was not made by Martin O'Neill in the summer to strengthen the Sunderland defence, with the budget signing of 31 year old Cuellar the only reinforcement to a list of centre-backs that have frankly seen better days (Wes Brown, John O'Shea, Titus Bramble). Against quality opposition Cuellar unsurprisingly looked shaky throughout on Saturday. With O'Neill's failure to significantly strengthen in such a crucial area, his expectation of turning the Black Cats into a top six team in the future look slim at best.
Jos Hooiveld (Southampton)
It may be harsh to kick a man while he's down, and according to his twitter feed after the 2-2 draw with Fulham he was extremely down as he tweeted: 'Low as a snakes belly.. nothing to do with luck just poor from me. (Again). Bad place at the moment.' However it was his second own goal of the season, which I'm afraid was highly preventable as he diverted John Arne Riise's off target shot into his own net. This helped Southampton drop another three points, so far this season they have dropped nine points from winning positions, the most in the EPL. They also have conceded a league high 20 goals, if they cannot remedy this then it will be a short return to the EPL for the Saints.