HOLA!
He may have several nicknames like 'El Angelito', 'Di Magio', 'El Flaco', 'El Pibito' and 'Fideo' but the bottom line is that winger Angel Di Maria is a key figure for Argentina in their campaign in the Brazil 2014 World Cup qualifiers.
Perhaps, Fideo is the best of the nicknames as it means noodle in Spanish!
Di Maria can also be known as Angel of Death, for his capabilities of providing an assist or scoring a goal to kill off opponents.
Two fine examples.
It was at the Beijing Olympics four years ago when Di Maria struck the winner in the 105th minute in the quarter-final against Holland after receiving a pass from Lionel Messi to seal a 1-0 victory for Argentina.
Then Di Maria struck again via a chip in the 1-0 win over Nigeria in the 57th minute of the final to steer Argentina to their second straight Olympics gold medal.
The good news for Argentina coach Alejandro Sabella and their fans as Argentina prepare to do battle in the World Cup qualifiers, is that Di Maria has been in great form since helping Real Madrid to win the Primera Liga title last term, their first since the 2007-2008 season.
This good form has also included that incredible goal Di Maria scored against Germany in the 3-1 win in a friendly in Frankfurt last month.
His performance of late has given that extra dimension to the Argentina attack and helped them not just rely on captain Messi for assists and goals. Di Maria is poised to be a pain to their South American opponents in the qualifiers.
Besides his abilities to make assists and score goals, Di Maria is also quick and good dribbler of the ball. It is always difficult to handle him no matter how good the opponents are.
Di Maria was born on Valentine's Day of 1988 in Rosario, making him 24.
He started his career with Rosario Central in 2005 where he played 35 games and scored six goals.
He joined Benfica in 2007 after the Portuguese club spotted him during the Fifa Under-20 World Cup in Canada where he assisted Argentina to glory. He scored seven goals from 76 outings with Benfica.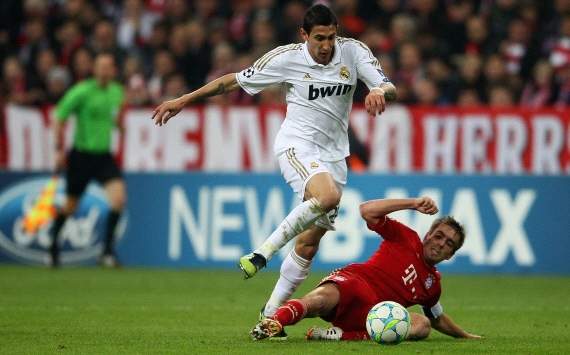 And in 2010, he signed a five-year contract for €25m with Real, plus €11m in incentives. He has now played 61 matches for Los Blancos.
How about his international career?
He started off in 2007 with the Argentina Under-20 side in the Fifa Under-20 Championships. The following year, he was called up to the senior team and has now 30 caps to his credit with seven goals to show.
Di Maria normally plays along the left flank for Argentina although he can also operate on the right.
Talking about wingers, there is another interesting development with the practically unknown Jose Sosa convincing Alejandro Sabella to be in his starting line-up more often nowadays.
Sosa, already 27, standing at 1.79m, is plying his trade at Ukrainian club Metalist Kharkiv and used to be with Napoli and Bayern Munich.
His international career looked doom when Diego Maradona dropped him for the 2010 World Cup in South Africa until Sabella recalled him for the 2014 World Cup qualifiers.
And as for the central midfield, it is likely to be manned by Barcelona's Javier Mascherano and the stylish Fernando Gago of Valencia.
Gago, 26, is in top form as well and it won't be a surprise if he perform well in the matches against Paraguay in Cordoba on Saturday (7.10am Malaysian time) and against Peru in Lima on Wednesday (9.25am Malaysian time).
The fans will surely go gaga if this is the case.
But still watch out for 'Angel of Death'.
Adios!