Goal.com Malaysia's Mustapha "El Loco" Kamaruddin points out Barca's glaring defensive woes
HOLA!
What's up Barcelona?
The Catalan giants surely need to tighten up their fragile defence if they want some trophies this season.
Things do not look good at the back and their fans, including those in Malaysia, are getting worried.
Scoring goals may not be enough if Barca keep on conceding so many goals, right?
Just look at the way Barca conceded the goals in the 2-1 defeat to Real Madrid in the return leg of the Spanish Supercopa at the Santiago Bernabeu on Wednesday.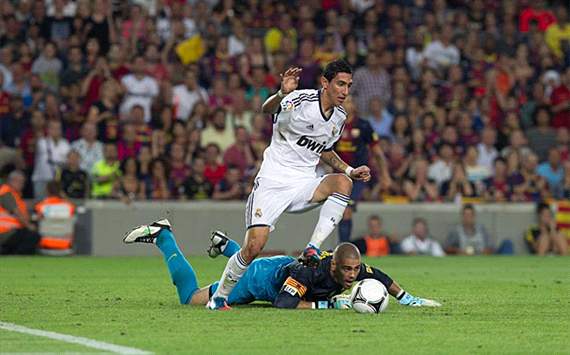 In the 3-2 victory in the first leg last week at the Nou Camp it was goalkeeper Victor Valdes' howler which presented Real with the vital second away goal in the final moments of the match, it could have been Barca's trophy if they did not concede that silly goal. Even in the second leg Barcelona could have held on for victory, however central defenders Gerard Pique and Javier Mascherano cracked easily under pressure.
Real could have won by bigger margin if only their attempts were sharper as with every attacking move they made there was a sense of danger of Real getting the ball into the net.
The first goal conceded on Wednesday was comical when Mascherano, normally a holding midfielder, presented Gonzalo Higuain with a chance after executing a wild swing at the ball but missed.
LOL, like they say nowadays.
The second goal came about after Pique was completely fooled by Cristiano Ronaldo's trickery. A quality and experienced defender should not have been caught out like that, even if he is facing the talented Portugese international. Pique has suffered a dive in his form since last season and only he knows why this is happening.
How about Adriano?
The Brazilian does not have the quality to be in the starting line-up in the first place, this was highlighted by the fact that he got himself red carded in the 29th minute for a blatant foul on Ronaldo as he bore down on goal.
What about captain Carles Puyol? He is injury–prone nowadays and can't be expected to play that many games, unfortunately he has obviously lost some pace because of his age.
Barca new boss Tito Vilanova has a lot to do to at least ease the problems at the back and it is rather late to sign another quality central defender with the transfer window closing today.
Vilanova must be hoping that Pique can recover his old form, same applies to Mascherano. He may also be tempted to try out Sergio Busquets playing at the heart of defence, a tactic former manager Josep 'Pep' Guardiola used to do occasionally. The problem is that Busquets seems to be suffering from a dive of form too.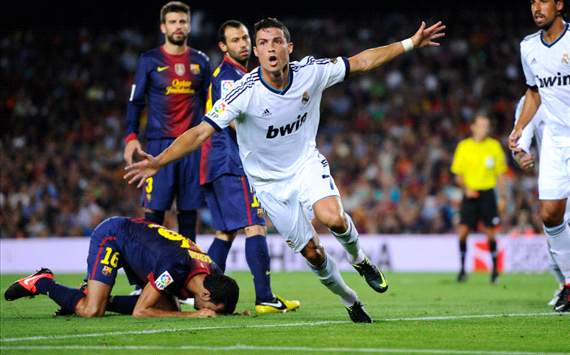 Vilanova, if he is brave or creative enough, can employ newly-signed midfielder Alex Song in the centreback role, something he used to do at Arsenal when there were injuries to the team.
Whatever the solution, pray hard Barca fans.
Oh yes…on Wednesday Lionel Messi became Barca's all-time top scorer in Clasico clashes after scoring his 15th goal. The Argentine wizard curled home a stunning freekick just before half-time to level the scores on aggregate at 4-4.
Messi's strike sees him overtake the previous Barca mark, set by Cesar Rodriguez. The 25-year-old also surpassed the striker's club record of 232 strikes last season.
Fellow Argentine Alfredo Di Stefano, who starred for Real in the 1960s, holds the overall record with 18 Clasico goals to his name. But this won't last too much longer. Messi may well break this record by the end of the season.
However, this may not be enough if Barca keep on conceding. Watch your back Barca.
Adios!