ANALYSIS
Compiled by Dan Orlowitz
The weekend's Bundesliga kick-off is not only a celebratory occasion for German football fans, but also for Japanese supporters, as they watch 10 of their country's top players compete in one of the world's top leagues.
With five Samurai set to begin the season at new clubs,
Goal.com
takes a look at their potential and how they will fit into their team's campaigns.
Hajime Hosogai, DF (Bayer Leverkusen)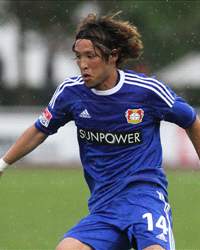 Hajime Hosogai was one of Augsburg's best players last season, memorably shutting down fellow countryman Shinji Kagawa. Leverkusen fans are already anticipating the flexible Japanese, who can play in defensive midfield or full-back.

The former Reds man is not yet a candidate for the starting line-up, but he will exert pressure on the current candidates through his combative mentality. While the defensive midfield position at Leverkusen is well-staffed, questions remain at full-back.

On the left, Michal Kadlec has shown good form, and Hosogai is the likely back-up. But right-back is ready to be contested. Newcomer Daniel Carvajal has yet to become accustomed to the German football, while Daniel Schwaab had a poor pre-season, so Hosogai will almost certainly find a space.

The Samurai Blue man has the potential to become Leverkusen's next Hanno Balitsch, and should see plenty of minutes this season.
Takashi Inui, MF (Eintracht Frankfurt)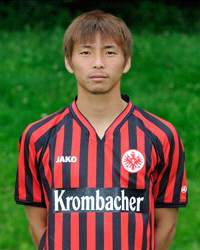 Takashi Inui saw his chance to prove himself in the DFB-Pokal fixture against Erzgebirge Aue taken by his careless team-mates, as he was substituted following goalkeeper Kevin Trapp's dismissal.

But coach Armin Veh's selection of the Japanese in his starting line-up clearly demonstrated his high opinion of the 24-year-old. Supporters have high expectations in Inui, hoping that he will be the exceptional playmaker that Frankfurt have missed. With Alexander Meier as the established playmaker, Inui will find his best chance to start on the left wing.

Inui is already an important part of the squad, with Rode and other players frequently targeting him with passes. While the former Cerezo man is still not fully able to communicate on the pitch, he is endeavoring to improve his German and the problem should be temporary.
Inui is capable of being one of this season's revelations, beginning with an expected place in Saturday's starting line-up for the clash with Leverkusen.
Hiroshi Kiyotake, MF (Nurnberg)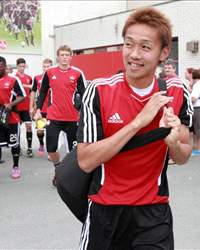 Though he missed four weeks of club preparations due to Olympic commitments, Hiroshi Kiyotake did not slack while representing Japan. The midfielder played in all six games, coming just short of a medal after losing the bronze to South Korea.

Now that he is back with his club, Kiyotake will inherit the position of Daniel Didavi, who returned to Stuttgart after a fantastic nine-goal season during his loan. He will begin on the bench, but the youngster is destined for greater things. Fans and especially his coach expect Kiyotake to play a key role in Nurnberg's new campaign. The club has recently lacked creativity, but Kiyotake can fill that gap with his speed, agility and skills.

Kiyotake is a media magnet, but do not call him a PR stunt. After paying a €1 million transfer fee, the nine-time-champions expect Kiyotake to help them stay in the league. The Samurai Blue hopefully will have to play a big role in this 2012-2013 season, a fact made painfully apparent by Nurnberg's 3-2 DFB-Pokal loss to Havelse.
Hiroki Sakai, DF (Hannover)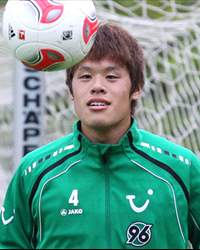 Coach Mirko Slomka was not happy when Sakai returned injured from the London Olympics, and it is no surprise that the player will begin his European career as back-up to captain Steven Cherundolo. The American has been one of the team's key players in recent years, but suffered from inconsistent form last season. This, combined with Hannover's packed schedule should they reach the Europa League group stage, makes it very likely that Sakai will get his playing time sooner or later.

But much will depend on how he can adapt to the league's playing style. If Sakai is able to show his skills and he continues to play with his characteristically powerful style, Hannover will profit from his strengths: pushing forward and providing the attackers with crosses.

Strikers Mohammed Abdellaoue and Mame Diouf, both of whom are strong finishers, will appreciate a defender able to provide them with assists. Although Sakai will begin as a back-up, his signing is surely a promising one for the club.
Takashi Usami, FW (Hoffenheim)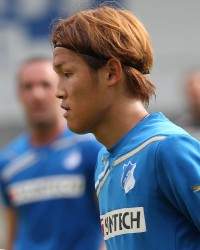 Following his year at Bayern Munich, Takashi Usami will have a more intimate understanding of German football in his second Bundesliga season.

Unfortunately, although not unexpectedly, the youngster only made five top-team appearances across all competitions and spent most of his time playing for Bayern's reserves. After the Champions League runners-up declined an opportunity to purchase Usami's contract from Gamba, Hoffenheim jumped in with a one-year loan.

This is a good step for the player, who will finally get playing time in the first team. Usami's first Bundesliga season was hardly a lost year; indeed, his knowledge of the country's playing style has increased dramatically. With a young coach and a focus on young players, the club is a good fit.

Hoffenheim will profit from Usami's presence; his passing game is good, while his character is calm and very professional. The 20-year-old is rapidly becoming an important option for coach Markus Babbel.
Thanks to Rafael Corradino, Sebastian Heier, Claas Philipp, Patrick Reichardt, and Florian Teichert
Follow Goal.com Asia on

and


for the latest in Asian footballing news, features, and analysis